123DJ.COM
Chicago DJ Equipment Online Superstore -

DJ EQUIPMENT SYSTEMS AT THE LOWEST PRICES!
Kontrol S4 Studio Pack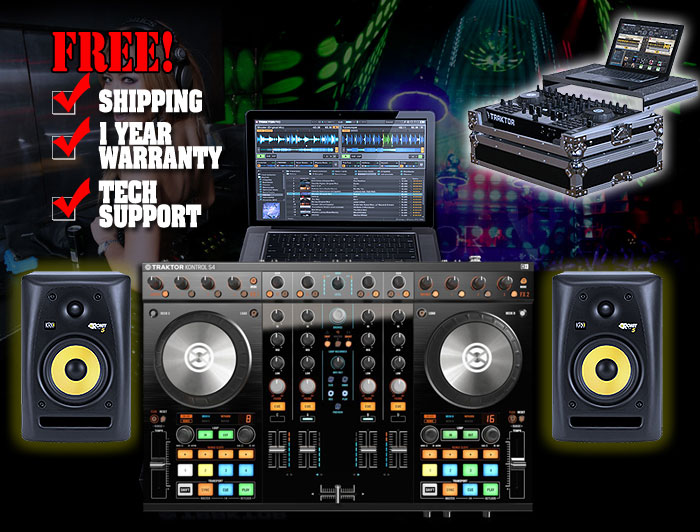 CURRENTLY OUT OF STOCK
Traktor Kontrol S4 MK2 Digital Controller

4-deck controller, with mixer, soundcard, and flagship TRAKTOR PRO 2 software
Improved look, feel, and visual feedback
Mix up to four software decks with intuitive deck control sections
4-channel mixer control section with faders, CUE, 3-band EQs, and filter control knobs
Built-in audio interface wtih up to 24-bit/96kHz audio resolution
Slim profile, incredibly easy to transport from gig to gig
Bright, color-coded RGB buttons trigger cue points, loops, and samples with instant visual feedback
Dedicated Flux mode buttons for each deck
Plug-and-play with TRAKTOR DJ for iPad and iPhone
Effortless song management with direct iTunes integration and iPod compatibility
Charges your iPad or iPhone while you DJ
Start up fast - all you need to start mixing is your computer and MP3s

Two KRK Rokit 5 RP5G2 Monitor Speakers

The KRK RP5G2 Rokit G2 Powered Studio Monitor takes this KRK design to new heights. All of the great stuff that Rokit's have been known for including front-firing bass port, soft-domed tweeter, glass aramid composite yellow cone are still there, but the G2 Rokit's feature refined voicing and a new curved baffle that looks great, reduces diffraction and provides even better monitoring accuracy.
Radically curved front plate design virtually eliminates diffraction distortion

Waveguide design provides amazing detail and imaging

Front-firing port provides low freq extension without boundary coupling

New speaker voicing for even more accurate frequency response

1" Neodymium soft dome tweeter

Glass Aramid Composite Cone Woofer

Frequency Response 53Hz to 20kHz

Peak SPL : 106dB

Drivers:
Woofer: 5" Glass Aramid Composite Woofer
Tweeter: 1" Neodymium Soft Dome Tweeter with Ferro Fluid
Input:
XLR (3-pin), RCA & 1/4" TRS - 10k Ohm, Balanced / Unbalanced
Amplification:
75 Watt Bi-amp Dynamic Power, 18 dB Octave Filters
Freq Response:
53Hz - 20kHz
Video Shielding:
Yes
Dimensions:(H x W x D)
10 7/8" x 7 1/4" x 9 7/8"
27.6cm x 18.5cm x 25cm
Shipping Weight:
16 lbs (8 Kg)

No Pain With Gain
Why compromise gain structure to achieve a comfortable listening level? As musicians and recording people ourselves, we've asked that question too. So each Generation 2 Rokit comes with an Input Volume Control that provides an adjustable gain range from +6dB to -30dB. Just another way the Rokit lets you focus on your mix, and not on compatibility concerns.
Catch A Wave, For A 3D Mix
Recessed tweeters may look the same, but they don't perform the same. KRK has designed a superior tweeter wave guide for the Rokit that provides optimal high frequency pattern control and focuses the sound outward, away from the cabinet. More conventional designs direct sound along the plane of the cabinet where waveform interaction can cause phase problems and increased diffraction. KRK knows a properly engineered high frequency wave guide is a critical component to great sound, and one key to our award winning performance.
You've Got Connections
At KRK our focus is your mix. But it doesn't stop at creating accurate monitors. We live this stuff and appreciate the need for monitors that not only sound great but work easily into your particular set up. That's why you'll find plenty of input options with your Rokit, sure to accommodate any studio environment. So if it's RCA, Quarter-Inch (balanced/unbalanced) or XLR inputs you require, Rockit has got you covered.
Even More Accurate Than Before
We took a great monitor series and made it better. Our engineers and listening panel took the Generation 2 Rokits' speaker voicing to even more accurate levels. What you hear is what you are intended to hear, coloration is not part of the spec. This performance is brought to you by drivers that are custom-designed by our world-class studio monitor engineering team, for clear, low-distortion performance.
Take Control
While your Generation 2 Rokit leaves the factory voiced to our demanding specs, KRK also knows that no two rooms "sound" the same. As such, each Rokit comes equipped with a High Frequency Level Control. This feature provides specific adjustment of high frequency output most commonly affected by room acoustics. It's just one extra level of control that KRK gives you to ensure the most accurate mix for your particular room's acoustics.
Don't Be Square, Curves Ahead
Our new Rockit looks different, so it can sound better, and in a wider "sweet spot". Traditional rectangular speakers suffer from diffraction as sounds leaving the edge of the cabinet are reflected back into the original sound field, and at different time intervals. This phase distortion creates a "narrow" or boxy" sound. The Generation 2 Rokit series eliminates this issue with radically engineered curved surfaces, so diffraction is virtually eliminated. Simply put, you'll get better sound in a wider area.
Let's Be Up Front
Take a look at competitive monitors and you'll find ports on the back of the cabinet. These rear-firing ports tend create bass coupling with walls and corners amplifying low frequency information which will color your mix. The superior design of the KRK Generation 2 Rokit's include front-firing ports, which are just the right shape and taper to reduce port turbulence. You'll appreciate the clean and accurate bass performance, this approach delivers, even at high SPL's.
Power Up!
A great sounding monitor doesn't stop with a great cabinet and custom drivers. Our true bi-amplified amplifier system provides discrete low-distortion power for each driver. While our active crossover systems provide smooth and accurate frequency response, and again, accurate diffraction control.

Odyssey FZGSTKS4 Case

The Odyssey Flight Zone® FZGSTKS4 case is specially made for the Traktor Kontrol S4 DJ midi digital controller and can also fit the American Audio VMS4 DJ controller as well. It features our patented Glide Style™ laptop platform that slides foward and backwards over the control unit to whatever position best suits you. Also features a lower storage/ventilation pit that has enough room for cables and other compact DJ essentials.
Patented Gliding Laptop Platform

VMS4 Width Adjustment Foam

Removable Front Angled V-Cut™ Access Panel

Heavy-Duty Ball Corners

Recessed Handle and Latches

Plenty of Cable Management Underneath & Behind the Controller

Limited Lifetime Warranty

Controller Compartment is: 19-5/8"W x 12-5/8"D
Approximate Dimensions (exterior): 24.5"W x 8.75"H x 18.25"D

Approximate Weight: 23 lbs

All cables included!
2201 S. Union • Chicago, IL 60616
Phone: 312 -846-6192 • Fax: 312-492-8949
Toll Free 1-800
-856-8397

CONTACT US
-
BEAT A PRICE
-
GEAR RENTAL
-
TRACK YOUR PACKAGE
-
RETURNS / WARRANTY INFO
ABOUT US
-
SHIPPING INFO
-
PURCHASE ORDERS
-
CUSTOM INSTALLATION
-
TERMS




If you don't see it, it doesn't mean we don't have it. If you are interested in a certain product, but don't see it on our website, please call us or e-mail us!
*All products subject to available stock.
Copyright © 2014 by www.123DJ.com