123DJ.COM
Chicago DJ Equipment Online Superstore -

KONTROL S4 AT THE LOWEST PRICES!
Native Instruments
Kontrol S4 4-deck Digital Controller with TRAKTOR Software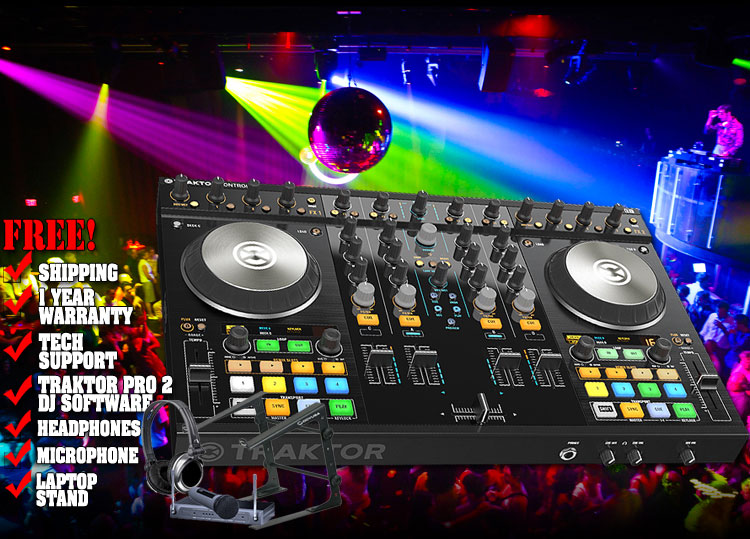 Trusted by pros, the flagship TRAKTOR KONTROL S4 is the all-in-one 4-channel DJ system. Now with the latest TRAKTOR features at your fingertips, take your mix to new heights.
Industry-standard 4-deck controller, soundcard, flagship TRAKTOR software
Improved look, feel, and visual feedback

Plug and play with TRAKTOR DJ for iPad and iPhone

POWERFUL PERFORMANCE DJ SYSTEM

Hardware and software – fused in perfect harmony. The redesigned TRAKTOR KONTROL S4 is the first-class DJ system tailor-made for TRAKTOR to deliver an inspiring DJ experience.
The S4 combines a premium 4 channel mixer, built-in 24 bit/96 kHz soundcard, an intuitive interface, and TRAKTOR PRO 2 software with Remix Decks. The ideal one-stop package for DJs who want pro features, instant usability and go-anywhere portability.

KONTROL IN ACTION

Easy to use right out of the box, mix up to four software decks with intuitive deck control sections, essential Remix Decks buttons, high-res jog wheels with aircraft-grade aluminum plates, and two effect units deliver total control over your music.
The S4 also features color-coded RGB buttons to trigger cue points, loops, and samples as well as dedicated Flux Mode buttons for each deck.

TAKE KONTROL

The spacious TRAKTOR KONTROL S4 layout is designed for perfect TRAKTOR integration – all controls feel natural right from the start.
8 color-coded RGB buttons are laid out and mapped in line with the current demands of digital DJing. Easily access elemental transport controls, as well as cue points and trigger loops and essential Remix Decks.

TRUE PLUG-AND-PLAY

TRAKTOR KONTROL S4 requires minimal set up. Connect your computer to the S4, and the S4 to your PA, amp, or speakers. Or go mobile – take your setup wherever you go with TRAKTOR DJ for iPad or iPhone.
Built to control the latest TRAKTOR features, the S4 is in perfect synergy with the software – no mapping or control assignments necessary. And if you want to customize it, dive into the S4 preferences and express yourself.

FULLY CUSTOMIZABLE

Every DJ has their method. Whatever suits yours, TRAKTOR KONTROL S4 has you covered. Easily assign default hotcue settings geared to your playing style, set favorite and preset FX without browsing, or switch pitch faders between relative and absolute modes.
If the Remix Deck functions aren't for you, simply reassign the buttons and get creative. Try setting up different hot cues for your tracks, or even a backward loop function.

WHEELS OF FEEL

High-resolution jog wheels with aircraft-grade aluminum plates are designed for maximum durability and solid performance. DJs will instantly appreciate the grip of the rubber coated outer rim and the touch detection of the top plate.
At 1,000 counts per revolution, cueing or scratching feels just like vinyl. The silicone-damped braking system is finely calibrated – ensuring a reliable consistency over its entire lifespan.

PRECISION ENGINEERED

Under the hood, the S4 works at lightning speed to provide a smoother, more precise user experience.
With 30 times more throughput compared to regular MIDI, fluid control over every aspect of your performance is right at your fingertips.

HIT THE ROAD

TRAKTOR KONTROL S4 is ideal for travelling DJs, providing everything you need to rock a party. With its slim profile, it's incredibly easy to transport from gig to gig. On-the-go set preparation has never been easier. The S4's included TRAKTOR PRO software even syncs with TRAKTOR DJ on your iOS device for effortless song management.

4-CHANNEL MIXER

TRAKTOR KONTROL S4 boasts an ergonomic, full featured 4-channel mixer control section with sturdy faders, CUE buttons, high-quality 3-band EQs, and a filter control knob on each channel. Whatever your flavor, the filter can switch between Traktor, Xone and other industry standard styles.
Personalize your tracks by adding an electrifying layer to your mix. The intuitive Loop Recorder acts like a fifth deck by recording and looping audio on-the-fly.

ALL IN THE MIX

Built to professional club standards, the S4 mixer section is made up of four stereo channels, 3-band EQs, a filter knob, gain and two FX sends per channel. Two analog stereo inputs and the additional auxiliary session input allow the S4 to connect to external gear. Switchable booth output allows for separate speaker and booth monitoring levels.
The super smooth crossfader comes with dust covers and is replaceable. Its sharpness curve can be adjusted via the software to fit your mixing style.

MASTER SECTION

Here you'll find the main level output, and one push encoder for browsing playlists and loading tracks, samples, or loops.
The Snap button ensures cue points and loops sound tight by snapping to the nearest point of the track beatgrid. The Quant button means they'll play quantized in perfect phase-sync by launching in time, at the right moment. The Master button switches between Master Clock and Master Deck Mode.

GAIN AND FX ASSIGN

The encoders serve as gain controls for individual decks in TRAKTOR. FX assign buttons route audio to two effect sections per channel.
The Master Level knob in the center adjusts the master output volume.

LOOP RECORDER

Record loops on-the-fly from any channel (single or multiple), or capture audio live from the mic input or master output. Then layer and overdub loops on top of one another to build live mixes. Even connect a footswitch (optional) to trigger recording and overdubbing, keeping your hands free for additional tweaking.
Got a killer loop going? Instantly transfer it to a Remix Deck slot, freeing up the Loop Recorder for further use.

FANTASTIC FADERS

All faders have special path limiters to ensure zero dead zone at their boundaries – giving a sharp cutting attack. Their lasting, rugged quality continually excels in even the most demanding of gig schedules. Included fader covers now help prevent dust wear.
Relative pitch faders avoid sudden jumps in tempo when adjusting track speeds. Adjust the pitch and the track will respond as though the fader was beginning from 0%, ensuring smooth transitions in tempo.

INTEGRATED AUDIO INTERFACE

TRAKTOR KONTROL S4 also includes a powerful and versatile audio interface built to handle the most earth-shaking sound systems.
Extensive and carefully placed connections let you connect turntables, CD players, instruments, MIDI gear and more – providing all you need to take your performance to new heights.
For years, top tier DJs have trusted TRAKTOR KONTROL S4's loud, punchy outputs and pristine audio for energizing, club-ready sound.
Add a wealth of peripherals to your setup – TRAKTOR KONTROL S4's on-board audio interface provides all the connectivity needed to be the centerpiece of your setup at home or on stage.

OPTIMUM SOUND QUALITY

Thanks to an ultra-wide frequency response, TRAKTOR KONTROL S4's audio interface delivers enough punch to rock any club. Audio resolution of up to 24-bit/96kHz will please even the most discerning ears.
The S4 main output is equipped with 1/4" balanced stereo jacks and RCA jacks for total flexibility. Plug the unit into an external mixer or just go straight into a PA.

CUE IT UP

A dependable and adjustable headphone mix is essential for any kind of DJ performance. TRAKTOR KONTROL S4 provides a high-quality 1/4" headphone jack with separate controls for headphone volume and cue mix.
Not only can you can pre-listen to channels you have cue'd up, but also adjust their volume relative to the master output in your headphones – perfect for fine tuning the mix before going live with it.

INS AND OUTS

Make TRAKTOR KONTROL S4 the core of your larger DJ set-up. Connect CD players, turntables, keyboards, and effects to the two input channels. Each channel offers line or phono level input – just switch as required.
MIDI In and Out lets you sync TRAKTOR with synthesizers, drum computers, MASCHINE, or external effects. Even hook-up a mic to the dedicated, gain adjustable input when a touch of vocals is in order.
Bright, color-coded RGB buttons trigger cue points, loops, and samples with instant visual feedback
Dedicated Flux mode buttons for each deck
Plug-and-play with TRAKTOR DJ for iPad and iPhone
Effortless song management with direct iTunes integration and iPod compatibility
Charges your iPad or iPhone while you DJ
Highly integrated 4-deck TRAKTOR controller and flagship software, all built by the same team
Start up fast - all you need to start mixing is your computer and MP3s
2 customizable FX sections with over 30 performance effects for adding your own trademark sound

TRAKTOR PRO 2 SOFTWARE

Get straight into the mix with included TRAKTOR PRO 2 software. The latest version comes remix ready with innovate Remix Decks to blur the boundaries between DJing and live performance.
Remix Decks can be triggered directly from the S4 hardware. Ready-made Remix Sets from top artists are available online for download – unleash your creativity into the mix.

TRAKTOR POWERED

TRAKTOR KONTROL S4 includes the latest TRAKTOR PRO 2 software with Remix Decks. TRAKTOR PRO 2 comes ready to remix. Get started in seconds, fire up the Remix Decks and seamlessly merge the worlds of DJing and live performance.

SOUNDS AND EFFECTS

A tight selection of loops and sounds are included to get you started. Created by Loopmasters, 40 loops and 10 full tracks cover drums, bass, percussion and synth loops in dubstep, minimal, house, techno and trance styles.
Two independent FX units with over 30 effects are at hand to color your sound. From standards like delay, reverb, and flanger, to unique performance effects like TRAKTOR's Beatmasher and BeatSlicer – expand your sonic territories in no time.

FUEL FOR YOUR REMIX DECKS

Welcome to the new generation of TRAKTOR Remix Sets in collaboration with our partners Beatport, Whatpeopleplay.com and more. These all-in-one packs deliver complete tracks by renowned artists and DJs, set up for immediate use with TRAKTOR PRO 2's Remix Decks.
Or dive into the wide range of free Remix Sets with sounds from the most successful MASCHINE Expansions, a selection of cutting-edge genre packs, and more.

SYSTEM REQUIREMENTS
Windows 7 or 8 (latest Service Pack, 32/64 Bit), 2.0 GHz Intel Core 2 Duo or AMD Athlon 64 X2, 2 GB RAM (4 GB recommended)
Mac OS X 10.7 or 10.8 (latest update), Intel Core 2 Duo, 2 GB RAM (4 GB recommended)
General: Monitor with 1024 x 768 screen resolution, USB 2.0, 1 GB free disc space, high-speed internet required
DIMENSIONS
Depth: 33.8 cm
Height: 7.2 cm
Width: 50 cm
Weight: 3.4 kg

SUPPORTED AUDIO FORMATS
MP3, WAV, AIFF, Audio-CD, FLAC, Ogg Vorbis, non-DRM WMA**, non-DRM AAC
** WMA playback supported only on Windows
Audio Inputs (A/D)
Channels 5
Sample Rate 44.1, 48, 88.2, 96 kHz
Bit Resolution 16, 24-bit
Converter Cirrus Logic


Line Inputs
Full Scale Level +12.4 dBu
DNR (a-weighted) 98.3 dBu
THD+N 0,05 %
Frequency Response +/-0.5 dB 20 Hz-40 kHz
Cross Talk @ 1kHz -111dB


Mic Input
Full Scale Level @ 1 kHz -31.3 dBu
DNR (a-weighted) @ 1 kHz 85.7 dB
THD+N @ 1KHz 0.045 %
Frequency response +/-1.67 dB 20 Hz-20 kHz


Phono Inputs
Input Impedance 47 KOhm
Full Scale Level @ 1 kHz - 23.5 dBu
DNR (a-weighted) @ 1 kHz 90.2 dB
THD+N @ 1KHz 0,05 %
Crosstalk @ 1kHz -100 dB


Audio Outputs (D/A)
Channels 4
Sample Rate 44.1, 48, 88.2, 96 kHz
Bit Resolution 16, 24-bit
Converter Cirrus Logic


Line Outputs (1/4" stereo)
Maximum Output Level +18 dBu
DNR (a-weighted) 105 dB
THD+N 0,003 %
Frequency Response +/-0.3 dB 20 Hz-40 kHz
Crosstalk @ 1kHz 122 dB


Line Outputs (RCA)
Maximum Output Level +12 dBu
DNR (a-weighted) 105 dB
THD+N 0,002%
Frequency Response +/-0.35 dB 20 Hz-40 kHz
Crosstalk @ 1kHz -111 dB


Headphone Output
Load Impedance 16 Ohms – 600 Ohms
Maximum Output Level (32 Ohm load) +2 dBu
DNR (a-weighted) 99.3 dBu
THD+N 0.013 %
Frequency Response +/-1 dB 20 Hz-20 kHz
Crosstalk @ 1kHz -60 dB



Back to DJ Software Controllers
2201 S. Union • Chicago, IL 60616
Phone: 312 -846-6192 • Fax: 312-492-8949
Toll Free 1-800
-856-8397

CONTACT US
-
BEAT A PRICE
-
GEAR RENTAL
-
TRACK YOUR PACKAGE
-
RETURNS / WARRANTY INFO
ABOUT US
-
SHIPPING INFO
-
PURCHASE ORDERS
-
CUSTOM INSTALLATION
-
TERMS




If you don't see it, it doesn't mean we don't have it. If you are interested in a certain product, but don't see it on our website, please call us or e-mail us!
*All products subject to available stock.
Copyright © 2014 by www.123DJ.com