PHST90ICW
600 Watt Digital 2.1 Channel Home Theater Tower w/ iPod/iPhone Docking Station - Cherry Wood or Black Finish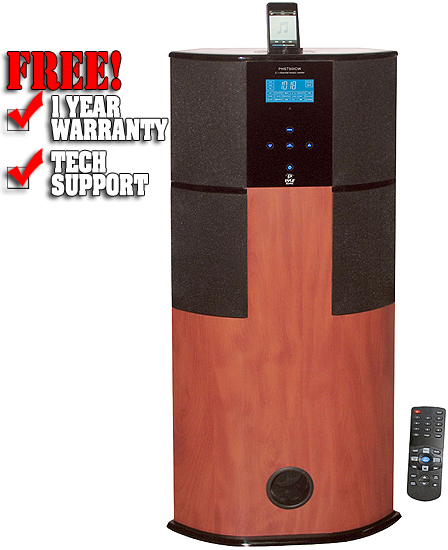 Regular Price $249.99
Our Price $169.99
This home theater tower brings a beautiful, powerful sound system, iPod player and charger to any room of your home. The 600 watt system is just booming with power, thanks to dual 3.5" tweeters, 3.5" mid-range drivers, and a 300-watt subwoofer that packs a massive punch. Simply plug in your iPod (classic, nano, and touch models are all compatible) and you're ready to go – plus, this unit charges your iPod, so the party only stops when you run out of music! But when you do, just turn on the built-in FM radio to keep the music flowing. There's also an alarm clock so you can wake up to your favorite music. Don't have an iPod? This unit is also equipped with a stereo RCA aux jacks on back – so you can plug in almost anything with stereo sound. Use the front panel touch controls or the included remote to adjust the volume, bass, treble, and even sort through your iPod's music. The blue LCD display is bright and crisp, and the cherry wood finish is elegant and clean. Includes a 110 V AC to 21 V DC adaptor.
iPod/iPhone/MP3/AUX Input
Built-in FM Radio With Memory
Alarm Clock Control and Time
2.1 Channel amplifier
Real 2.1 Channel output
Full Function Remote Control
Independant Control of Each Channel
iPod/iPhone Can be Controlled Through Remote
iPod/iPhone Charged Automatically
Touch Key Control System
LCD display
Output power:600 Watts
L (150Watts x 1) R (150Watts x 1) Subwoofer (300Watts x 1)
Frequency: L,R 150Hz-20kHz Subwoofer 50Hz-180Hz
Mid Range Driver:Dual 3.5 Inch
Tweeter:Dual 3.5 inch
Subwoofer: 8 inch
S/N: 85dB
THD: 0.1%
Wood Construction w/ Beautiful Exterior
Power: DC 21 Volts w/ 110V Adapter
Dimensions: 5.43''D x 17.3''W x 40.15''H
Weight: 35 lbs
iPod not included
If you don't see it, it doesn't mean we don't have it. If you are interested in a certain product, but don't see it on our website, please call us or e-mail us!
*All products subject to available stock.
Copyright © 2014 by www.123DJ.com