MP26


Details

Regular Price $3299.99




Our Price $1749.99



The Rane MP26 Club Mixer is a professional, 4-channel DJ mixer intended for nightclub installation, professional mobile DJs, etc. Rane meets the demands of today's digital DJs by incorporating a versatile USB connection, capable of streaming up to 22 discrete channels of audio to your favorite DAW software. The MP26 also includes a powerful digital effects engine for realtime audio manipulation.
There are four line / phono switchable inputs, and 4 dedicated line inputs, providing plenty of connections for turntables and digital decks. FlexFX inserts deliver flexible outboard effects routing to any of your channels. Easily route hardware effects, or any desired effects plug-in via the USB port. The MP26 does not sacrifice sound quality with professional grade phono preamps, 24-bit DACs and accelerated slope EQ section on each channel.
Inputs
Four individually switchable stereo Phono/Line inputs.
Four stereo Auxiliary inputs.
Four stereo USB playback inputs.
Two microphone inputs with optional Talkover ducking:
* One with front and rear panel connectors
* One with a line-level input option
* Engage a mic to put it into the mix, or engage Talkover to put the mic in the mix and duck all other sources. Talkover makes it easy to jump into the mix for quick, intelligible announcements

Outputs
Stereo Main Outputs on balanced XLR and unbalanced RCA:
*Rear panel Mono/Stereo switch
* Rear panel Max Out level attenuator
Stereo balanced 1/4" TRS Zone and Booth outputs:
* Auto-mono output on both Left and Right jacks.
Stereo Record outputs on RCA, S/PDIF and USB

USB Features
22 streaming USB audio channels.
Four stereo playback channels stream audio directly from your favorite playback, mixing, beat-making, and looping applications to the MP25's digital mixer engine.
Four stereo record channels stream the four post-fader program channels to your audio application for multi-track recording.
A fifth stereo record channel streams Mic 1, Mic 2, or the Main Mix to your recording application.
The USB Effects Loop enables insertion of any available stereo computer-based VST effects processors into the MP25's powerful FlexFX bus.
Low-latency ASIO / Core Audio drivers eliminate delay between the control input to audio software and the audible result.
Multiclient ASIO / Core Audio drivers allow multiple software applications to simultaneously stream audio to and from the mixer.
The MP25 MIDI device exposes the MP25 front panel as a MIDI controller, allowing control of audio application parameters using the mixer's control surface.

Total # Of Channels:
4

Input Connectors:
RCA Phono Line/Turntable Switchable x4
RCA Phono Line x4
XLR & 1/4" Phone Combi-Mic x2
Stereo 1/4" FlexFX Effects Return
Stereo 1/4" Phone AUX Input
Stereo RCA Phono AUX Input
1/4" Phone AUX Microphone Effects Return
Stereo 1/4" Phone FlexFX Return

Output Connectors:
Stereo Balanced XLR Master Output
Stereo Unbalanced RCA Phono Master Output
Stereo Balanced 1/4" Phone Booth Output
Stereo Balanced 1/4" Phone Zone Output
Stereo Unbalanced RCA Phono AUX Output
1/4" Phone AUX Microphone Effects Send
Stereo 1/4" Master Effects Send
Stereo 1/4" Phone FlexFX Send
1/4" Phone Headphone Monitor Output

Phono Input:
Response: RIAA curve ±1 dB, Gain = 36 dB @ 1 kHz
Max Phono Input: 63 mV @ 1 kHz
Max Line Input: 4 Vrms

THD & Noise:
< 0.03% re 0 dBFS, 20 to 20 kHz, 20 kHz BW

EIN:
-110 dBu

Max Input Signal:
Mic level: 185 mVrms (-12.5dBu)
Line level: 3.7 Vrms (13.6dBu)

Max Output:
RCA and Unbalanced 1/4" TS: Max output 4 Vrms
XLR and Balanced 1/4" TRS: Max output 8 Vrms

Converters:
24-bit, 48 kHz
Dynamic range 101 dB A-weighted

DSP:
48 kHz, 32-bit, floating-point

USB:
48 kHz, 32-bit, floating-point

Stereo Record Channels: 6

Stereo Playback Channels: 5

Dynamic Range:
100 dB A-weighted

Frequency Response:
20 Hz to 20 kHz, +0.25 dB / -1.5 dB

EQ Section:
3-band accelerated-slope tone controls

Power:
100 to 240 VAC, 50 Hz to 60 Hz, 12W max

Dimensions:
19 x 8.75 x 4.6" (48.3 x 22 x 11.7cm)
Weight:
10.1 lbs (4.58kg)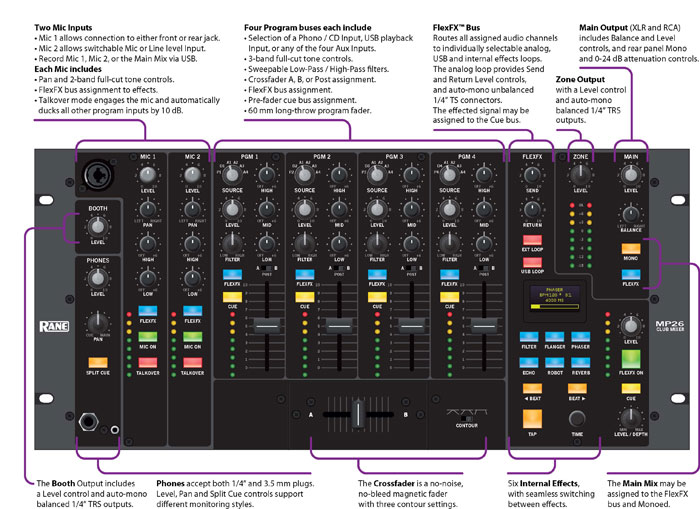 If you don't see it, it doesn't mean we don't have it. If you are interested in a certain product, but don't see it on our website, please call us or e-mail us!
*All products subject to available stock.
Copyright © 2014 by www.123DJ.com