GemSound GMW-62
VHF Dual Wireless Lapel / Headset Microphone System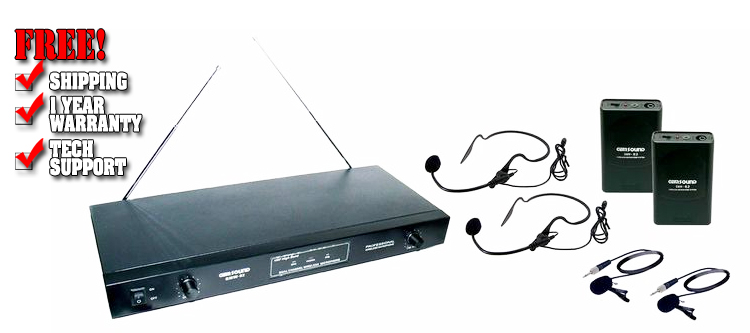 Regular Price $109.99
Our Price $49.99
The Gem Sound GMW62 is a low cost wireless microphone system that includes two headset microphones and two lavalier microphones. It comes with a rugged VHF receiver with individual volume controls, and 3' ¼" connection cable. Microphones include an on/off switch, and operate on one 9V battery (included). Comes with two transmitters that accommodate either a lapel or a headset.
This set comes with four mics, but you can only run two at a time. They receive on different frequencies, two at a time, so you can have one headset and one lavalier, two lavaliers, or two headsets. Two performers can switch between lavalier and headset on the fly. Amazing price for a rugged wireless microphone system.
Each transmitter operates on a single frequency. This item is the EF frequency. If you want to run multiple systems, there are four sets of differing dual frequencies.
2 Wireless Independent Microphones Operating Simultaneously
2 Belt Packs
2 Lapel Microphones
2 Headsets
Wide VHF Frequency Response Receiver
Several Different Frequencies Available
175 foot range
If you don't see it, it doesn't mean we don't have it. If you are interested in a certain product, but don't see it on our website, please call us or e-mail us!
*All products subject to available stock.
Copyright © 2014 by www.123DJ.com