ULTRACURVE PRO DEQ2496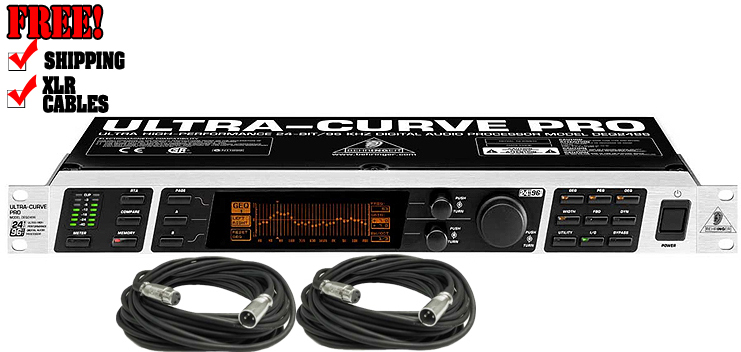 Regular Price $599.99
Our Price $349.99
The ULTRACURVE PRO DEQ2496 is an ultra high-precision digital 24-bit/96 kHz EQ/RTA mastering processor. Its extremely high audio performance makes it ideal for audiophile mastering and PA purposes. There are 4 concurrently selectable EQ modules (31-band graphic EQ, 10-band parametric EQ, Feedback Destroyer and three dynamic EQs per channel).
Ultra high-resolution processor for all EQ, RTA and dynamic applications, especially for PA and audiophile mastering
4 concurrently selectable EQ modules (31-band graphic EQ, 10-band parametric EQ, Feedback Destroyer plus three Dynamic EQs per stereo channel)
Flexible Compressor/Expander function with Peak Limiter per stereo channel as well as additional Stereo Imager and Stereo Delay for delay line applications
Unique VPQ (Virtual Paragraphic EQ) option allows parametric control of graphic EQs
Ultra high-resolution 61-band real-time FFT Analyzer with additional auto EQ function for room and loudspeaker equalization
Multi-functional level meters (peak/RMS, VU and SPL meter with dBA/dBC weighting via RTA mic input)
64 user memories for complete setups and/or individual module configurations
Separate RTA mic/line input with phantom power, professional wordclock input and MIDI connections for full remote control, preset dumps and system updates
Ultra high-quality AKM® 24-bit/96 kHz A/D- and D/A converters (113 dB dynamic range)
Open architecture allowing future software updates via MIDI
Two high-performance 32/40-bit floating-point SHARC® digital signal processors for ultimate sonic resolution
Balanced inputs and servo-balanced outputs with gold-plated XLR connectors, stereo aux output, AES/EBU and S/PDIF inputs and outputs (XLR and optical)
Internal switch-mode power supply for maximum flexibility (100 - 240 V~), noise-free audio, superior transient response and lowest possible power consumption

If you don't see it, it doesn't mean we don't have it. If you are interested in a certain product, but don't see it on our website, please call us or e-mail us!
*All products subject to available stock.
Copyright © 2014 by www.123DJ.com