2201 S. Union • Chicago, IL 60616
Phone: 312-846-6192 • Fax: 312-492-8949
SE HABLA ESPANOL

RMS16U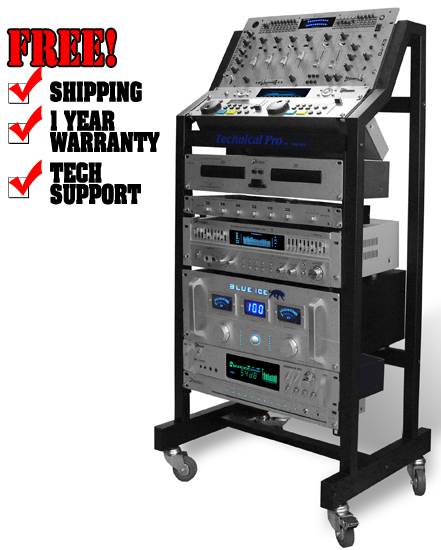 Regular Price $299.99
Our Price $169.99
Top slant capacity - 4U
Bottom slant capacity - 3U
Front capacity - 16U
Reinforced steel frame
Gooseneck microphone holder
Heavy duty wheels
Some assembly required
Dimensions: 21''w x 44.5''h x 4''d
Weight: 30 lbs
Technical Pro has everything you need for setting up your studio. From speakers to amplifiers to equalizers and mixers they provide the most professional equipment in today's audio market. It is no wonder that the designers and engineers at this company would be able to provide one of the most useful racks for today's professional studio. The RMS16U is a professional open air steel rack. If you are setting up gear and need options with your rack, this is a great choice for all of your needs!

The RMS16U is a professional steel rack that stands a few inches shy of four feet high. It is constructed out of heavy duty steel that will not bend or break. It's important to trust that you gear is safe in a rack! The RMS16U is one of the most trustworthy racks on the market! This rack is sectioned in two different tiers with different slant angles for access to various equipment. The top slant provides spaces for a 4U capacity. The bottom slant is set up for a 3U capacity. The top and bottom slant is angled so the gear loaded will face the user while looking down from above. A good match for the top or bottom slant would be a mixer or controller…or any item you will be using while live…easy access is the key here! The front boasts a 16U capacity! There is so much space on this rack it's a must have for any professional or live performer. The RMS16U also has a gooseneck microphone holder on the top. After connecting your microphone to your set up easily place in the holder and talk or sing hands-free!

The RMS16U design has everything included for today's professional sound engineer or performer. The RMA13U open air design allows your gear to breathe and stay cool. The unit is build upon four heavy duty wheels making it very easy to move and position this rack. Having the benefit of mobility is key to a mobile performer or host. Every venue is different and using a mobile rack like the RMS16U is very handy if you need to quickly change locations or stages! No need for additional roadies or help to move your gear! The actual rack is made from a heavy duty steel design. This rack is built to last and built to perform! And at a price that is well worth the product!
WE GLADLY ACCEPT
WE GLADLY SHIP


If you don't see it, it doesn't mean we don't have it.
If you are interested in a certain product,
but don't see it on our website, please call us or e-mail us!
*All products subject to available stock.
Copyright © 2014 by www.123DJ.com