Concorde Q-Bert Twin Pack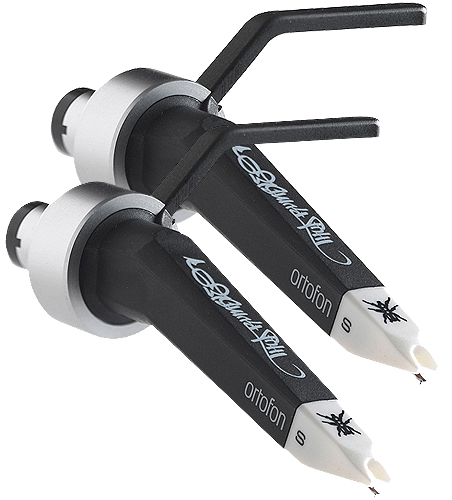 Regular Price $369.99
Our Price $229.99
The Ortofon QBert Concorde set includes the QBert Concorde cartridge and stylus, plus a cleaning brush and an extra stylus, all in a stylish, rugged case.
Designed together with DJ QBert for scratch and back cueing, this stylus has a very good ability to find the groove and stay there. It uses a spherical diamond and enables a very high output (10—11 mV).without the need for a headshell and includes a replacement stylus.
Output voltage at 1000 Hz, 5cm/sec.: 11 mV
Channel balance at 1 kHz: 1.5 dB
Channel separation at 1 kHz: 22 dB
Channel separation at 15 kHz: -
Frequency range: 20-20.000 Hz
Frequency response: 20-18.000 Hz -3 dB
FIM distortion at recommended tracking force, DIN 45.542: < 1%
Tracking ability at 315Hz at recommended tracking force: 90 m
Compliance, dynamic, lateral: 12 m/mN
Stylus type: Spherical
Stylus tip radius: R 18 m
Equivalent stylus tip mass: 0.6 mg
Tracking force range: 2.0-4.0 g (20-40 mN)
Tracking force, recommended: 3.0 g (30 mN)
Tracking angle: 20
Internal impedance, DC resistance: 1680 Ohm
Internal inductance: 920 mH
Recommended load resistance: 47 kOhm
Recommended load capacitance: 200-400 pF
Cartridge colour, body/stylus: Black/White
Cartridge weight: 18.5 g
Replacement stylus unit: Q.Bert
If you don't see it, it doesn't mean we don't have it. If you are interested in a certain product, but don't see it on our website, please call us or e-mail us!
*All products subject to available stock.
Copyright © 2014 by www.123DJ.com