Odyssey CONTROLSL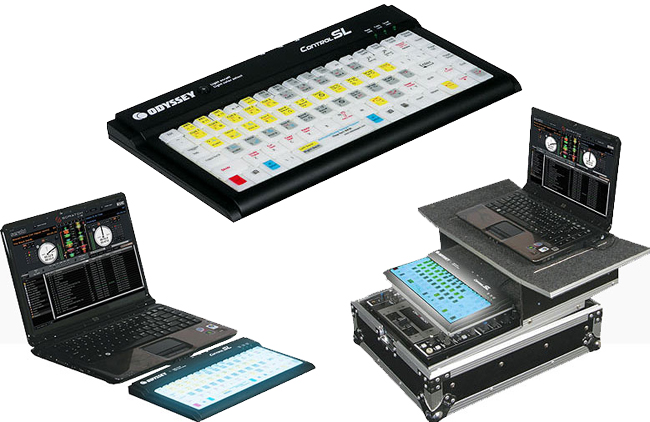 *laptop & case not included
Regular Price $199.99
Our Price $59.99
Hey Serato DJ's! Are you ready to take your scratching and mixing to the next level? Introducing Odyssey's uniquely designed LED color changing CONTROL-SL keyboard. In addition to having the standard keyboard characters on each key, it has a special color coded Serato shortcut key layout for both left and right decks. The CONTROL-SL keyboard makes it that much easier for DJ's to take advantage of Scratch LIVE's extensive keyboard shortcut functions including it's many "control" and "alt" key combinations. DJ's can now search, load, mix and scratch their tracks even faster. Other similar products that you place over your keyboard are only made for MAC. You say you don't like the feel of the keys with a keyboard skin over it? Then you'll love the CONTROL-SL keyboard. Don't forget this LED keyboard can change color as well! With a simple press of a button DJ's can select the color of their choice or let the various built-in color changing programs do their thing. It even has a built-in USB for up to 3 different devices (external hard drive, memory stick, mouse, ect.). Totally innovatively cool for that club environment. CONTROL SL SERATO BACKLIT KEYBOARD
Serato Scratch Live DJ's as well as Tracktor Scratch users are now in total control with Odyssey's New Control SL keyboard controller. Easy to manipulate color coded backlit shortcut keys allow you, the artist, to be creative and have the flexibility to concentrate on what matters the most, the music. LED backlit keys can keys can be sent to one of the seven colors available or fast scrolling color change mode. Furthermore, there are three additional USB connections in the back allowing you to connect your hard drives or any other USB controlled devices. Wait there is more, it is PC and MAC Compatible.
Easily visible color coded Serato shortcut key layout for both left and right CD/turntable deck

7 Color LED backlit keys are great for visibility in any dark environments

Set your color Preference or choose from two built-in changing modes

Connect up to 3 additional USB devices

Cable length is 56"

PC & MAC compatible

Tracktor Scratch Compatible Short Cuts
Dimensions (exterior): 12.625"W x 0.375-0.875"H x 6.75"D
Weight: 1 lbs
Works with Serato and Traktor
If you don't see it, it doesn't mean we don't have it. If you are interested in a certain product, but don't see it on our website, please call us or e-mail us!
*All products subject to available stock.
Copyright © 2014 by www.123DJ.com