Xti 1002


There's no debate – when you choose Crown's XTi 2 Series, you're choosing one of the most powerful and innovative amplifiers on the market today. That's because the all-new XTi 2 Series amps continue to set the standard for unmatched performance and value, delivering the goods night after night without breaking a sweat.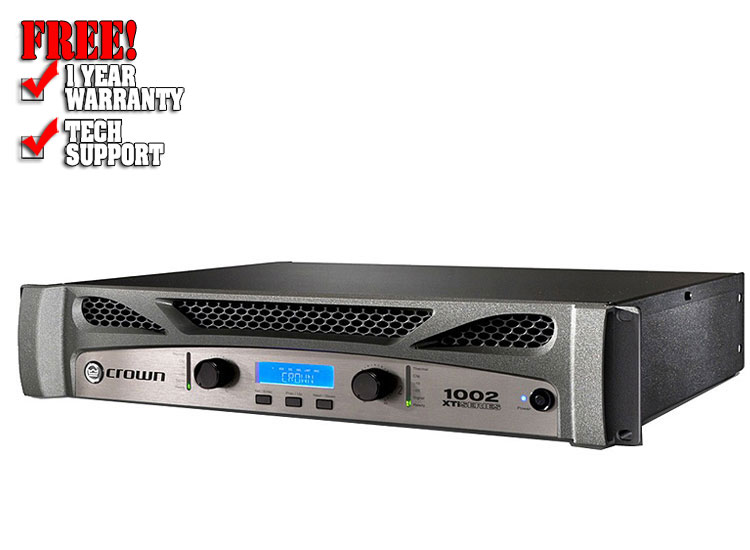 Wattage:

2Ω Stereo (per ch.) 700W
4Ω Stereo (per ch.) 500W
8Ω Stereo (per ch.) 275W
8Ω Bridge-Mono 1000W
4Ω Bridge-Mono 1400W

Peakx Plus™ Limiters provide the ultimate in system performance and protection by allowing full control over threshold, attack, and release
Enhanced Subharmonic Synth section provides user control over frequency, gain and filter type for system-specific tuning
3 User-defined fan mode controls – normal, early and fullspeed – for matching fan performance to a specific application
New system monitoring provides software visibility of AC line voltage and power supply temperature
Integrated cast-aluminum handles for easy handling and enhanced durability
Locking power cord clip provides a secure connection between the amplifier and power cord
Updated HiQnet Band Manager™ and System Architect™ control software
Increased number of presets to a total of 50; 49 of which are user definable
Input EQ: 6 parametric filters per channel with adjustable Q, ±15 dB boost/cut. Also adjustable high and low shelving filters. This 8-filter EQ section can be bypassed.
Crossover Filters: Highpass and Lowpass per channel. Butterworth 6/12/18/24 dB per octave. Linkwitz-Riley 24/48 dB per Octave. Also includes ± 15 dB bandpass gain and polarity control.
Output EQ: 8 parametric filters per channel with adjustable Q, ±15 dB boost/cut. This 8-filter EQ section can be bypassed.
Delay: For signal alignment of driver; 50 mS of total delay.
SubHarmonic Synth: Takes the low-frequency content of the input signal and "synthesizes" a new signal that is the same as the input signal but one octave lower. The new synthesized signal is then mixed with the original signal to create the effect. New: Users now have control over frequency, gain, and filter type.
Peakx™ Plus Limiter: User defeatable limiter that allows users to control Threshold, Attack, and Release times.
Presets: 50 total presets, 49 of which are user-definable.
Sensitivity (for full rated power at 4 ohms): 1.4 Vrms
Frequency Response (at 1 watt, 20 Hz - 20 kHz): +0 dB, –1 dB
Signal-to-Noise Ratio (below rated 1kHz power at 8 ohms):100 dB (A weighted)
Total Harmonic Distortion (THD): < 0.5%
Damping Factor 20 Hz to 1 kHz: > 500
Crosstalk (below rated power): 20 kHz - 1 kHz: > 70 db
Input Impedance (nominal): 20k ohms balanced, 10k ohms unbalanced
Maximum Input Signal: +22 dBu typical
AC Line Voltage and Frequency Configurations: 100 VAC, 120 VAC, 220-240 VAC 50/60 Hz
AC Line Current : 6.8A; no more than 38W at idle
Operating Temperature: 0°C to 40°C at 95% relative humidity (non-condensing)
If you don't see it, it doesn't mean we don't have it. If you are interested in a certain product, but don't see it on our website, please call us or e-mail us!
*All products subject to available stock.
Copyright © 2014 by www.123DJ.com