123DJ.COM
Chicago DJ Equipment Online Superstore -

DJ CD PLAYERS AND DIGITAL PLAYERS AT THE LOWEST PRICES!
DUAL RACK MOUNT DJ CD PLAYERS
GEMINI CDX-2250



Occupying just two units of rackspace, the CDX-2250 offers playback capabilities for audio CDs, CD-Rs and MP3-CDs across two decks. Complete with a range of professional DJ features, this unit is designed to provide excellent control in a wide range of applications.
Regular Price $359.99
OUR PRICE $169.99
STANTON C.502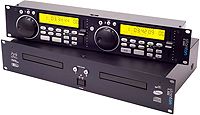 The Stanton C.502 is an affordable dual CD player with full MP3 capabilities.
Regular Price $499.99
OUR PRICE $269.99
NUMARK CDN-77USB


CDN77USB is a Dual USB and MP3 CD player designed for professional DJs. USB drive support allows you to put your entire digital music library on a USB flash or hard drive and use it at a gig.
Regular Price $799.99
OUR PRICE $349.99
VOCOPRO CDG8900

The CDG-8900 PRO features independent dual CD/CD+G players with all the pro features you need for playing music or providing vocals, including a digital shock buffer for true seemless loop, Anti-Scramble, pitch slider, pitch bend jog dial and buttons for BPM matching, and more.
Regular Price $599.99
OUR PRICE $349.99
SAVE EVEN MORE!


This item is available as Warehouse Resealed
Learn More.
AMERICAN AUDIO UCD-200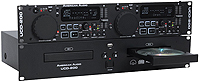 The expert American Audio UCD200 is a multi-form double rack mountable DJ CD player. A USB port gives you a chance to include a USB space unit for blending Mp3s from an external hard drive, thumb drive, and so on.
Regular Price $599.99
OUR PRICE $369.99
DENON DN-D4500MK2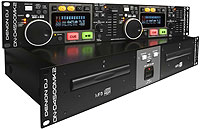 The DN-D4500MK2 has taken the very best of what Denon DJ has offerd the Mobile DJ market over the last decade and brought it completely up to date without losing any of the key original attributes.
Regular Price $1099.99
OUR PRICE $599.99
GEMSOUND CMP500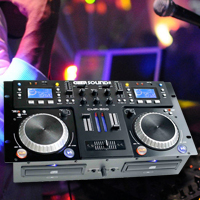 Dual CD Player / Mixer combo that features CD/USB scratching.
Regular Price $399.99
OUR PRICE $229.99
GEMINI CDM4000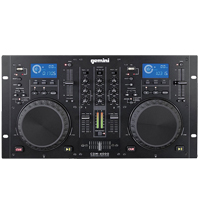 Gemini's CDM-4000 USB/CD Media Console is a powerful, cost-effective tool that provides easy-to-use track search and playback features across dual CD decks.
Regular Price $399.99
OUR PRICE $219.99
TECHNICAL PRO DMXP6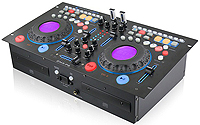 Built for the seasoned professional DJ and for the DJ that is just starting out, the DMXP6 has all the features you will ever need.
Regular Price $499.99
OUR PRICE $279.99

TECHNICAL PRO DMX-B3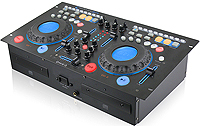 Professional Double CD 2 Channel Mixer is an all in one CD mixer built with a rugged design meant to hold up in the club while keeping the place hot!
Regular Price $499.99
OUR PRICE $289.99

GEMINI CDM3650


Gemini's CDM-3650 offers flexible playback capabilities and professional features in a powerful, portable all-in-one solution. Bringing versatile functionality to a mobile DJ workstation, the CDM-3650 lets you play and control tracks from Audio CDs, CD-Rs and MP3-CDs.
Regular Price $399.99
OUR PRICE $299.99

GEMINI GMX DRIVE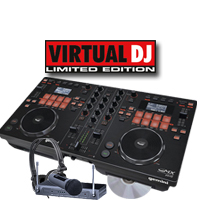 Direct playback from either slot-in CD Drives or a USB memory device of MP3 and WAV files allows the GMX DRIVE to be unchained from the laptop. It's portability will inspire spontaneous sessions and make for fast and simple setup at smaller venues.
Regular Price $999.99
OUR PRICE $389.99
FREE HEADPHONES
NUMARK CDMIX USB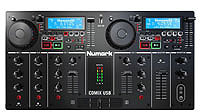 The CDMix USB is fully equipped and ready to play music from a dual CD player, USB flash drive or an RCA auxiliary input. Keep in control of the party with a digital two-channel mixer and dual EQ bands.
Regular Price $799.99
OUR PRICE $429.99

NUMARK MIXDECK WAREHOUSE RESEALED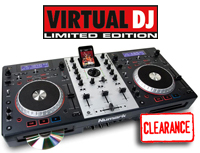 Perform with CD, MP3, USB, software, and iPod. MIXDECK is a complete system for every DJ who blends different kinds of music sources.
Regular Price $799.99
WAREHOUSE RESEALED $449.99
AMERICAN AUDIO ENCORE 2000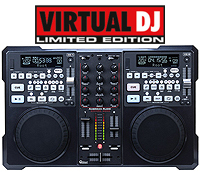 The American Audio Encore 2000 is an "all-in-one" Dual CD/MP3 Player, 2-Channel Audio Mixer and MIDI Controller with XLR outputs The unit comes bundled with Virtual DJ LE software.
Regular Price $899.99
OUR PRICE $499.99
FREE PRO DJ HEADPHONES & WIRELESS MICROPHONE!
NUMARK MIXDECK EXPRESS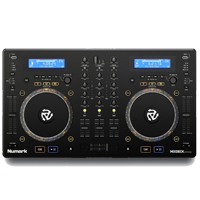 A full-featured DJ controller that comes complete with DJ software for using your digital music library. It also has two built-in CD decks that let you perform using CDs or MP3 CDs.
FREE CASE!
Regular Price $999.99
OUR PRICE $499.99
NUMARK MIXDECK QUAD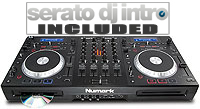 Complete system with CD, MP3 and USB decks, four-channel mixer, and computer audio and MIDI interface, MIDI integration of decks and the mixer for controlling both computer software and iPad apps.
Regular Price $1999.99
OUR PRICE $799.99
SAVE EVEN MORE!




This item is available as Warehouse Resealed
GEMINI CDMP7000



Slot-in CD-ROMs compatible with Audio CDs, CD-Rs and MP3 CDs, One-per-side USB inputs and SD card slots for USB storage devices and SD cards (SDHC compatible up to 32GB), Plays MP3, AAC, WAV and AIFF formats.
Regular Price $1999.99
OUR PRICE $549.99
FREE HEADPHONES
SINGLE RACK MOUNT AND KARAOKE PLAYERS
CD Players
123DJ offers you a wide range of full featured CD Players of Single Rack, Mounted, and Tabletop varieties of high Quality from branded makers such as American Audio, Denon DJ, Gemini, Gem Sound, Numark, Pioneer DJ, Pyle Pro, Stanton, Tascam, Technical Pro and VocoPro.
Encore 2000 of American Audio is a Combo of Dual CD/MP3 Player, 2-Channel Audio Mixer and MIDI Controller with readily made XLR outputs. It meets all your necessities as to play and mix MP3s, CDs and CD-R discs, with MIDI input, 2 Line inputs for additional CD inputs, Single Auxiliary and microphone input and a couple of USB inputs. Recommended Accessories are also available to make your use more enjoyable.
Gemini CDX-2250 is one of the best sellers with professional, user friendly functionality with a compact 2U Design. Handy playback features like Single and Continuous play modes, along with Instant-start, enhances the utilization flexibility. It is composed of +10 track button for quick navigation and many other amazing features. This product is given with a special offer price and free technical support.
For queries regarding these incredible CD Players, call us Toll Free at 1-800-856-8397 or save your time by e-mailing us at info@123DJ.com
2201 S. Union • Chicago, IL 60616
Phone: 312 -846-6192 • Fax: 312-492-8949
Toll Free 1-800
-856-8397

CONTACT US
-
BEAT A PRICE
-
GEAR RENTAL
-
TRACK YOUR PACKAGE
-
RETURNS / WARRANTY INFO
ABOUT US
-
SHIPPING INFO
-
PURCHASE ORDERS
-
CUSTOM INSTALLATION
-
TERMS

If you don't see it, it doesn't mean we don't have it. If you are interested in a certain product, but don't see it on our website, please call us or e-mail us!
*All products subject to available stock.
Copyright © 2014 by www.123DJ.com