DUAL RACK MOUNT DJ CD PLAYERS
PYLE PRO PDCD4000 RACK MOUNT CD PLAYER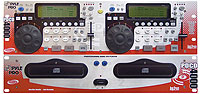 Professional rack mountable dual deck CD player with built in DSP effects and dual sampler
Regular Price $499.99
OUR PRICE $199.99
NUMARK CDN450 RACK MOUNT CD PLAYER



Numark's CDN450 is a highly reliable, dual-deck MP3/CD player for any DJ who needs a no-nonsense, multi-format player for professional use.
Regular Price $599.99
OUR PRICE $249.99
GEMINI CDX-2250 RACK MOUNT CD PLAYER



Occupying just two units of rackspace, the CDX-2250 offers playback capabilities for audio CDs, CD-Rs and MP3-CDs across two decks. Complete with a range of professional DJ features, this unit is designed to provide excellent control in a wide range of applications.
Regular Price $359.99
OUR PRICE $189.99
STANTON C.502 RACK MOUNT CD PLAYER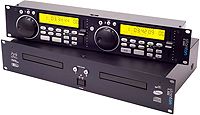 The Stanton C.502 is an affordable dual CD player with full MP3 capabilities.
Regular Price $499.99
OUR PRICE $269.99
GEMINI CDX2410 RACK MOUNT CD PLAYER



Powerful playback tools such as instant-start and cue with preview, single and continuous play modes, and program function with repeat, the CDX-2410 delivers optimum functionality and powerful tools to take your CD and MP3 performances to the next level.
Regular Price $499.99
OUR PRICE $279.99
DENON DN-D4500 RACK MOUNT CD PLAYER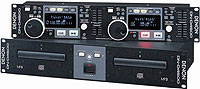 The DN-D4500 is the successor of the award winning DN-D4000 and offers many expanded features especially in the area of MP3.
Regular Price $819.99
BLOWOUT PRICE $499.99
VOCOPRO CDG8900 RACK MOUNT CD & KARAOKE PLAYER

The CDG-8900 PRO features independent dual CD/CD+G players with all the pro features you need for playing music or providing vocals, including a digital shock buffer for true seemless loop, Anti-Scramble, pitch slider, pitch bend jog dial and buttons for BPM matching, and more.
Regular Price $599.99
OUR PRICE $349.99
SAVE EVEN MORE!


This item is available as Warehouse Resealed Learn More.
AMERICAN AUDIO UCD-200 DIGITAL DJ CD PLAYER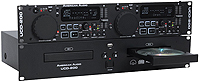 The expert American Audio UCD200 is a multi-form double rack mountable DJ CD player. A USB port gives you a chance to include a USB space unit for blending Mp3s from an external hard drive, thumb drive, and so on.
Regular Price $599.99
OUR PRICE $369.99
CD Players
123DJ offers you a wide range of full featured CD Players of Single Rack, Mounted, and Tabletop varieties of high Quality from branded makers such as American Audio, Denon DJ, Gemini, Gem Sound, Numark, Pioneer DJ, Pyle Pro, Stanton, Tascam, Technical Pro and VocoPro.
Encore 2000 of American Audio is a Combo of Dual CD/MP3 Player, 2-Channel Audio Mixer and MIDI Controller with readily made XLR outputs. It meets all your necessities as to play and mix MP3s, CDs and CD-R discs, with MIDI input, 2 Line inputs for additional CD inputs, Single Auxiliary and microphone input and a couple of USB inputs. Recommended Accessories are also available to make your use more enjoyable.
Gemini CDX-2250 is one of the best sellers with professional, user friendly functionality with a compact 2U Design. Handy playback features like Single and Continuous play modes, along with Instant-start, enhances the utilization flexibility. It is composed of +10 track button for quick navigation and many other amazing features. This product is given with a special offer price and free technical support.
For queries regarding these incredible CD Players, call us Toll Free at 1-800-856-8397 or save your time by e-mailing us at info@123DJ.com
If you don't see it, it doesn't mean we don't have it. If you are interested in a certain product, but don't see it on our website, please call us or e-mail us!
*All products subject to available stock.
Copyright © 2014 by www.123DJ.com