Pioneer EQ Headphones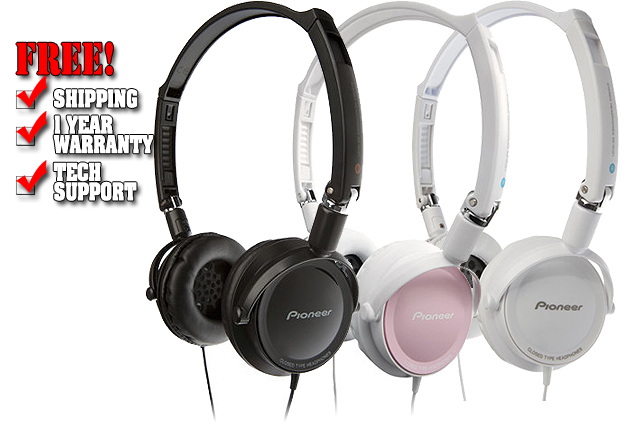 Regular Price $129.99
Our Price $59.99

On-Ear DJ-Inspired Stereo Headphones
Large 40mm drivers
500 mW Maximum Input Power
Compact, light weight folding design with DJ-style swiveling ear cups
Compatible with most MP3/portable audio devices, including the latest generation iPhone and iPod.
Authentic Performance Inspired by Decades of Experience as the #1 Professional DJ Brand
For over 15 years, Pioneer has been engineering award-winning products trusted by the World's most respected professional DJs and musicians. With a portfolio of industry firsts including the World's first scratch CD player and scratch DVD player, Pioneer has been transcending the limits of how enthusiasts emotionally connect with their music through innovative technology, performance and design. Pioneer's range of DJ-inspired headphones distills the essence of their professional products into a compact, stylish and consumer-friendly package available to all music lovers.

Get Closer to Your Music
Pioneer's professionally-inspired sound tuning heightens the presentation and impact of both high and low musical notes. Similarly implemented in Pioneer's professional headphone line, this unique tuning philosophy is favored by pro DJs in order to make it easier to time and mix music tracks. Characterized by crystal clear highs, and deep pounding lows, the EQ DJ-inspired headphones get you closer to your music and the club scene with an energetic listening experience reminiscent of their award-winning pro models.

Relentless Performance Meets Aggressive Styling
The same passion for quality sound reproduction that drives Pioneer's industry-leading line of professional DJ headphones powers the engineering behind their DJ-inspired consumer models. At the heart of the Loop headphone is a pair of 40 mm drivers which can handle up to an astounding 500 mW of input power, extremely efficient at translating all of that energy into loud, accurate sound due to its high 103 dB sensitivity rating. A gold-plated mini plug and a high quality OFC Litz cord provide a potent connection to your portable audio/mp3 player.
All of this unbridled power and passion is wrapped in an on-ear closed monitor design which provides passive sound isolation. Another coveted feature of the pros - this closed, sound isolating design minimizes sound leak from the external environment ensuring nothing gets between you and your music.
The EQ headphone stays true to its roots with understated club-inspired styling.

Listen Long, Listen Anywhere
Just like in the club, music is meant to be enjoyed over long periods of time. The EQ headphones feature an ultra-lightweight frame and soft leather-type ear pads for the ultimate in comfort. A compact, folding design makes sure your lifestyle never has to miss a beat.

If you don't see it, it doesn't mean we don't have it. If you are interested in a certain product, but don't see it on our website, please call us or e-mail us!
*All products subject to available stock.
Copyright © 2014 by www.123DJ.com