123DJ.COM
Chicago DJ Equipment Online Superstore -

ELECTRONIC DRUM SETS AT THE LOWEST PRICES!
Alesis DM8 Pro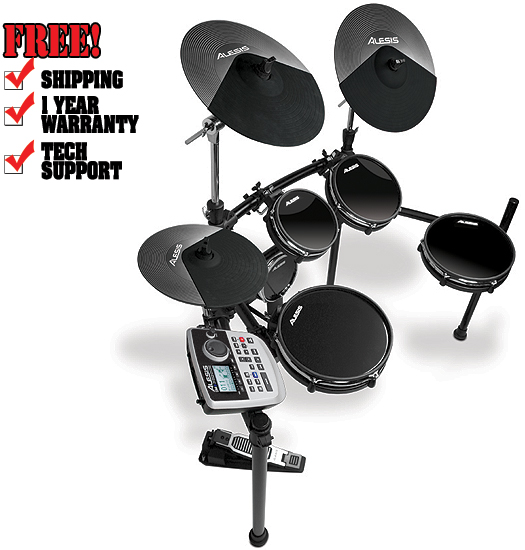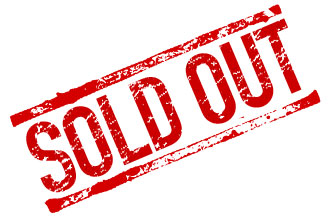 DM8 high-definition drum module with over 750 Dynamic Articulation™ sounds

RealHead 8", 10", and 12" drum pads with tension-adjustable drumheads

12" dual-zone Snare, 8", 10", and 12" Toms, and 8" Kick, which works with single and double pedals (sold separately)

DMPad 12", 14", and 16" multi-zone cymbal pads with natural motion

16" 3-zone Ride with choke, 14" Crash with choke, 12" Hi-Hat with RealHat continuous pedal

StageRack with four-post design, integrated cymbal booms, and wingbolt-adjustable clamps

StageRack comes with convertible boom/straight cymbal arms, mounted in the downtubes

Premium instrument library multi-sampled from real drums and cymbals

Play along with tracks and record yourself with the three-part sequencer

Works with iPad via Apple USB Adaptor (sold separately)
Mix input for practicing with external music players

USB-enabled for tracking and programming with virtually all music software
Sounds: Over 750
Kits: 100 preset, 100 user
Patterns: 75 preset, 75 user



Includes:
(1) DM8 drum module
(2) RealHead 12" Drum pads
(1) RealHead 10" Drum pad
(1) RealHead 8" Drum pad
(1) RealHead Kick pad
(1) DMPad 12" Hi-Hat cymbal
(1) DMPad 14" Crash cymbal
(1) DMPad 16" Ride cymbal
(1) RealHat Pedal continuous hi-hat control pedal
(1) StageRack with clamps and boom cymbal arms
(1) Cable snake with cable collars
(1) Drumkey
(1) Power supply
(1) DM8 User Manual
(1) Setup Guide
Perfect sound, feel, looks, and durability all at a perfect price.

Perfect. It's a word that's thrown around a lot these days. But with the DM8 Pro Kit, you might just find it. The Alesis development team painstakingly examined all aspects of what makes a kit the best possible choice – all with the goal of creating the perfect electronic drumset. If you imagine sound, feel, looks, durability, and price as the faders on a mixer, the DM8 Pro Kit is the perfect mix.

PERFECT SOUND
An electronic drum kit can't be called perfect without mind-blowing samples. The DM8 Pro Kit features the barrier-shattering DM8 high-definition drum module with Dynamic Articulation™. Our latest drum module in a line now spanning 20 years, the DM8 builds on the success of the top-of-the-line DM10. The DM8 shares the DM10's essential architecture, including playback of genuine recordings of real drums and cymbals and advanced Dynamic Articulation™ multi-samples.

You'll find the DM8 to be packed with over 750 first-call studio and live drums and cymbals, dozens of play-along tracks, and an advanced metronome for practice and performance. The DM8 features professional audio and trigger inputs and outputs including USB MIDI for expansive flexibility and connection to a wide range of sounds and controllers.

It's an ultra-compact module, which means integrating components of the DM8 Pro Kit – or the entire setup – into acoustic drum setups and percussion rigs is easy and comfortable. Imagine adding electronic, percussion, and rare, ethnic sounds without giving up the organic, primal power of an acoustic set.

Never before has so much power been offered in a drum module this compact, at such an affordable price.

PERFECT FEEL
One of the most important factors that makes an electronic kit feel great is the relationship between the sizes of the drum and cymbal pads. You see, as drummers, our muscle memory and brains are programmed to expect drums to get bigger as you move down the toms, for example. Your hands expect the ride to feel a certain way as you play it. The DM8 Pro Kit is designed to provide you with the most accurate, natural size and space relationships of any electronic kit.

The DM8 Pro Kit is the first electronic drumset with 16-inch Ride and 14-inch Crash cymbal pads, and it's also Alesis' first kit with large, 12-inch snare and floor-tom pads. The DM8 Pro Kit features Alesis' RealHead drum pads and DMPad Cymbals.

RealHead pads feature real, tension-adjustable drumheads and real triple-flanged counterhoops for the feel you demand. You get a 12-inch snare, 8, 10, and 12-inch toms, and a kick pad that accommodates single and double pedals. If you need to quiet the rims' sound, the kit includes a set of optional rubber rim mutes. RealHead snare and tom pads mount on standard 10.5mm L-rods with low-slip, knurled mounting surfaces. You can use virtually any single or double kick pedal with the RealHead Kick Pad for the pedal feel you prefer.

The DM8 Pro Kit includes low-noise DMPad Cymbals. The kit comes with a 12-inch DMPad Hi-Hat, a large 14-inch DMPad Crash with choke, and an industry-first 16-inch triple-zone DMPad Ride with choke. DMPad Cymbals provide a rubberized playing surface for a great balance between natural cymbal feel and low stick-on-pad sound. The Ride and Crash cymbal feature large choke triggers on the undersides for accurate cymbal control. The DMPad Ride also features multi-zone triggering on the bell, face and edge. The DMPad Hi-Hat Cymbal and RealHat Pedal give you continuously variable control from wide open to tightly closed, plus chick and heel splash.

PERFECT LOOKS
Everyone knows it can be tough to be seen on stage when you're a drummer. You're in the back, usually with no lights. And forget about being able to dance. That's why our designers took great pains to make the DM8 Pro Kit look as great as it feels and sounds. You'll notice the sleek lines of the DM8, bathed in Raw Aluminum painted finish, which just might match your MacBook Pro, iPad, iPod, or iPhone.

Besides the stunning DM8 module, a minimalistic chrome-and-black motif runs throughout the kit. Large Alesis logos on the audience side of the kick pad and on the underside of the cymbals set you apart from the crowd on stage, and logos on each drumhead and cymbal pad face the player for the overhead camera to pick up!

PERFECT DURABILITY
Drummers know that hardware can make or break a kit. If you check out old footage of Ringo or Buddy, you'll see their stands flexing and flopping, and the drummer or their drum tech chasing "walking" hi-hat stands. That's why we carefully considered every element in designing the DM8 Pro Kit's StageRack.

This rugged, four-post rack features 1 1/2-inch metal tubes for universal compatibility and sturdiness. The clamps on the StageRack adjust with large wingscrews for easy, tool-less adjustments with no drumkey needed.And boom/straight-convertible cymbal arms mount in the vertical rack down-tubes for optimum flexibility in cymbal positioning.

This rugged rack is built for durability and stability – from the ground up.

PERFECT PRICE
In engineering the perfect mix, we couldn't ignore the matter of price. Let's face it: there are a lot of really expensive electronic drumsets out there. Sure, we could try to sell you something for multiple thousands of dollars. But that wouldn't be perfect. You see, we set out to deliver the best possible blend of sound, feel, looks, durability, and affordability in any electronic drum set.

Check out the DM8 Pro Kit at your Alesis dealer and decide for yourself if we were successful.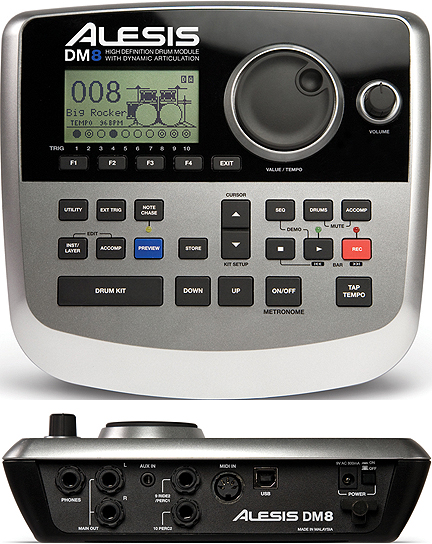 2201 S. Union • Chicago, IL 60616
Phone: 312 -846-6192 • Fax: 312-492-8949
Toll Free 1-800
-856-8397

CONTACT US
-
BEAT A PRICE
-
GEAR RENTAL
-
TRACK YOUR PACKAGE
-
RETURNS / WARRANTY INFO
ABOUT US
-
SHIPPING INFO
-
PURCHASE ORDERS
-
CUSTOM INSTALLATION
-
TERMS




If you don't see it, it doesn't mean we don't have it. If you are interested in a certain product, but don't see it on our website, please call us or e-mail us!
*All products subject to available stock.
Copyright © 2014 by www.123DJ.com