Seems to becoming an ever increasing fact that the laptop is playing a vital part in the DJ's life these days - in some cases replacing CDs and vinyl. This of course means more space to find to put your laptop when you're in your bedroom or playing out so it makes equal sense to have something to stand your oh so expensive computer on in the safe knowledge that it's going nowhere or at least it doesn't take up any real space. Enter the laptop stand.
First Impressions
There aren't many products that have drawn an instant "wow" from me but this is one of them. Mr Postie dropped off the vinyl sized package which I suspected to be a nice lump of battle wax. Hmmm... this is too heavy for vinyl I thought - what the hell is it? Peeling open the package drew the wow as the Uberstand folds very neatly into a 12" square zipped bag, making it perfect to carry around in your regular bag and taking very little space.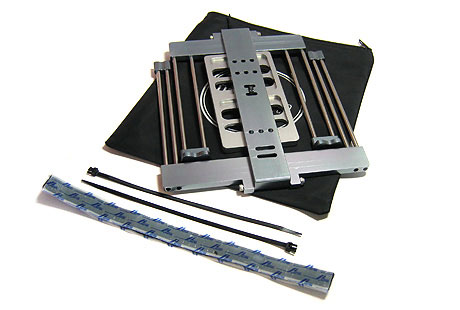 But once I'd opened the bag and pulled the contents out, it was clear that I was handling an incredibly simple yet serious piece of equipment. Inside the bag was the stand itself, along with a detachable and adjustable shelf and some reuseable plastic ties and a big strip of Velcro. The one I have is called Gunmetal, but you can also buy it in Black as well.

Assembly is nothing more than unfolding the stand and dropping the shelf into a position that suits you and your hardware.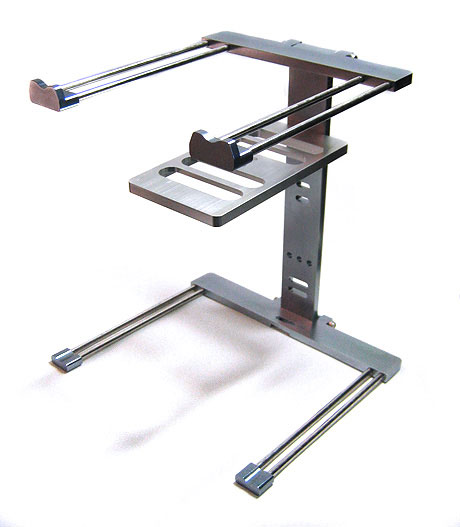 The thing that hit's you first is the pure rugged quality of the Uberstand. It's head to to metal - aircraft grade Aluminium and stainless steel, but it's been carefully designed to minimise weight and still keep stability as it's number one attribute.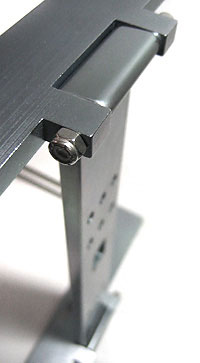 Supplied with the stand is a shelf. This can be used for accommodate say the SSL box, a hard drive, sound card etc - anything you want - and you can purchase extra shelves if you have the need for lots of crap to be on show as well.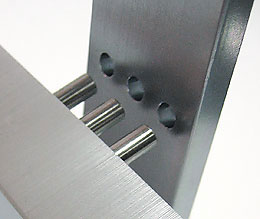 The shelf fits into the base with 3 x 6mm pegs - enough to take the weight of anything you throw at it, again attesting to the quality of materials and workmanship. And it doesn't feel like there's any chance of it slipping out either, but if you so wish, I'm sure you could use one of the plastic ties to keep it in place. And despite being entirely of metal, I didn't find a single sharp edge anywhere - so no mid-set industrial accident lawsuits courtesy of Litlab here.
In Use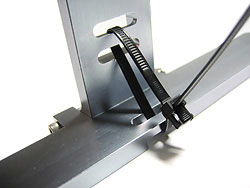 It's really hard to know what to say in this section, because it does exactly as the name suggests - it's a stand for a laptop and does it exactly as prescribed. But care must be taken to make sure that using it is a safe and happy experience.

When I assembled the stand and put my laptop on it, it became very apparent just what the velcro and plastic ties were for. While the whole thing is very stable, when I nudged the laptop accidentally, the chance was for the whole stand to pivot backwards on the hinge, and if playing out, the crowd would get themselves a free laptop. So I wondered just how this could be stopped - the use of the ties was suddenly obvious, as was the extra slots in the stand. Not only do the ties stop the stand from pivoting, but they're also used to keep the shelf in place. While it's very secure, when I came move the stand, the shelf had a tendency to fall out - potentially onto my decks or mixer. The ties are simply an extremely effective way of keeping everything safe and sound. And although the supplied one are reusable, replacing them will only cost you a few pence/euros/dollars etc.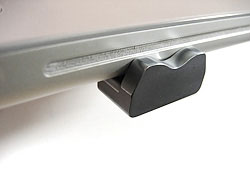 The supplied velcro is a vital addition as well. My Powerbook slid quite easily when in place on the stand, something that is potentially disastrous for you, your laptop and your set. A few tabs of Velcro placed at the front and back will stop this completely.

One thing that did strike me was how compatible this stand was with the wider laptop market. The arms are positioned narrow enough to take even the smallest notebook and nothing hinders access to CD drives either. Apple laptops are possibly the slimmest on the market and as you can see, the front loading CD drive isn't hindered at all. You would however need to check yours out before purchasing the Uberstand.

One of the obvious advantages of the Uberstand is the space saving element. Not only does it lift your laptop above your work surface, but you can also position it so that it sits right over your mixer - so no more reaching across decks. This isn't ideal for a playing out DJ as all the crowd will see is the back of your computer but at home or in your studio, this configuration can be a real winner.

One thing worth noting - there's no way to use a mouse with the Uberstand. I'm led to believe however that a mouse plate is planned in the future.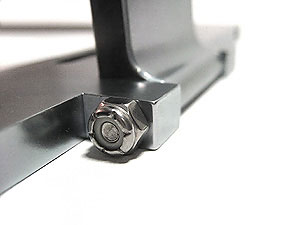 There's no doubting that the quality and simplicity of the Uberstand is the key selling points of the product. It folds to down to nothing, fits in with your records and despite the rock solid build, it quite light. And the fact that you can add extra shelves to it for your peripherals is cool too.

There's no doubting that at $90, the Uberstand isn't cheap. But it has been designed to withstand the stresses and strains of a DJ's life. One thing is for sure - I'll never need another stand and it's likely to outlive you, your family and every other piece of DJ gear that you own - including your Technics.



Build Quality - 10/10
There's no way to fault the build - solid metal but light enough to carry around.
Features & Implementation - 10/10
It folds away to nothing and takes your laptop and peripherals and doesn't rely on clamps for sturdy usage.
Value For Money - 9/10
Not the cheapest on the market but you get what you pay for.
The Bottom Line
Few products have immediately impressed me as much as the Uberstand. The compactness, simplicity and superb high quality make this an essential purchase for laptop users.