Developed with Serato, this palm-sized cue point and looping controller has been designed to fit exactly where you need it: on your turntables, CDJs, mixer or laptop. Dicer always ships in pairs - one for each side.
Plug Dicer in, slot it on your turntable/CDJ, and you can instantly set cue points and use them to trigger 'Hot Cues'. Or, flip Dicer into 'Auto-Loop' or 'Loop Roll' modes, to trigger loops, or 'roll' sections of the track to create climaxes, drops and glitchy breaks. Each 'mode' illuminates Dicer's pads a different colour, so you can instantly see what mode the pads in, even in dark clubs and venues.
Serato Scratch Live 2.1 will automatically map the Dicer to these functions and provide full LED feedback - red for Hot Cues, green for Loop Roll, and amber for Auto-Loop. The public version of Scratch Live 2.1 is available now.
.Dicer's buttons can also 'learn' other software functions. So, you can assign different FX to the pads, or trigger samples over the top of your mix, or even browse tracks in your iTunes library!
Dicer was designed by Novation in collaboration with Ean Golden - DJ and curator of DJ Tech Tools. Ean came up with the concept of a controller that fits on the turntable, and his contribution has been crucial in helping Novation design and develop Dicer.
Dicer does not come with its own software, it works in conjunction with Serato Scratch Live or other DJ software such as Traktor Scratch Pro.
USB bus-powered
Dicer gets all the power it needs from a single USB cable, with no need for an external power supply. A mini Jack cable transmits power and data to the second Dicer.
Ready-made setup files for other DJ software
Quick setup files for other major DJ software, including Traktor Scratch Pro, are available to download for free from www.novationmusic.com
A Fully class compliant MIDI device
Dicer is a plug and play device, so no need to install any drivers
Integration with Serato
Full integration with Serato Scratch Live (including LED feedback) requires Serato version 2.1. Without this, Hot Cues, Auto Loop and Loop Roll functions can all be assigned to Dicer using Serato's MIDI learn function.
Physical controls and Indicators
• 5 large round multi-colour back-lit trigger buttons
• 3 small round multi-colour back-lit function buttons
Connectivity
• Micro USB 1.1 connector; the most robust and compact USB connection.
• Kensington lock space
• Mini-Jack connector for connecting pairs.
Weights and Dimensions
Single un-boxed unit (Dicer always comes as a pair):
W & D = 90 mm / 3.5 "; H = 13 mm / 0.5"
Weight: 72 g / 0.16 lbs
NOTE: One Dicer only. Height includes rubber feet / excludes adapter
Boxed (pair):
W=165 mm / 6.5 ", H=240 / 9.5 ", D=60 mm / 2 3/8"
Weight: 0.4373 kg / 0.96 lbs
NOTE: Includes single brown outer box
Multi Box (10):
W= 307 mm / 12", H=492 mm / 19 3/8", D=187 mm / 7 3/8"
Weight: 5.253 kg / 11.58 lbs
Performance buttons with visual feedback
Backlit, multi-colour, soft touch 'dice' buttons, provide immediate LED feedback from Serato Scratch Live software.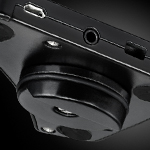 Locks straight onto Technics SL 1200/10, and similar decks
Using the 45-adapter hole, Dicer places looping control right where you need it - on your decks, millimetres away from your vinyl.
Attaches to CDJs, mixers and laptops.

With Novation's reusable 'DJ putty', your Dicers can slot into even the most cramped of DJ performance set-ups, sticking cleanly and directly onto your CDJs, mixer or laptop.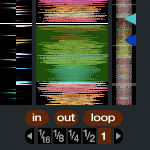 Default set-up for Serato Scratch Live
Dicer is pre-programmed to take advantage of the cue point and looping functions in Serato Scratch Live, including 'Hot Cues', 'Auto Roll' and 'Loop Roll'.
Works with all major DJ software
Dicer is fully MIDI assignable, so it can be set up to control almost any software, including Tractor Scratch Pro. Up to 60 assignable MIDI controls are available from a pair of Dicers.