123DJ.COM
Chicago DJ Equipment Online Superstore -

DJ EQUIPMENT SYSTEMS AT THE LOWEST PRICES!
SX2 Thump15 Pack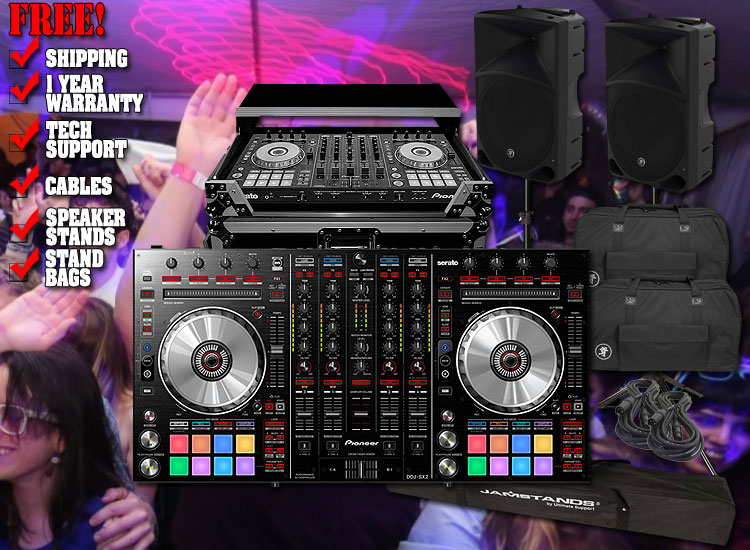 Regular Price $2399.99
Our Price $1947.99
COMBO INCLUDES: Pioneer DDJ-SX2 Digital Controller, DDJ-SX2 Flight Case, Two Mackie Thump15 Active Speakers, Two Thump15 padded bags, Two 20' XLR Cables, Two speaker stands, Speaker stand bag
PIONEER DDJ-SX2 DIGITAL CONTROLLER

4-Channel Performance DJ Controller Designed for Serato® DJ

Dedicated buttons for Serato FLIP

Updated Jog Wheel with "Hot Cue Countdown"

Multi-Colored, Velocity Sensitive Performance Pads

Serato DVS Upgrade Ready

OVERVIEW
The DDJ-SX2 is the industry's first controller to give DJs dedicated control of the new Serato Flip functions within Serato® DJ . Serato Flip is an expansion pack for Serato DJ that gives DJs the power to record and re-play hot cue sequences on the fly. The DDJ-SX2 is the only controller with designated buttons – Record, Start, and Slot – to put intuitive Serato Flip performances at their fingertips. The four-channel DDJ-SX2 builds on the popularity of its predecessor, but inherits two must-have features from the top-flight DDJ-SZ: Performance Pads with velocity sensitive, multi-colored LEDs and on-jog digital cue point markers. The DDJ-SX2 is also Serato DJ DVS upgrade ready and boasts improved jog wheel reaction time.
SERATO FLIP
Serato Flip is a new function in Serato DJ that lets DJs record hot cue combinations and replay them on a loop. DJs can record themselves triggering cues using the Performance Pads and automatically loop the sequence back on demand. Up to six recordings (slots) of Hot Cue sequences can be made for playback at a later time. Pioneer added Record (start/stop recording), Start (start/stop loop), and Slot (store) buttons to quickly access the Serato Flip operation.
CONTROL LAYOUT
The DDJ-SX2 provides the same functional layout of its predecessor with quick access to a multitude of Serato DJ features. The layout of the buttons, knobs, sliders and Performance Pads deliver the best DJ controller experience designed to match the applicable software functions perfectly:

Multi-colored Performance Pads – Introduced in the top-of-the-line DDJ-SZ, the DDJ-SX2 now incorporates the highly attractive and functional multi-colored Performance Pads that control eight types of Serato DJ functions. The various illumination colors provide quick identification of the different actions/commands such as beats and drum rolls. The eight pads located below the Jog wheel offer HOT CUE, ROLL, SLICER and SAMPLER functionalities. While in velocity SAMPLER mode, the output level from the pad can vary depending on the strength of each tap from the user.

Amplified MIC Input – Improved from the first generation, the controller features a balanced microphone (MIC) input circuit to provide clear audio output with no distortion regardless of the type or brand of microphone used. The controller can deliver clear audio even at high volume levels because of increased headroom and highly improved signal-to-noise (S/N) ratio.
High Accuracy Jog Wheel – The output reaction time of the JOG wheels is significantly improved, further cutting down on latency, ensuring tasks such as "scratch" performances are at their highest levels. The model also features "Hot Cue Countdown" providing users, via its JOG Display, with the time remaining to a Hot Cue point, helpful in quickly arriving to a specified position in the music playing.


4-Channel Mixer – The DDJ-SX2 features an independent 4-channel mixer that can be used with other external sources such as turntables. Its master level meter provides instantaneous sound level adjustment as well as independent output controls with a display indicator for each channel when used as a standalone mixer.

EXPANDED FUNCTIONALITY
The DDJ-SX2 features four external inputs for connection with CD players, analog turntables, microphones and more, with the ability to act as a stand-alone mixer (without the need to connect to a PC/MAC). The controller includes two Master Out and one Booth Out outputs for connection to external public address (PA) equipment. The DDJ-SX2 also features support for the Serato DJ DVS function. Users will have the ability to purchase Serato's DVS Expansion Pack and perform Serato DJ deck control on the DDJ-SX2 with Pioneer CDJ players or analog turntables.

ADDITIONAL FEATURES

High Quality Audio – A low-jitter clock and high-performance digital-to-analog converter (DAC) provide accurate and clear audio playback

Slip Mode – While activated, Slip Mode silently continues song playback during a performance loop, scratch or hot cue and resumes audible playback when the loop, scratch, or hot cue operation is ended, creating smoother and more seamless transitions

Aluminum Finish – The DDJ-SX2 sports an aluminum top panel and a brushed aluminum finish on the JOG wheels for optimal look and feel

Multiple Connection Options – The DDJ-SX2 offers dual CD and phono/line inputs for external devices as well as two microphone inputs, two Master Outputs (XLR and RCA) and a Booth Out terminal

Built-in Sound Card (audio interface)

Needle Search – Users can immediately jump to a specific part of a music track with a simple touch of the Needle Search pad

Adjustable Cross-Fader Curve – Suits any type of mixing style

Channel Fader Start – Enables use of the channel fader to control and play/cue tracks.

Assignable Settings – Pioneer offers a TSI file for use with the Native Instruments TRAKTOR PRO2 software

Software Serato® DJ

Number of Channels 4 audio channels, 2 mic channels

Input Terminals CD x2 (RCA), LINE/PHONO x 2 (RCA), MIC x 2 (XLR & 1/4 inch combined PHONE x 1, 1/4 inch PHONE x 1)

Output Terminals MASTER OUT x 2 (RCA x 1, XLR x 1), BOOTH OUT x 1 (1/4 inch PHONE), HEADPHONE MONITOR OUT x 2 (front panel 1/4 inch PHONE, 3.5mm MiniPin)

Other Terminals USB B port x 1

Frequency Response 20Hz ~ 20kHz

Total Harmonic Distortion Ratio 0.003% or less

S/N Ratio 107 dB or above (PC)

AC Adapter AC 100V to 240V, 50Hz/60Hz, DC 5V, 3A

External Dimensions 26.14" (W) x 13.91" (D) x 2.77" (H)

Unit Weight 12.79 lbs

SERATO DJ SYSTEM REQUIREMENTS


Mac Mac OS X v10.9.4/10.8.5/10.7.5

32-bit: (CPU) 2.0 GHz Core 2 Duo / (Memory) 2GB

64-bit: (CPU) 2.4 GHz Core 2 Duo / (Memory) 4GB

32-bit: (CPU) Core i3, i5 or i7 1.07 GHz Duo / (Memory) 2GB

64-bit: (CPU) Core i3, i5 or i7 1.07 GHz Duo / (Memory) 4GB


Windows® Windows 8.1/Windows 7

32-bit: (CPU) 2.0 GHz Core 2 Duo /(Memory) 2GB

64-bit: (CPU) 2.4 GHz Core 2 Duo / (Memory) 4GB

32-bit: (CPU) Core i3, i5 or i7 1.07 GHz Duo / (Memory) 2GB

64-bit: (CPU) Core i3, i5 or i7 1.07 GHz Duo / (Memory) 4GB


Display Resolution 1280 x 720 or higher resolution

TWO MACKIE THUMP15 ACTIVE SPEAKERS

1000W TOTAL SYSTEM POWER
Gig-ready, high-output design
Ultra-efficient Class-D amplification
CLASS-LEADING, CHEST-THUMPING LOW END
15" high-output woofer / 1.4" titanium dome compression driver
Dynamic bass response delivers amazing lows at all volumes
TOTAL SYSTEM OPTIMIZATION
Precision 2-way crossover
Transducer time alignment
System protection / limiting
APPLICATION FLEXIBLE
3-band EQ with sweepable mid to dial in the perfect sound
Mic/line input allows direct connection of microphone
Flexible mounting options including tripod and pole-mounting
Angled design perfect for use as a stage monitor
LIGHTWEIGHT AND PORTABLE
Rugged polypropylene construction designed for heavy use
33.2 lbs / 15.1 kg
Only Mackie Thump Powered Loudspeakers deliver the class-leading, chest-thumping low end you deserve. With 1000+ watts of power, you get the high output you need in a package that's tough, lightweight and portable. Featuring a built-in 3-band EQ and designed by the world's leader in portable sound, Thump delivers power, performance and proven quality.
The all-new Thump Series loudspeakers deliver more than twice the power of the previous generation. Plus, we've upped the amazing amount of low end Thump delivers. They're even more high-output, they have even more bass and they are still as affordable as ever. Get louder. Get lower.
Only Thump loudspeakers deliver the proven chest-thumping performance you (and your audience) deserve. Now, with our all-new dynamic bass response technology, you get the deep, hard-hitting lows you've come to expect from Thump at any volume level.
Really bring the bass by adding the new 1200W Thump18S powered subwoofer. The powerful 18″ sub is a professional band-pass design, delivering high-output and deep, rich lows that completely fill the room.
When budget is a concern, Thump is the clear choice. Only Thump delivers the power you need, the sound quality you deserve and the low end to get people dancing. And, all at the same price as the competition. Don't settle for less.
Thump full-range loudspeakers are packed with 1000W of ultra-efficient Class-D power. The all-new robust drivers are custom-designed and ready for high-output portable applications. Thump delivers that power and performance you need to reach more people than ever before.
Portable speakers need to be flexible. They can be used as a main one day and a stage monitor the next. With Thump, you've got everything you need to get the job done. The built-in 3-band EQ features a sweepable mid, perfect for dialing in the sound to fit the application.
The lightweight design is easy to get up on a tripod or atop a sub. You need a speaker than can handle a wide range of jobs and Thump delivers.

DDJ-SZ FLIGHT CASE
TWO SPEAKER STANDS
SPEAKER STAND BAG
TWO PADDED SPEAKER BAGS
TWO TWENTY FOOT XLR CABLES
2201 S. Union • Chicago, IL 60616
Phone: 312 -846-6192 • Fax: 312-492-8949
Toll Free 1-800
-856-8397

CONTACT US
-
BEAT A PRICE
-
GEAR RENTAL
-
TRACK YOUR PACKAGE
-
RETURNS / WARRANTY INFO
ABOUT US
-
SHIPPING INFO
-
PURCHASE ORDERS
-
CUSTOM INSTALLATION
-
TERMS

If you don't see it, it doesn't mean we don't have it. If you are interested in a certain product, but don't see it on our website, please call us or e-mail us!
*All products subject to available stock.
Copyright © 2014 by www.123DJ.com