Halloween Pack 3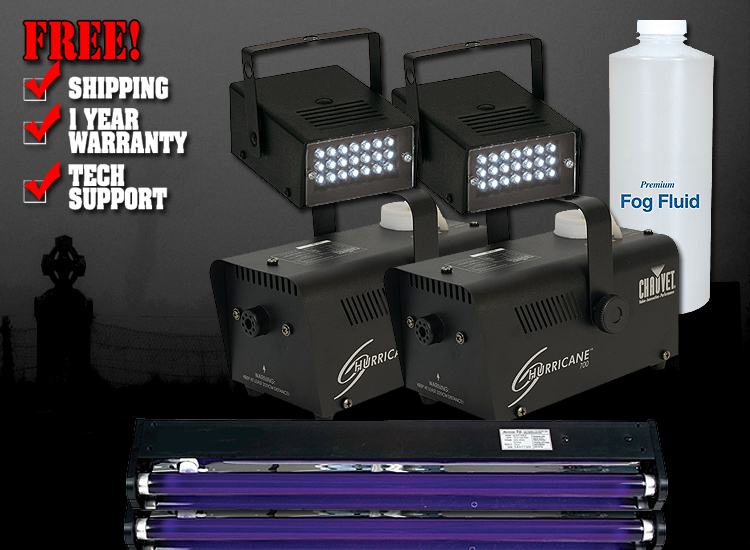 Regular Price $399.99
Our Price $219.99
Package that is great for Halloween! Whether it's for a Haunted House, Halloween party or just to set up a seasonal display, this easy to use package has all you need!

Two Chauvet Hurricane 700 Fog Machines

The Chauvet Hurricane 700 Fog Machine gets the fog bank rolling with a 450W heater that puts out 1,500 cubic feet of fog per minute. The Hurrican 700 has a .8L tank capacity, and comes with a free pint of fog juice. This Chauvet fogger also has a manual fog button, and is packaged with a wired remote (FC-1). In only 4 minutes the Hurricane 700 fogger is heated up enough to provide a great atmospheric effect at your event.
450W heater
Output: 1,500 cubic feet per minute
4-minute heat up
.8L tank capacity
Free pint of fog juice
Wired remote (FC-1) included
Manual fog button
Includes hanging bracket

Two Mini LED Strobe Lights

Bright Strobe light with 21 white LEDs

Provides a powerful punch in a small package

Long life LED technology - 50,000 hour LED life

Variable speed knob on rear to control the flash rate from slow to fast

Great with or without fog

Low power consumption: 3W

Beam angle: 130-degrees

Dimensions (LxWxH): 3.5"x5.5"x3.5" / 85x135x85mm

Weight: 1 lbs. / 0.5 kg.

Two 24" Black Lights

Great for clubs, DJs, bands and special effects productions.
Each Black Light comes complete with a tube and fixture and features a hanging bracket, a reflector for optimum output of lamps, a six foot power cable and quick start electronic ballasts.
Dimensions: 5"H x 3"W x 25"D
Weight 2 lbs.
If you don't see it, it doesn't mean we don't have it. If you are interested in a certain product, but don't see it on our website, please call us or e-mail us!
*All products subject to available stock.
Copyright © 2014 by www.123DJ.com