BBE Max-X3 Sonic Maximizer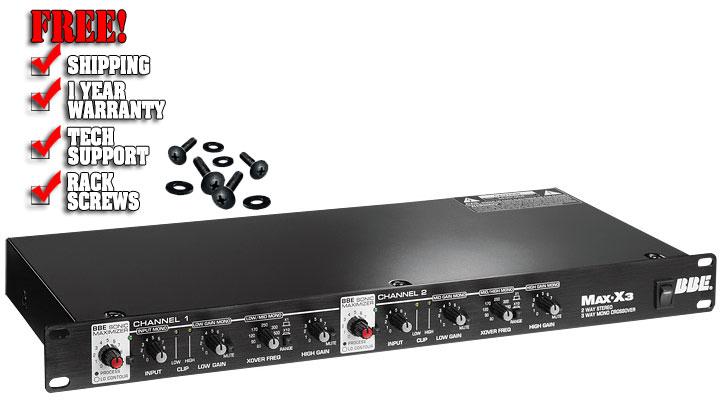 CURRENTLY OUT OF STOCK
The BBE® Max-X3™ is a highly sophisticated 2-way stereo/3-way mono crossover. Housed in a compact and easy-to-use package, it provides a variety of options for virtually all live sound reinforcement amplifier configurations. Max-X3's logical design makes it simple to understand and easy to use, and its sonic integrity promises clean, distortionfree
audio with a predictable, repeatable range of control. The Max-X3 makes state-ofthe-art crossover technology affordable, but this unit is much more than a high-quality, superbly engineered crossover. The Max-X3 is the first signal processor of its kind to feature an on-board BBE Sonic Maximizer. The BBE High Definition Sound process employed by the Sonic Maximizer is world renown among music and sound professionals for remarkable improvements in total sound quality, bringing crystalline clarity and air to the source material as well as revealing rich harmonic subtleties. The Max-X3 employs BBE's latest High Definition Sound technology, in the very same 4th Generation BBE Professional chipset which powers the BBE 482i and 882i Sonic Maximizers. The Max-X3 employs state-variable 4th-order Linkwitz-Riley filters. This filter design minimizes phase inaccuracies in the critical crossover region and ensures the output at all frequencies remains in-phase, which is critical for the accurate summing of each driver in a speaker stack. The Linkwitz-Riley filter design has a very steep 24dB/octave slope, which ensures that each driver designed to reproduce a specific frequency range is not driven beyond its limits. The "over-engineering" in the Max-X3 ensures excellent sonic performance, with all the features demanded in a true professional product. By offering a superb, full-featured 2-way stereo/ 3-way mono crossover with an integrated BBE Sonic Maximizer system, the Max-X3 has no equal at any price.
Full Function BBE Sonic Maximizer

State-variable Linkwitz-Riley

24dB/ octave filters

Top audio performance with high slew rate circuitry and over 115dB dynamic
range for clear transparent sound

Designed for the most precise accurate control

Phase inversion switches

Low-cut subsonic filters for low frequency driver protection

Servo-balanced XLR and unbalanced

1/4" inputs and outputs

Switchable constant directivity horn equalization circuit for use with horns requiring a high frequency boost

Shielded internal power supply with AC voltage select switch (~115V/60Hz or ~230V/50Hz)

If you don't see it, it doesn't mean we don't have it. If you are interested in a certain product, but don't see it on our website, please call us or e-mail us!
*All products subject to available stock.
Copyright © 2014 by www.123DJ.com