Ortofon Serato S-120 OM Pre-Mounted on a Headshell

A highly sensitive cartridge with an exceedingly wide range of tracking force.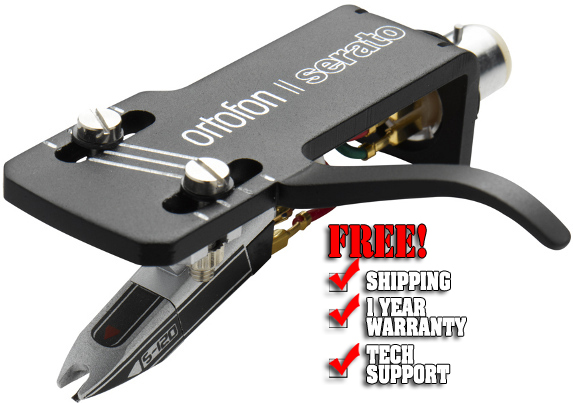 Regular Price $299.99
Our Price $104.99
The Ortofon-Serato S-120 represents a completely new way of constructing and designing cartridges. Its breakthrough patent pending technology has been designed to provide you with maximum freedom for your performance. An innovative technology, called asymmetric suspension, takes the cartridge performance to the next level. Its superior tracking force ensures the S-120 stays in the groove even under extreme live performance conditions. In addition, its design achieves an unprecedentedly low level of record wear, which helps protect your valuable vinyl. On top of this, the S-120 is capable of providing a level of sound quality never thought possible from a modern DJ cartridge.
High quality tonearm terminal connections
Mounting guides for straight and S-shaped tonearms
Special markings which makes it easy to mount the OM S-120 in two favourite spots:

0º which is Ortofon standard set-up
22º as it is preferable for some of DJs
Output voltage at 1000 Hz, 5 cm/sec.: 10 mV
Channel balance at 1 kHz: 1,5 dB

Channel separation at 1 kHz: 20 dB
Channel separation at 15 kHz: 15 dB
Frequency range at -3 dB: 20-18.000 Hz
Frequency response: 20-18.000 Hz +3 dB/-2dB
Tracking ability at 315 Hz at recommended tracking force: 120 µm
Compliance, dynamic, lateral: 11 µm/mN
Stylus type: Spherical
Stylus tip radius: R 18 µm
Tracking force range: 1,5 - 10,0 g (15 - 100 mN)
Tracking force recommended: 4,0 g (40 mN)
Internal impedance, DC resistance: 1680 Ohm
Internal inductance: 920 mH
Recommended load resistance: 47 kOhm
Recommended load capacitance: 200-600 pF
Cartridge weight: 5 g
Replacement stylus unit: S-120
If you don't see it, it doesn't mean we don't have it. If you are interested in a certain product, but don't see it on our website, please call us or e-mail us!
*All products subject to available stock.
Copyright © 2014 by www.123DJ.com