2201 S. Union • Chicago, IL 60616
Phone: 312-846-6192 • Fax: 312-492-8949
SE HABLA ESPANOL

Technical Pro DPU55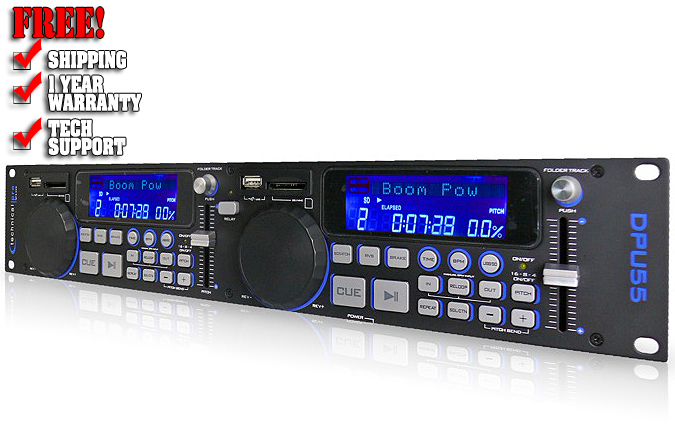 Regular Price $349.99
Our Price $89.99
$260 IN SAVINGS!
Inputs: Dual USB memory stick (32GB max) & Dual SD Card (32GB max)
Outputs: RCA L/R per Source
Plays .mp3 files from USB drives and SD Cards
LCD display with ID3 tag support for folder and track information
Folder / Track browsing knob for quick search & playback
Seamless loop and reloop (in & out)
Single / Continuous Playback
Repeat and Relay Playback
Reverse playback
Built-in Brake effect for smooth transition
Scratch function
BPM readout
Cue, search and pitch controls
Illuminated control buttons
Oversized jog wheels for easy control
Sampling Frequency: 44.1 KHz
Quantification: 24 Bits
Crosstalk (1KHz): > 60 dB
Dynamic Range (1KHz): > 90dB
Signal to noise ratio: >88dB
THD: <.01%
Pitch control: ±16%
Frequency Response: 20Hz-20KHz
dimensions: 19'' w 3.5'' h 3.5'' d
weight: 6.5 lbs
Technical Pro has got its finger on the pulse with the release of the DPU55 Professional Double USB/SD Player. This professional MP3 mixer provides the solution for the DJ that does not want to risk setting up a laptop in a club setting, it's perfect for the DJ that wants to integrate his or her vinyl collection into their growing collection of MP3's. Easily integrated into a venue's PA system via stereo RCA outputs, the DPU55 is a tool for the DJ that will be forever valued.

The music is connected via 2 32GB USB sticks and Dual SD Card at a 32 GB max. With this amount of space you can bring enough high quality MP3's to play for a whole week.

Or you can bring Multiple USB flash Cards and swap them in and out like CD's. With this amount of music at a gig you have choices you previously did not have. Bringing 30 crates of records to a party is not a fun thing! Now you can bring hours and hours of music in varying genres and never worry about whether or not you brought that one special cut!

The unit hosts an LCD display that will show all of your ID3 tags on from your files and a BPM readout which will allow you to match the beats on both songs to achieve that blend that only the elite can pull off! The face has a number of controls including a folder/track browsing knob with push feature! That means once you scroll to the song you need, use the same knob and push it in to cue it up. No need to search for another function or even move your hand! Other features include and essential loop function, repeat, reverse playback, built in brake effect which allows you to stop or start a song an achieve the same sound a record would make when starting or slowing down (A great DJ effect that will always come in handy!)

Use the onboard scratch function! In today's modern era it is impossible to get that scratch sound like the old days when DJ's used all vinyl. Knowing a scratch function should not sound like a robot's bleeps and blips but rather a warm, thick "wiki wiki" the engineers at Technical Pro put a little extra time into this effect making sure your scratches sound as thick and "fresh" as they did in 1980!

Use the cue, search and pitch control at a varying rate of + to – 16%. This will allow you to play it like you would a CD deck with all the extra options that a CD deck doesn't provide or that in the past would require efx boxes and other bulky equipment. DJs, if you are going to make the transition to the future you need this!