2201 S. Union • Chicago, IL 60616
Phone: 312-846-6192 • Fax: 312-492-8949
SE HABLA ESPANOL

Denon
DN-MC3000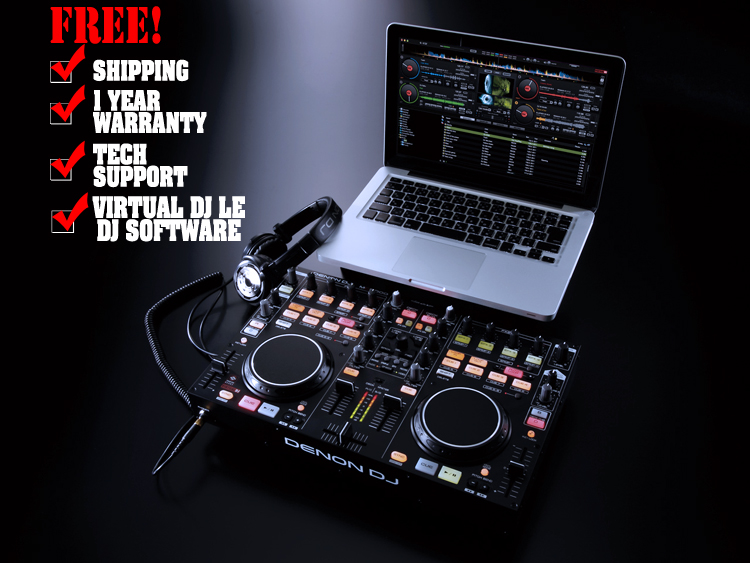 Details

Regular Price $999.99




Blowout Price $299.99!



Optimized for VIRTUAL DJ – Virtual DJ LE Included*

Optimized for TRAKTOR™ 2 Technology Inside Products

Layer Function for Dual Deck and 2+2 4-Channel Mixer Control

USB Audio Interface 2 in / 2 out (Stereo)

Line to Master - 2 Analog Line Input Mixing Control

Professional-Grade Steel Chassis

Slim Tabletop design for easy portability

Intuitive 4 deck hardware control, with visible deck color change

MAC OSX, Windows XP/Vista/Win7 Compatible

Powerful 3-way Audio/Video Assignable cross-fader for Video performances

High resolution 105mm Touch-Sensitive Jog Wheels

Smooth 100mm long Pitch Slider with high 14-bit resolution

Pitch/Fader/Volume Lock function - holds the last known Audio value and position until the NULL point is reached again

File browse navigation keys & rotary encoder file selector knob

8 (4 + 4) Hot Cue buttons w/layer bank selector key

Auto Loop Button w/ Beat Jump (Loop Cut)

Manual Loop In/Out buttons

Various EFX/Sampler control, keys & Parameter knobs

Various GUI control, Mixer, Video, Scratch, Sampler, REC,

Powerful Shift Key - used for various dual button operation

Large size CUE & PLAY buttons

Search Keys (<< >>) to advance around within the file
Denon's legacy "Pitch Bend" keys

Vinyl & Pitch Bend Jog modes

SYNC key for smooth beat matching between decks

Key Lock on/off button with LED confirmation

Input level gains

Deck/Master PFL input gain & program meters

Independent CUE System (all channels)

Split Cue function with Cue/Master pan knob

High quality, high output Headphone Amp

45mm Channel & Cross Faders

Independent 3-Band Channel EQ w/Kills (High-Mid-Low)

1/4 TRS Balanced & RCA Unbalanced Master Outputs

1/4 TRS Mic Input

Mic Ducking attenuation

Various Utility presets to customize user settings

MIDI Mappable control surface (Faders, knobs and buttons) for other DJ applications

Firmware upgradable over USB

Kensington lock terminal to prevent theft

Optional 19" rackmount accessory kit (RM3000) - NOT INCLUDED

AC adaptor powered

Size 15.7"(w) x 2.0"(h) 10.0"(d) 19.0"(w) 6U (d) rack mounting size

Weight 6.9lbs unit
The MC3000 DJ controller from Denon DJ is an affordable professional MIDI controller for Virtual DJ, packaged with Virtual DJ LE and fully optimized for Native Instruments® TRAKTOR™ 2 Technology Inside products.

4 Deck control and a high-quality internal soundcard at an affordable price means the new MC3000 Professional DJ Controller is suited for both the Bedroom DJ as well as those wanting to move onto a more professional setup. Featuring the Layer Function for Dual Deck and 2+2 4-channel mixer control manages to keep functionality but maintain an uncluttered and ergonomic layout.

Line to master gives the option of 2 analog line input mixing control so a variety of external players can be connected and used alongside a Mac® or Windows PC – great for handing over to the next DJ after a set without interrupting the flow of music.

The quality of the high resolution, 105mm touch-sensitive jog wheels and the smooth 100mm long pitch slider (with 14-bit resolution) is evidence that the Denon DJ build quality and reliability is still present even at this more affordable price point.

Complete with file browse navigation keys and rotary encoder file selector knob, 8 (4+4) hot cue buttons with layer bank selector key, powerful shirt key for various dual button operation, large size Cue and Play buttons, and the inclusion of Denon "Legacy" Pitch bend keys proves that this is a serious, professional, DJ controller.