123DJ.COM
Chicago DJ Equipment Online Superstore -

SERATO SCRATCH LIVE AT THE LOWEST PRICES!

SL1

Warehouse Resealed products maintain high quality standards. Each item is checked at least twice for proper working condition and quality. In fact, warehouse resealed items have a very low cost of return. The price you pay for warehouse resealed items is much lower than at retail. All warehouse resealed items comes with all manuals and manufacturer warranties.
---
Scratch LIVE is the ultimate software and hardware solution for bridging the analog world of vinyl and the digital world of computer audio files. Using regular turntables or CD players, you can scratch and mix files from your Mac or Windows computer's CD or hard drive, add in a live mic input for scratching, and even bypass to standard vinyl if you wish. Scratch LIVE is the complete digital solution for the vinyl junkie -- take your entire collection wherever you go and leave your precious vinyl at home! The Scratch LIVE USB interface connects one or two standard vinyl or CD turntables to your computer. This extremely rugged, portable, high quality, bus-powered USB interface features two switchable phono or line inputs, a microphone input, two line outputs, and pass thru outputs for the phono/line and mic. The included 12" vinyl records each have a Serato exclusive and unique control signal which allows Scratch LIVE to track the motion of the record, simulating the same movement with digital audio. Due to Serato's proprietary control scheme, the result is a feel and sound indistinguishable from playing vinyl. As a producer and DJ, the track you finished today can be played on a real turntable tonight. You'll never have to cut a dubplate again!
Runs natively on Windows XP, Vista, 7 and Mac OS X
Supported file formats: Fixed and Variable bit rate MP3, AIFF, WAV, CD Audio and direct from microphone input
Full iTunes integration (Windows and Mac)
Play and scratch tracks direct from CD and CD-ROM
External Mode: faithfully reproduce movement of vinyl control records, including stops, starts, scratching, needle dropping, rubbing, backspins, powerdowns and other turntablist techniques
Relative Mode: disable needle dropping to ignore record skips, but still allow scratching
Internal Mode: play songs without vinyl control, enabled automatically when end of vinyl groove is reached
Browse music collection by Artist, Album or Genre, with optional album art display
Vinyl Select allows direct loading of tracks without touching the computer
Digital "crates" for quick access to your favorite collections
Record from Mic input and immediately scratch as if it was on vinyl
Instant full text search of ID3 tags, matches partial search terms; Edit ID3 tags with full Unicode support
Full track overview showing current play point
Variable zoom waveforms centered around current needle position
Waveform coloring to distinguish different musical features
Large on-screen record label, for scratching and beat juggling
Visual markers can be set at important cue points
Large elapsed time and time remaining displays
Beat display emphasizes transients in tracks to visually assist with beat matching
Tempo display assists with rapid tempo matching of tracks
Adjustable gain per song file
Latency can be adjusted to match CPU power
Assign the same track to both turntables simultaneously
Current RPM Indicator: 33/45 RPM vinyl selector
Single key song loading. Single key deck swapping
Drag and drop importing of tracks, no preprocessing required
Add whole directories of music files on the fly; tags are read in background, no performance interruptions
Hardware Interface Features
USB 1.1 (Full Speed) interface and bus-powered for fast, simple set up
Phono level inputs for direct connection of 2 turntables to your computer - no phono preamp required
Line level inputs: No extra hardware required for CD decks and line-level turntables
Input-thrus: Switch instantly back to regular vinyl
Microphone input with adjustable gain; Microphone thru output
Analog circuitry fully isolated from noisy USB Bus
Optional external power pack for permanent installations, or switching computers during a live show

Vinyl Features


Side A: 10 minutes plus Vinyl Select area. Side B: 15minutes
Visible time markers on vinyl
Continuous control signal on vinyl allows smooth accurate scratching
Innovative positioning system for fast and accurate needle dropping
Two 15 minute control CDs included

SYSTEM REQUIREMENTS:

Available USB 2.0 port.
1024 x 768 screen resolution or higher.
Hard drive space for music: 5400RPM minimum, 7200RPM recommended for high resolution audio playback.
Mac
2GHz Intel Core Duo.
2GB RAM.
OSX 10.5.8 or higher.
Windows
2.2GHz Intel Core Duo.
2GB RAM.
Windows XP with Service Pack 3 or
Windows Vista with Service Pack 2 or
Windows 7. We recommend Windows 7 over Vista.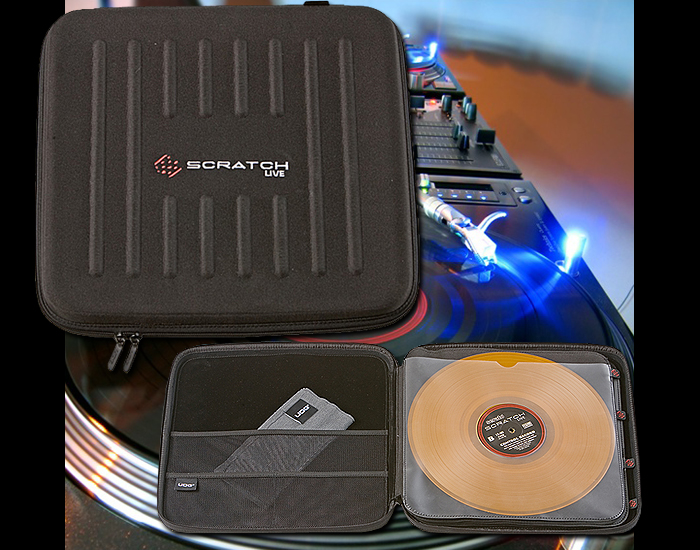 SERATO CODED CDs
Regular Price $29.99
Our Price $9.99


2201 S. Union • Chicago, IL 60616
Phone: 312 -846-6192 • Fax: 312-492-8949
Toll Free 1-800
-856-8397

CONTACT US
-
BEAT A PRICE
-
GEAR RENTAL
-
TRACK YOUR PACKAGE
-
RETURNS / WARRANTY INFO
ABOUT US
-
SHIPPING INFO
-
PURCHASE ORDERS
-
CUSTOM INSTALLATION
-
TERMS




If you don't see it, it doesn't mean we don't have it. If you are interested in a certain product, but don't see it on our website, please call us or e-mail us!
*All products subject to available stock.
Copyright © 2014 by www.123DJ.com