2201 S. Union • Chicago, IL 60616
Phone: 312-846-6192 • Fax: 312-492-8949
SE HABLA ESPANOL

Universal Speaker Stands with Mount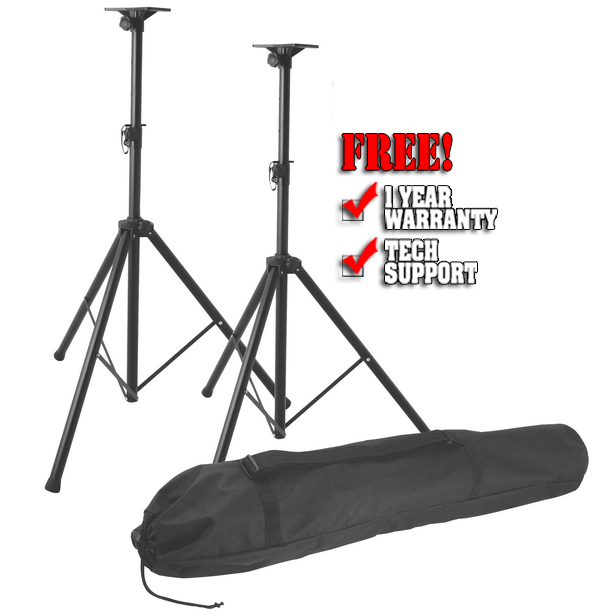 Regular Price $199.99
Our Price $89.99
Includes 2 all-steel height adjustable speaker stands, 2 mounting brackets and one speaker stand bag. Stand height adj.:46-74". Bag will hold both speaker stands and brackets.
This Speaker Stand Pak includes two height adjustable steel speaker stands, two external mounting brackets and one convenient carry bag that holds all of the above. The all-steel speaker stand with 1 3/8" upper shaft feature a 2-section vertical shaft with 8 preset height adjustment holes and locking pin for added security.
Height Adjustment: 46"-74"
Weight Capacity: 120 lbs.
Brackets mount to any speaker cabinet without drilling holes in your cabinet.
Use the 1 3/8" diameter upper shaft or the included exterior mounting bracket to fit most speaker cabinets.
8 preset height adjustment holes adjust the stand from 46" - 74".
Bonus: Steel mid-point locking clutch with added security pin.
Friction locking/retractable leg housing for quick and easy set-up and tear down.
Drawstring bag features an adjustable shoulder carrying strap and inside pockets.
WE GLADLY ACCEPT
WE GLADLY SHIP


If you don't see it, it doesn't mean we don't have it.
If you are interested in a certain product,
but don't see it on our website, please call us or e-mail us!
*All products subject to available stock.
Copyright © 2014 by www.123DJ.com