123DJ.COM
Chicago DJ Equipment Online Superstore -

DJ EQUIPMENT SYSTEMS AT THE LOWEST PRICES!
SZ Thump15 Pack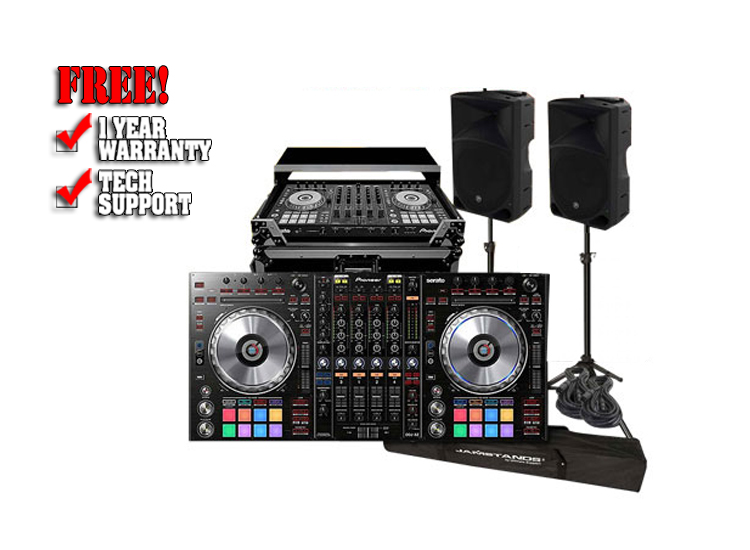 Regular Price $3399.99
Our Price $2984.99
COMBO INCLUDES: Pioneer DDJ-SZ Digital Controller, DDJ-SZ Flight Case, Two Mackie Thump15 Active Speakers, Two Thump15 padded bags, Two 20' XLR Cables, Two speaker stands, Speaker stand bag
PIONEER DDJ-SZ DIGITAL CONTROLLER

Flagship controller designed for Serato® DJ Software
Large 8.1-inch JOG wheels with center display and JOG FEELING ADJUST
Large, multi-colored illuminated velocity-sensitive Performance Pads
High-end mixer with generous controls and effects
Serato DJ Software – Bundled with the DDJ-SZ for an easy out-of-the-box experience.
Slip Mode – While activated, Slip Mode silently continues song playback during a performance loop, scratch or hot cue and resumes audible playback when the loop, scratch, or hot cue operation is ended, creating smoother and more seamless transitions.
Needle Search – Users can immediately jump to a specific part of a music track with a simple touch of the Needle Search pad.
High Quality Audio – A low-jitter clock and high-performance digital-to-analog converter (DAC) are used for accurate audio playback. In addition to a 24-bit digital signal processor to minimize digital noise, its balanced hybrid operational amplifier and balance output circuit also reduce analog circuit noise.
Built-in Sound Card (audio interface)
P-LOCK Fader Cap – Prevents the fader knob from slipping off during extreme use.
Auto Standby – Automatically switches to standby mode when no activity or input is detected for a period of time.
OVERVIEW
Pioneer DJ expands its family of Serato® DJ Software controllers with the DDJ-SZ, its flagship model that strongly emulates the look and feel of Pioneer's world-renowned CDJ digital players. The DDJ-SZ is designed for the serious "controller" DJs who are inspired by the performance specifications of Pioneer's professional DJ products but also want the convenience of an all-in-one system. The new controller is 35 percent bigger than the widely popular DDJ-SX, sporting additional functionalities and features including extra large JOG wheels (the same size available on CDJ players), large performance pads with multi-color illumination, DJM style mixer, dual USB ports and a MAGVEL cross fader.
BIG JOG WHEEL
The most noticeable CDJ PRO gear integration to the DDJ-SZ is its large 8.1-inch JOG wheels. The JOG wheels provide instantaneous response and excellent operability for accurate and smooth scratching and mixing performance. The center of each JOG wheel also features "ON JOG display" to illustrate playback status, cue points and position. In addition, the unit offers a JOG FEELING ADJUST to enable users to change the resistance of the wheel from light to heavy for a customize feel.
PERFORMANCE PADS
Directly below each JOG wheel are four effects buttons – HOT CUE, ROLL, SLICER and SAMPLER. Under the effects buttons are eight extra large "performance pads" that DJs can quickly access to insert different modified effects to music playing. In Sampler mode, the output volume of the sampler effects also varies depending on the strength of user's tap of the pad. An update from the current DDJ-S controllers, the performance pads on the DDJ-SZ illuminate in different colors to quickly communicate the effect mode it is in.
DUAL USB PORTS
The DDJ-SZ includes two USB ports to enable simultaneous connection of two computers. Users can instantly switch between two computers for seamless transitions between two DJs or as additional music sources.
HIGH-END MIXER
The mixing area of the DDJ-SZ also closely mimics Pioneer's DJM series of professional mixers, utilizing a generous number of controls and effects with features including Sound Color FX and new Oscillator functions to deliver more creative music arrangements. The mixer can also be used as a standalone 4-channel mixer for outboard players and turntables.
Oscillator – The new Oscillator on the right side of the mixer provides four types of sound effects: Noise, Siren, Cymbal and Horn. A quick touch of the buttons activates the effect(s), which can also be modified in amplitude (volume) to add to the music currently playing.
Sound Color FX – The mixer includes four Sound Color FX functions (Pitch, Jet, Echo and Filter), which add numerous audio effect combinations and arrangements to currently playing music with a simple twist of the knobs. Through Serato DJ's beats per minute (BPM) analysis, users can also synchronize Echo effects to the BPM of currently playing music.
DVS Functionality – The controller can support DVS (Digital Vinyl System)1 using control tone to enable an external player to be used as a Serato DJ deck.
MAGVEL CROSS FADER
For extremely smooth transitions and high durability between the DDJ-SZ's players, the unit features a MAGVEL cross fader (the same component used in Pioneer's DJM-900SRT) that utilizes a contact-free magnetic system that can withstand more than 10 million operations. The "cut in" time of the cross fader can also be customized to the user's preference.
Adopts professional DJ equipment design with excellent operability
Taking a lead from technology and know-how cultivated through development of professional DJ equipment, the DDJ-SZ is a DJ controller with the same level of operability as Pioneer's professional DJ equipment. Authentic DJ performances can be given as though playing with a component DJ system combining multi-player and mixer.
Adopts professional DJ equipment design with excellent operability
BIG JOG
"BIG JOG" for accurate performance
The DDJ-SZ features a "BIG JOG" with a diameter of 206mm – the same as that of the "CDJ-2000NXS" pro DJ/club-oriented multi player – with excellent operability. Precise scratch performances have been made possible with the inclusion of an "ON JOG DISPLAY" in the center of the JOG, showing the playback status and position. The popular "JOG FEELING ADJUST" feature from the CDJ series also returns, so users can adjust to their liking the control load and continuous backspin time, etc. during scratch performances. The DDJ-SZ also features the industry's fastest JOG response time (the time from operation of the JOG until the operation signal is transmitted to the software), enabling scratch performances exactly as intended.
4-CHANNEL MIXER
Mixer parts using the same layout as in professional models
The DDJ-SZ inherits its control parts layout from Pioneer's professional-oriented DJM series, which is used in clubs around the world. With a simple, easy-to-understand layout, and generous spaces between each control part, the DDJ-SZ delivers comfortable, dynamic controls. Also, level meters are positioned next to the control interface for the master and each channel, so the input and output levels can be ascertained instantly during performance.
PERFORMANCE PADS
Large pads for dynamic performance and comfortable controls
Large rubber "PERFORMANCE PADS" have been positioned at the front of the unit for control of functions such as HOT CUE and SAMPLER. As well as being able to apply arrangements to music with dynamic actions such as hits and rolls, the audio volume of these actions can be made stronger or weaker depending on the strength with which the pads are hit. Also, the color and on/off status of the multicolor illuminations built into each pad make it possible to determine the mode of the selected pad and the performance status of all pads at a glance.
Two USB soundcards for smooth DJ handovers
Two sound cards and USB ports enable two computers to be connected at the same time. A dedicated A/B button on each side of the controller enables DJs to split the controller and assign each half between the two USB ports for seamless DJ handovers with no more awkward gaps in the music.
Various performance functions deliver diverse music arrangements and smooth mixes
DJs can enjoy even more creative freedom thanks to a high/low pass filter on every channel, including the two MIC channels and sampler, plus Master channel, while each effects can be fine-tuned using the large rotary parameter dial. High-quality FX include the new Oscillator– Noise, Siren, Cymbal and Horn – as well as popular Sound Color FX – Pitch, Echo, Jet and Filter
"OSCILLATOR" adds sounds to produce new musical developments
The DDJ-SZ is equipped with an "OSCILLATOR" that emits four types of sound (NOISE, SIREN, CYMBAL, HORN). Simply select the type of sound you want to output and turn the knob to produce new developments in the music by overlaying sounds on top of the music being played, further emphasizing exciting parts of the music, and so on.
"SOUND COLOR FX" adds diverse arrangements to music
The DDJ-SZ includes four types of "SOUND COLOR FX" functions (PITCH, JET, ECHO, FILTER), which are a popular part of the DJM series. Various effects can be added to the music simply by turning the knob, opening up the possibility of a diverse range of remixes. It is also possible to synchronize ECHO to the BPM of the music being played by obtaining BPM information from "Serato DJ".
The latest DJ software Serato DJ (free to download) for a truly unique DJing experience
Serato DJ
In addition to 4-deck and sampler functions, the latest "Serato DJ"DJ software from Serato also comes with "SLIP MODE", and FX powered by iZotope to arrange tracks in a wide variety of styles.
①SLIP MODE
DJing function that allows tracks to continue playing in the background while other tracks are looped, scratched or hot cued, without affecting the original track.
② New FX powered by iZotope
High quality FX newly developed by iZotope. With the new effects, DJ can apply more creative and more unique arrangement to the music.
③Other new functions
・8hot cue points can be set in each deck.
・Vertical waveform display to visually sync the tempo.
Supports DVS control and can be used as a stand-alone mixer
The four external inputs allow DJs to connect CDJs and turntables and use the DDJ-SZ as a stand-alone four-channel mixer. In addition, the unit has two dedicated MIC inputs with Hi/Low EQ, enabling voice MCing without sacrificing mixer channels. Plus two Master Out ports (balanced and RCA) and one balanced Booth Out port mean DJs can connect to a variety of PA set-ups.
PIONEER EXCLUSIVE MAGVEL CROSS FADER for enhanced operability and durability
The DDJ-SZ is equipped with Pioneer's own magnetic crossfader for smooth, steady control. Two metal shafts support the fader knobs, while the robust contact-free magnetic system can be used more than 10 million times. The operational load, fader curve and cut lag can be adjusted to suit the DJ's preference
High quality audio circuitry delivers a professional sound
The DDJ-SZ inherits high quality audio circuitry from Pioneer DJ's pro-DJ equipment, including two built-in 24-bit sound cards, a precision engineered Wolfson DAC providing a signal-to-noise ratio of 111 dB on the Master Out to ensure incredibly pure sound reproduction
Other features
All buttons and knobs, as well as the soundcard*2, are "PLUG AND PLAY" – configured in advance to work with "Serato DJ".
Top plate and jog wheels built with an aluminum stylish finish
Slip Mode for precision scratching: Slip Mode silently continues track playback during a loop, reverse or scratch, and brings the music back at the right point when the DJ exits the performance. It also adds a further level to the Performance Pads, enabling tricks such as Slip Hot Cue
Needle Search: touch strip for intuitive, fast searches
P-LOCK Fader Caps are impossible to pull off in the heat of a mix.
Auto Standby" function switches to standby mode when a state of no use or no input continues for a certain period of time.

Software Serato DJ
Number of channels 4 audio channels, 2 mic channels
Input ports
CD/LINE×4 (RCA), PHONO×2 (RCA)

MIC x 2 (XLR & 1/4 inch combined PHONE x 1, 1/4 inch PHONE x 1)

Output ports
MASTER OUT×2 (RCA×1, XLR×1)
BOOTH OUT×1 (1/4 inch PHONE)
HEADPHONE MONITOR OUT×2 (front panel 1/4 inch PHONE, Φ3.5mm MiniPin)
Other ports USB x 2 (Type B)
Sampling rate 44.1 kHz
D/A converter 24 bit
A/D converter 24 bit
Frequency response 20 Hz - 20 kHz
Total Harmonic Distortion ratio 0.002% or less (USB)
S/N ratio 111 dB or above (USB)
Head room 19 dB
Maximum dimensions 870 mm (W) × 419.5 mm (D) × 98.4 mm (H)
Unit weight 10.4 kg
Serato DJ System Requirements
Applicable OS (Windows) Windows® 7
32-bit: (CPU) 2.0 GHz Core 2 Duo /(Memory) 2GB
64-bit: (CPU) 2.4 GHz Core 2 Duo / (Memory) 4GB
32-bit: (CPU) Core i3, i5 or i7 1.07 GHz / (Memory) 2GB
64-bit: (CPU) Core i3, i5 or i7 1.07 GHz / (Memory) 4GB
Applicable OS (Mac) Mac OS X v10.9.1/10.8.5/10.7.5/10.6.8
32-bit: (CPU) 2.0 GHz Core 2 Duo / (Memory) 2GB
64-bit: (CPU) 2.4 GHz Core 2 Duo / (Memory) 4GB
32-bit: (CPU) Core i3, i5 or i7 1.07 GHz / (Memory) 2GB
64-bit: (CPU) Core i3, i5 or i7 1.07 GHz / (Memory) 4GB
Display resolution 1,280 x 720 or higher resolution

TWO MACKIE THUMP15 ACTIVE SPEAKERS

1000W TOTAL SYSTEM POWER
Gig-ready, high-output design
Ultra-efficient Class-D amplification
CLASS-LEADING, CHEST-THUMPING LOW END
15" high-output woofer / 1.4" titanium dome compression driver
Dynamic bass response delivers amazing lows at all volumes
TOTAL SYSTEM OPTIMIZATION
Precision 2-way crossover
Transducer time alignment
System protection / limiting
APPLICATION FLEXIBLE
3-band EQ with sweepable mid to dial in the perfect sound
Mic/line input allows direct connection of microphone
Flexible mounting options including tripod and pole-mounting
Angled design perfect for use as a stage monitor
LIGHTWEIGHT AND PORTABLE
Rugged polypropylene construction designed for heavy use
33.2 lbs / 15.1 kg
Only Mackie Thump Powered Loudspeakers deliver the class-leading, chest-thumping low end you deserve. With 1000+ watts of power, you get the high output you need in a package that's tough, lightweight and portable. Featuring a built-in 3-band EQ and designed by the world's leader in portable sound, Thump delivers power, performance and proven quality.
The all-new Thump Series loudspeakers deliver more than twice the power of the previous generation. Plus, we've upped the amazing amount of low end Thump delivers. They're even more high-output, they have even more bass and they are still as affordable as ever. Get louder. Get lower.
Only Thump loudspeakers deliver the proven chest-thumping performance you (and your audience) deserve. Now, with our all-new dynamic bass response technology, you get the deep, hard-hitting lows you've come to expect from Thump at any volume level.
Really bring the bass by adding the new 1200W Thump18S powered subwoofer. The powerful 18″ sub is a professional band-pass design, delivering high-output and deep, rich lows that completely fill the room.
When budget is a concern, Thump is the clear choice. Only Thump delivers the power you need, the sound quality you deserve and the low end to get people dancing. And, all at the same price as the competition. Don't settle for less.
Thump full-range loudspeakers are packed with 1000W of ultra-efficient Class-D power. The all-new robust drivers are custom-designed and ready for high-output portable applications. Thump delivers that power and performance you need to reach more people than ever before.
Portable speakers need to be flexible. They can be used as a main one day and a stage monitor the next. With Thump, you've got everything you need to get the job done. The built-in 3-band EQ features a sweepable mid, perfect for dialing in the sound to fit the application.
The lightweight design is easy to get up on a tripod or atop a sub. You need a speaker than can handle a wide range of jobs and Thump delivers.

DDJ-SZ FLIGHT CASE
TWO SPEAKER STANDS
SPEAKER STAND BAG
TWO PADDED SPEAKER BAGS
TWO TWENTY FOOT XLR CABLES
2201 S. Union • Chicago, IL 60616
Phone: 312 -846-6192 • Fax: 312-492-8949
Toll Free 1-800
-856-8397

CONTACT US
-
BEAT A PRICE
-
GEAR RENTAL
-
TRACK YOUR PACKAGE
-
RETURNS / WARRANTY INFO
ABOUT US
-
SHIPPING INFO
-
PURCHASE ORDERS
-
CUSTOM INSTALLATION
-
TERMS

If you don't see it, it doesn't mean we don't have it. If you are interested in a certain product, but don't see it on our website, please call us or e-mail us!
*All products subject to available stock.
Copyright © 2014 by www.123DJ.com