123DJ.COM
Chicago DJ Equipment Online Superstore -

DJ EQUIPMENT SYSTEMS AT THE LOWEST PRICES!
Summer Pack 2017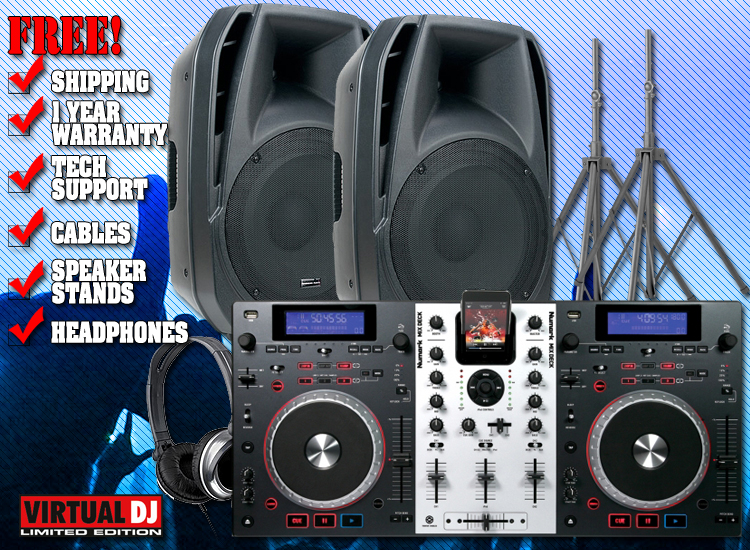 Regular Price $1899.99


Our Price $799.99



Numark MixDeck Digital Controller

Complete system with CD/MP3/USB decks, mixer, computer audio and MIDI interface, and Universal Dock for iPod
Play from CDs, MP3 CDs, USB flash drives, iPod, computers, and external inputs
Record your set to iPod and listen later
Mixer with EQ/rotary kills, replaceable crossfader, and complete controls for iPod
Studio-quality computer interface for up to 24–bit, 88.2kHz audio
Outputs (all stereo): Main (balanced XLR & RCA), Booth (RCA), Record (RCA), Deck 1 (RCA), Deck 2 (RCA), Cue (1/8" & 1/4")
Beat-synced DSP effects with wet-dry fader: chop, echo, filter, flanger, pan, phaser
Smooth, fast, slot-loading drives with large, touch-sensitive illuminated platters
Control MIDI software with no timecode needed via USB
CD direct outputs for use with timecode interfaces
Adjustable start and stop time for vinyl-like deck performance
Automatic BPM analyzer and Tap tempo for manual BPM entry
Slide BPM ±6, 12, 25, and 100% or bend with pitch buttons
Key Lock holds pitch while you independently manipulate its BPM
Seamless looping, sampling, and easily accessible hot cues
Keep time moving forward while you cut or reverse the track using Bleep/Reverse
Single-track, continuous, and programmable playback
Fader Start plays the cued track when you move the crossfader
Two large, backlit displays for BPM, CD/MP3 text tags, and folder navigation

Two American Audio ELS15A Powered Speakers

1200 Watts
2-way active bi-amplified lightweight speaker system
High power class A/B bi-amplified system designed to perform at maximum efficiency
Separate High Frequency and Low Frequency provide the power to the speaker as your music demands it
Flyable & stand mountable
Treble, bass and volume output control
Microphone, and Line level controls with master volume.
Treble, and Bass EQ +/- 12 dB
XLR & TRS MIC inputs
XLR & RCA line inputs
XLR & TRS line outputs
4-Way Protection System
Short circuit protection
Thermal protection
On/off Mute
LF/HF Limiters
9 Fly Points (M8 with a 1.25" thread)
Active signal limiting system with Clip LED indicator on rear panel
Time Aligned Electronic Crossover
Crossover: @ 2.1kHz @ 12dB/Oct.
Multi-voltage operation: AC 115-230V, 50/60Hz
Dimensions (LxWxH): 18.5" x 14.75" x 27.75" / 469 x 372 x 700mm
Weight: 39.5 lbs. / 17kg.

FREE Speaker Stands
FREE Headphones
FREE Cables
2201 S. Union • Chicago, IL 60616
Phone: 312 -846-6192 • Fax: 312-492-8949
Toll Free 1-800
-856-8397

CONTACT US
-
BEAT A PRICE
-
GEAR RENTAL
-
TRACK YOUR PACKAGE
-
RETURNS / WARRANTY INFO
ABOUT US
-
SHIPPING INFO
-
PURCHASE ORDERS
-
CUSTOM INSTALLATION
-
TERMS

If you don't see it, it doesn't mean we don't have it. If you are interested in a certain product, but don't see it on our website, please call us or e-mail us!
*All products subject to available stock.
Copyright © 2014 by www.123DJ.com