123DJ.COM
Chicago DJ Equipment Online Superstore -

DJ EQUIPMENT SYSTEMS AT THE LOWEST PRICES!
SB Home Kit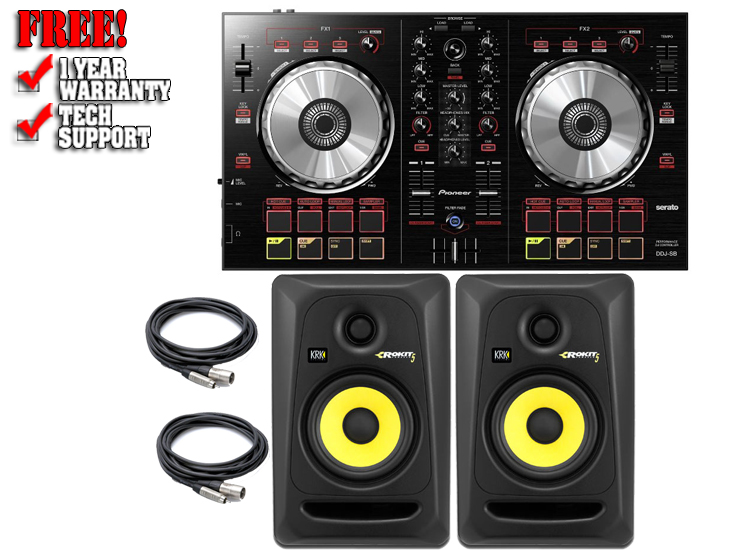 Regular Price $999.99
Our Price $546.99
COMBO INCLUDES: Pioneer DDJ-SB, Two KRK Roki 5 G3 RP5G3 Powered Studio Monitors, Two 10 foot RCA to XLR Cables
PIONEER DDJ-SB DIGITAL CONTROLLER

Operability for dynamic, energetic and intuitive Djing
Comes with large rubber pads that allow for dynamic and energetic DJing, as well as "BIG JOG" for reliable scratching. The use of a layout with two decks on either side of the controller, and a 2-channel mixer in the center give the user an intuitive feel for the tracks being played and mixed.
"FILTER FADE" function for smoothly mixing tracks together
The "FILTER FADE" function is included which allows tracks to be mixed naturally using a cross-fader by adjusting the volume of the left and right decks, as well as the high-pass filter parameters. The high-pass filter of the left and right decks is linked with the actions of the cross-fader, and the deck volume is adjusted while applying the base filter, which allows tracks with vastly different BPMs or styles to be mixed smoothly.
Free download the latest "Serato DJ Intro" DJ software that comes with the basic functions required for Djing
Control of a wide range of "Serato DJ Intro" functions, including "HOT CUE," "SAMPLER" and other effects, in addition to basic functions like scratching and mixing, make Djing all the more exciting. Every button and knob on the controller is compatible with plug-and-play that is linked with "Serato DJ Intro," which means the controller is ready for DJing by simply connecting it to a PC.
DJs can also purchase the paid upgrade to Serato DJ and unlock the advanced features it has to offer, including Recording, more Cue Points, Samples and Loops – plus new advanced features including Slip Mode, new iZotope FX and FX Expansion Packs.
Professional DJ equipment design
The controller uses a larger body than other models in the same price range, and has been designed with distinctive DJ styling including the jog plate made of the same aluminum material as other premium models, and a hairline finish applied to the top surface.
Built-in sound card (audio interface) that allows DJing by simply connecting a PC with a single USB cable
High-quality sound design tuned to suit "Serato DJ Intro" audio characteristics
Compatible with USB power that uses the PC as the power source
Handle spaces used on both sides for more convenient installation
Software Serato DJ Intro (Free download) / Serato DJ (Paid upgrade)
Input ports MIC x 1(1/4 inch PHONE)
Output ports MASTER OUT x 1 (RCA), HEADPHONE MONITOR OUT x 2 (1/4 inch PHONE、MiniPin)
Other ports USB B port×1
Frequency response 20 Hz ~20 kHz
Total Harmonic Distortion ratio 0.005 % or less
S/N ratio 90 dB (PC)
Maximum dimensions 487.0 mm (W) × 271.2 mm (D) × 58.5 mm (H)
Unit weight 2.1 kg

Serato DJ Intro system Requirements
Applicable OS(Windows) Windows 7 with Service Pack 1 /Vista with Service Pack 1
(CPU) Intel 2.0 GHz Core 2 Duo / (Memory) 1 GB
Applicable OS(Mac) Mac OS X v10.8.5/10.7.5/10.6.8
(CPU) Intel 1.6 GHz Core Duo / (Memory)1 GB
Display resolution 1,024×768 or higher resolution

TWO KRK ROKIT 5 G3 RP5G3 MONITOR SPEAKERS

KRK Systems is one of the world's most respected manufacturers of studio reference monitors. In their state of the art design facility, KRK engineers create products that deliver natural and balanced spectral response with low distortion and superior imaging. KRK Studio Monitors have been the professional's choice of recording engineers and artists for mixing and mastering hit records around the globe, as they need to hear every nuance of the audio being reproduced. KRK ROKIT Generation 3 monitors continue in this design philosophy, so regardless of your musical style, genre, or particular mixing needs, KRK Rokits deliver.
ROKIT 5 Powered Monitor - Generation 3
KRK's ROKIT 5 G3 (Generation 3) powered studio monitors offer professional performance and accuracy for recording, mixing, mastering and playback. The system consists of a 1" soft dome tweeter and 5" glass-Aramid composite woofer. It delivers high frequencies up to 35kHz, vocal clarity and extended bass response. The proprietary bi-amped, class A/B amplifier grants SPL up to 106dB. The ROKIT waveguide is designed to ensure detailed imaging in the listening position. The front-firing bass port reduces boundary coupling to allow flexible positioning in the room while the engineered surface reduces diffraction distortion. Multiple input connections ensure the ROKIT 5 G3 will easily integrate in any system configuration.
As one of the most used Studio monitors in the world, the ROKIT 5 is a high valuable and compact solution towards an accurate mix.
Bi-amped, class A/B amplifier offering large headroom and low distortion
Proprietary waveguide optimized for superior imaging
1" Soft-dome tweeter provides pristine clarity & extended response up to 35kHz
High-frequency adjustment tailors the system to personal taste
Lightweight, glass-Aramid composite woofer delivers clear midrange & tight bass
Low-frequency adjustment tailors the monitors to taste and adjusts for room acoustics
Front Firing Port — Low-frequency extension while reducing boundary coupling
Radiused edges reduce distortion from diffraction
Low-resonance enclosure for minimized distortion and colorization
Multiple audio input connectors (XLR, ¼", RCA) for universal connectivity in any studio environment
Factory installed foam pad provides isolation between the speaker and surface
Peak SPL : 106dB
Frequency Response 45Hz - 35kHz (+/- 2 dB)

TWO TEN FOOT RCA TO XLR CABLES
2201 S. Union • Chicago, IL 60616
Phone: 312 -846-6192 • Fax: 312-492-8949
Toll Free 1-800
-856-8397

CONTACT US
-
BEAT A PRICE
-
GEAR RENTAL
-
TRACK YOUR PACKAGE
-
RETURNS / WARRANTY INFO
ABOUT US
-
SHIPPING INFO
-
PURCHASE ORDERS
-
CUSTOM INSTALLATION
-
TERMS

If you don't see it, it doesn't mean we don't have it. If you are interested in a certain product, but don't see it on our website, please call us or e-mail us!
*All products subject to available stock.
Copyright © 2014 by www.123DJ.com