123DJ.COM
Chicago DJ Equipment Online Superstore -

COMPLETE STUDIO SYSTEMS AT THE LOWEST PRICES!
NI Digital Beats 5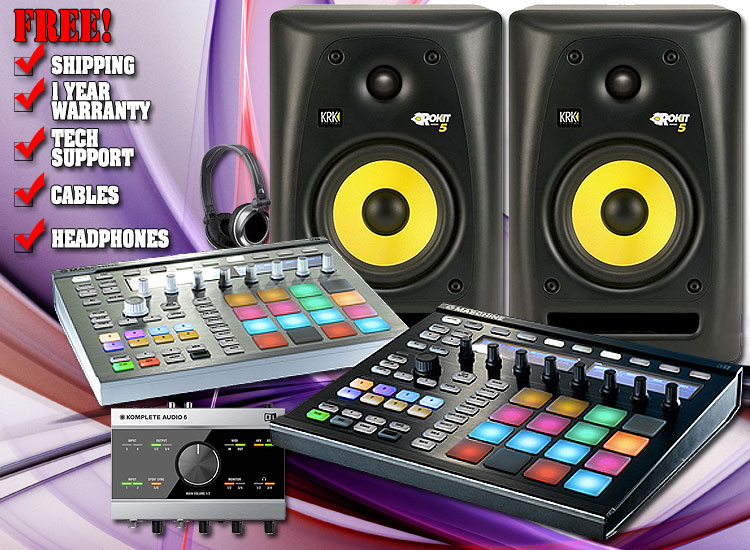 Regular Price $2099.99
Our Price $1129.99
Maschine MK2 MIDI Controller

Your choice of black or white
Produce the whole instrumental track in MASCHINE and then move it in seconds to your DAW for final arranging and mixing.
As a plug-in, MASCHINE retains all of its capabilities including total recall and routing up to 16 stereo outs to your host's mixer
Host Transport Control – run MASCHINE as a plug-in, and the transport controls on the hardware control transport in your DAW
Drag and drop audio or MIDI files directly to your DAW, or drag samples directly from your computer into MASCHINE's sound slots
Export note events as MIDI files
Import iMASCHINE projects, REX files and MPC programsGroup Macro Controls: Assign any parameter of the dedicated group (i.e. filter, envelope, any effect parameter) to the 8 knobs on the hardware or to your host sequencer for automation
Instant navigation: Open several instances of MASCHINE in your host sequencer and easily switch between them using just one controller
Add MASCHINE MIKRO to your setup in parallel with MASCHINE – for additional hands-on control of your DAW
Conveniently bounce songs or individual patterns as 8-, 16- and 24-bit WAV files, or drag and drop them directly to your DAW
The new color-coding lets you 'see' your sounds, and it will turbo-charge your workflow.
Simply assign colors to the groups, sounds, patterns, and scenes, and see the pads and group buttons on the hardware light up in the same colors. Make your kick drums red, for example, and you'll always know which pads play your kicks. Add some color to your performances!
MASCHINE's renowned pads are now even better, with unparalleled response, dynamics and sensitivity. A new level of precision at your fingertips, for optimized playability and expression – set the velocity scale to suit your own personal playing style.
The 47 white, backlit click-buttons provide direct physical response. And with the new colored transport controls, the Mk2 hardware provides a wealth of physical and visual excitement for intuitive beat making.
With MASCHINE 1.8, all MASCHINE users get the full version of the modern legend MASSIVE – the synth that gave birth to the earth-shuddering bass tones and speaker-troubling leads that have defined the bass music genre. This monster synth contains 1,300 ready-to-go sounds, all instantly browseable via the MASCHINE hardware.
MASCHINE's eight control knobs offer direct access to MASSIVE's eight Macro controls, for perfect synergy between hardware and synthesizer, and a lightning-fast workflow.
The Master section has been redesigned. Control volume, tempo and swing with the new multifunction master push encoder – select modes with the new toggle buttons and accurately click through values without having to look at the screen or display.
Navigating and scrubbing are much easier, and changing note pitch and detailed tweaking becomes extra-precise thanks to the encoder's superb physical response.
The MASCHINE 1.8 software includes time stretch and pitch shift capability. Stretch smoothly from one BPM to another, aided by the automatic BPM detection. Or stretch your audio to a specific length – to fit one sample to the same length as another, for example.
What's more, make your beats match harmonically, by tuning your samples with the pitch shift function.
The latest free software update includes new effects, specially selected for beat production. TRANSIENT MASTER, NI's hugely popular dynamics and mixing effect, has now been fully integrated in the MASCHINE 1.8 software.
Ideal for positioning drums and percussion, it lets you mix from front to back, giving each sample exactly the right amount of space. New Tube, Tape Saturator and Tube Saturator effects bring the secrets of analog warmth and natural, harmonic compression to MASCHINE, for even greater sound coloring potential.
The new hardware is a leap forward in usability, reliability and aesthetics. The inverted displays provide higher contrast, a better viewing angle for performance or studio, and a sharper look in dark environments.
Slightly heavier than before, the controller also works better in a studio set-up and on stage due to the re-worked layout of the controller's USB-connector and MIDI I/O – less risk of accidental unplugging. Plus, new rubber feet mean increased grip on the desktop, keeping the hardware firmly in place during even the most aggressive beat routines.
Experienced and new MASCHINE producers alike will appreciate the big time savings from these workflow improvements in the free MASCHINE 1.8 software update:
Host transport control: Running the MASCHINE software as a plug-in in your DAW*, use the transport buttons on the MASCHINE hardware to control transport in the host software. Important: Requires the latest version of the NI Controller Editor.
New Browser sample preview mode: Easily scroll through the browser list and pre-hear samples without loading them.
Revised select screen: Now includes individual note length and velocity editing.
Auto-write pinning: Pin the Auto-Write button for improved automation recording – tweak with two hands!
New hardware shortcuts: Select and erase events quickly and easily.
Panic button: Immediately cuts off all sound from MASCHINE.
Improved missing sample handling: Now locates files per project – point the MASCHINE software to the location for one missing file, and it automatically resolves other related missing files.
Sampler play position indicator: See the play marker in the sampler wave display – also shown in the hardware display.
Save Group with samples: Now you have the option to save Group with samples.
MASCHINE comes loaded with a 6.2 GB sound library, created by a wide range of international sound designers and artists.
Over 18,000 samples, including 326 full drum kits, 388 multi-sampled instruments, over 400 sliced loops and almost 7,000 one-shots for producing any urban or electronic style.
The star of the MASCHINE library is MASSIVE* – the legendary synthesizer for bass and leads. This unique synthesizer has its own uncompromising character distinctive sound.
On top of 600 production-ready factory presets and multi-sounds, MASSIVE also contains the full libraries from former products 'Massive Expansion' 1 and 2, 'Urban Arsenal' 1 and 2, and 'Massive Threat', giving you a total of over 1,300 sounds, all crafted by leading artists and sound designers.
KOMPLETE ELEMENTS contains over 3 GB of material with over 1,000 sounds – all carefully compiled to provide a strong toolkit for the widest-possible range of production tasks. There are acoustic drums, electronic beats, orchestral strings, and a wide range of synthesizers. Plus guitar amp simulation and an array of creative studio effects – a fully equipped and ready-to-roll production suite.
The only limit to your MASCHINE library is the capacity of the computer you use. Here's how to expand your sonic range even further:
Check out the new range of MASCHINE Expansions – ready-to-rumble sample kits, multi-sampled instruments and pre-programmed patterns for instant and exclusive use within MASCHINE. Each expansion is created by a renowned sound designer or artist and is specifically tailored to provide a distinct sound character
Utilize your existing plug-ins (from Native Instruments or any other manufacturer) and control them directly from your MASCHINE controller
Explore the world of KOMPLETE Instruments and Effects and build up your library with premium sounds that fit your style perfectly

Komplete Audio 6 Sound Card

6 In / 6 Out portable audio / MIDI interface with sturdy metal casing, USB 2.0 bus powered
Premium sound quality: 24-bit / 96kHz Cirrus Logic AD/DA converters
Low latency via newly developed chip technology and driver architecture
2 balanced mic / line / instrument inputs (XLR / 1/4" TRS Neutrik, phantom powered) with individual gain controls
2 balanced line inputs (1/4" TRS) with activity and clip LEDs plus digital stereo input (S/PDIF) with RCA connector
4 balanced analog outputs (1/4" TRS) plus digital stereo output (S/PDIF) with RCA connector
Headphone output with level control and source switching between channels 1|2 and channels 3|4
Direct monitoring with zero latency including mix control knob and mono switch
Large volume control knob and 15 status LEDs for full visual monitoring of the signal chain
High performance drivers for Mac and PC (ASIO / Core Audio / DirectSound / WASAPI)
Custom-built USB port for extra-solid connection


Two KRK RP5G2 Rokit 5 Monitor Speakers

75 Watt Bi-amp Dynamic Power, 18 dB Octave Filters
Radically curved front plate design virtually eliminates diffraction distortion
Waveguide design provides amazing detail and imaging
Front-firing port provides low freq extension without boundary coupling
New speaker voicing for even more accurate frequency response
1" Neodymium soft dome tweeter
Glass Aramid Composite Cone Woofer
Frequency Response 53Hz to 20kHz
Peak SPL : 106dB

FREE Headphones!
All Cables Included!
2201 S. Union • Chicago, IL 60616
Phone: 312 -846-6192 • Fax: 312-492-8949
Toll Free 1-800
-856-8397

CONTACT US
-
BEAT A PRICE
-
GEAR RENTAL
-
TRACK YOUR PACKAGE
-
RETURNS / WARRANTY INFO
ABOUT US
-
SHIPPING INFO
-
PURCHASE ORDERS
-
CUSTOM INSTALLATION
-
TERMS

If you don't see it, it doesn't mean we don't have it. If you are interested in a certain product, but don't see it on our website, please call us or e-mail us!
*All products subject to available stock.
Copyright © 2014 by www.123DJ.com