123DJ.COM
Chicago DJ Equipment Online Superstore -

COMPLETE STUDIO SYSTEMS AT THE LOWEST PRICES!
Mikro Studio Pack 3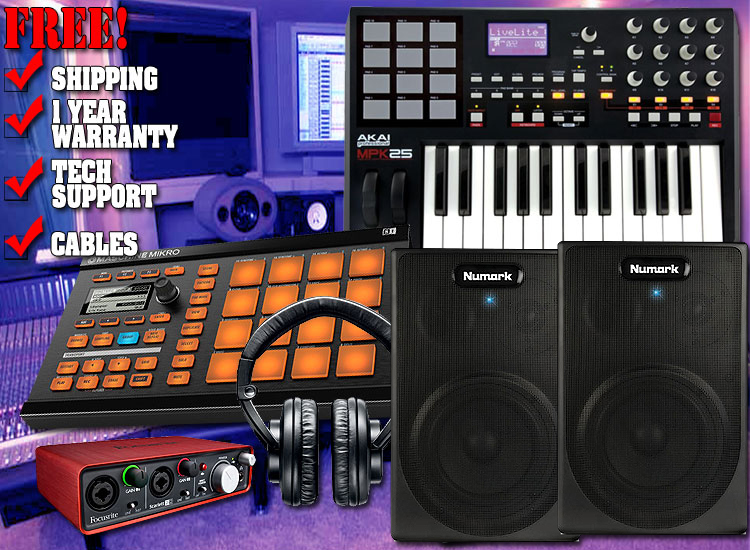 CURRENTLY OUT OF STOCK
Maschine Mikro MIDI Controller

MASCHINE MIKRO is the perfect entry into the world of MASCHINE, giving you tactile, hands-on control for beat production, sampling and performance. This latest addition to the family has the same powerful software and 6 GB+ sample library as its big brother, as well as the same responsive pads on a more compact and portable controller. MASCHINE MIKRO makes a perfect addition for any production setup - get hands-on with your rhythms and grooves both in the studio and on the stage.
MASCHINE MIKRO is a professional music production tool, combining the flexibility of software with the immediacy of hardware. Create rhythms, bass lines, chords and melodies, and build tracks on-the-fly with the intuitive, clip-based sequencer. MASCHINE MIKRO also gives you a high-performance sampler, professional effects and full support for VST and Audio Units plug-ins. What's more, you can also run MASCHINE MIKRO as a plug-in in your DAW.
If you are a user of iMASCHINE - NI's on-the-go beat sketchpad for the iPhone and iPod Touch – you can import your iMASCHINE projects to MASCHINE MIKRO to finish your ideas in your home studio.
MASCHINE MIKRO comes loaded with a 6.2 GB sound library, created by a wide range of sound designers and artists.
Over 18,000 samples, including 326 full drum kits, 388 multi-sampled instruments, over 400 sliced loops and almost 7,000 one-shots for producing any urban or electronic style.
MASCHINE MIKRO combines the power and flexibility of MASCHINE software with a fully integrated portable hardware controller.

Akai MPK25 Keyboard

25-key semi-weighted keyboard with aftertouch for expressive melodic creativity
MPC-pad section of 12 genuine MPC pads with pressure and velocity sensitivity
MPC pads access four banks each for instant access to 48 samples
Assignable Q-Link controller section for flexible control of most software parameters
Two banks of 12 Q-Link knobs and four buttons, two banks each
Dedicated transport controls for tracking and editing
MPC Note Repeat, MPC Swing, and arpeggiator aid in creative process
MPC Full Level, MPC 12-Level, Tap Tempo, and Time Division assist with tempo and dynamics
MIDI output over USB, bus powered, class compliant: plug and play with one USB cable
Comes with Ableton Live Lite Akai Edition software
Works with most MIDI recording, sequencing, and performance software
Number of Keys: 25 + 12 x 4 banks of drum pads
Type of action: Semi-weighted
Aftertouch (Channel)
Computer Interface: USB/MIDI
Displays: Custom LCD
Footswitchable Patch Changes: yes
Number of Independent MIDI Ins/Outs: 1
Programmable Continuous Footpedals: 1
Programmable Footswitches: 1
Programmable controllers: MMC, MIDI START/STOP, MIDI CC
System Real-Time Controls: MMC, MIDI START/STOP, MIDI CC


Scarlett 2i2 Recording Interface

2 line/mic/instrument combination inputs – Neutrik XLR/¼" TRS Jack Combo
2 Line/Instrument switches
2 Gain knobs
2 Gain halo signal indicators
48V Phantom power switch
Direct monitor switch
Large monitor level dial
USB Connection LED indicator
Headphone output - ¼" TRS Jack
Headphone level knob
2 balanced monitor outputs – ¼" TRS Jack
USB 2.0 Port
Kensington Lock slot
Ableton Live Lite 8
Focusrite Scarlett plug-in suite

Shure SRH-840 Headphones

Precisely tailored frequency response delivers rich bass, clear mid-range and extended highs.
Wide, padded headband provides ergonomic fit for superior comfort over extended periods
Closed-back, circumaural design rests comfortably over the ears and reduces background noise
Collapsible design for easy storage and portability.
Legendary Shure quality to withstand the rigors of everyday use
Bayonet Clip securely locks cable into ear cup
Replaceable ear cup pads included to ensure long product life
3m (10ft) coiled detachable cable provides plenty of length and easy storage and replacement
Carrying bag protects headphones when on the go or not in use

Two Numark NPM5 Studio Speakers

M20 replacement
Active speaker system
Master/slave configuration
Two-way: 5" woofer / 1" tweeter
65Hz - 20kHz
20W amplifier
Volume, treble, and bass controls
RCA input

All Cables Included!
2201 S. Union • Chicago, IL 60616
Phone: 312 -846-6192 • Fax: 312-492-8949
Toll Free 1-800
-856-8397

CONTACT US
-
BEAT A PRICE
-
GEAR RENTAL
-
TRACK YOUR PACKAGE
-
RETURNS / WARRANTY INFO
ABOUT US
-
SHIPPING INFO
-
PURCHASE ORDERS
-
CUSTOM INSTALLATION
-
TERMS

If you don't see it, it doesn't mean we don't have it. If you are interested in a certain product, but don't see it on our website, please call us or e-mail us!
*All products subject to available stock.
Copyright © 2014 by www.123DJ.com