123DJ.COM
Chicago DJ Equipment Online Superstore -

COMPLETE STUDIO SYSTEMS AT THE LOWEST PRICES!
Maschine Mikro Pack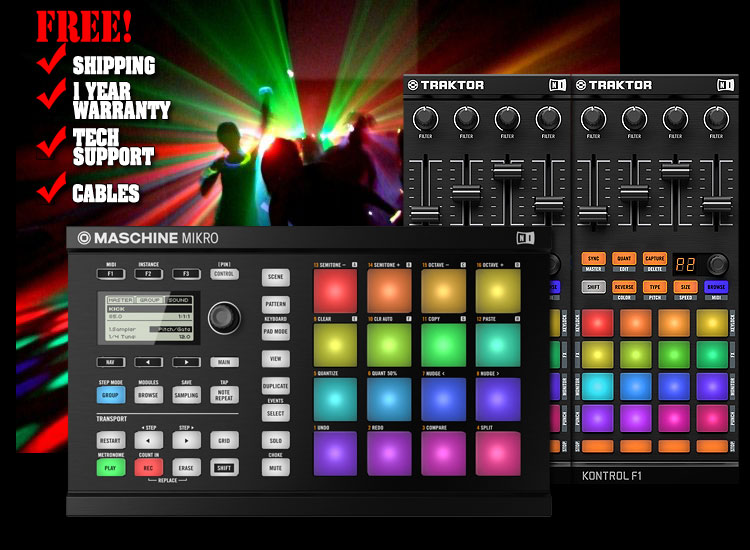 CURRENTLY OUT OF STOCK
Native Instruments Maschine Mikro 2 Digital Controller

MASCHINE MIKRO is the perfect entry into the world of MASCHINE, giving you tactile, hands-on control for beat production, sampling and performance.
The latest version of MASCHINE MIKRO delivers:

New hardware – now in black or white, with new multicolored pads
New 1.8 software – free update, with color coding and new effects
MASSIVE on board – legendary synth for all MASCHINE users

MASCHINE MIKRO is a professional music production tool, combining the flexibility of software with the immediacy of hardware – now updated with new, multi-colored pads, enhanced display and more.
Create rhythms, bass lines, chords and melodies, and build tracks on-the-fly with the intuitive, clip-based sequencer. MASCHINE MIKRO also gives you a high-performance sampler, professional effects and full support for VST and Audio Units plug-ins. What's more, you can also run MASCHINE MIKRO as a plug-in in your DAW.
And check out iMASCHINE – NI's on-the-go beat sketchpad for the iPhone and iPod Touch. Import your iMASCHINE projects to MASCHINE MIKRO to finish your ideas in your studio.
MASCHINE MIKRO comes with over 6 GB of ready-to-use, professional and inspiring sounds. Create rhythms and melodies right away with the included drum kits, one-shot samples, basses, synths and acoustic instruments – all fully tagged for easy browsing.
With the 1.8 MASCHINE update, all MASCHINE MASCHINE MIKRO users get the legendaryMASSIVE* synthesizer – a sonic monster for basses and leads with 1,300 earth-shattering sounds – worth $199 / 179 € alone. MASCHINE MIKRO also includesKOMPLETE ELEMENTS, providing more than 1,000 stunning sounds from the flagshipKOMPLETE 8 andKOMPLETE 8 ULTIMATE.
Add extra fuel to your MASCHINE or MASCHINE MIKRO with MASCHINE EXPANSIONS – sonically-specialized packages created by renowned sound designers and artists.
These ready-to-rumble sample kits consist of drum one-shots, matched kits, multi-sampled instruments and pre-programmed patterns and songs. For instant and exclusive use within MASCHINE and MASCHINE MIKRO.

Two Native Instrument Kontrol F1 Digital Controllers

Hardware Controller for Your DJ Software
Features 16 Multi-Colored DJ Touch Pads
Fire Loops & One-Shot Samples
Four Filter Knobs & Four Volume Faders
Works with Traktor Pro 2.5 DJ Software
Controller for Powerful Remix Decks
Equipped with 4GB of Preloaded Sounds
Slim Profile Fits in with DJ Equipment
Store Your Own Samples & Sounds
Switch Between Up to 64 Tracks
Please Note: Does not come with installation disc. You will be able to download installation after purchase.


Innovative Remix Decks

Remix Decks are the latest TRAKTOR innovation, letting you select from up to 64 loops and one-shot samples per deck. Any of the four decks in TRAKTOR PRO 2.5 can be switched to be a Remix Deck
Each Remix Deck offers four different Slots (columns), ideal for arranging sounds and loops by instrument groups e.g. different drum, bass, percussion loops. Play one sound per column - a total of four samples at any one time.
Use loops from the included sound content or import any loops and sounds of your own
Develop your own unique trademark sound and build a personal arsenal of sounds by live-capturing your favorite loops while DJing

A New Way to Perform

The stylish multi-color pads and ergonomic faders make TRAKTOR KONTROL F1 the ultimate controller for a Remix Deck. Any sound or loop can be assigned a specific RGB color, either in the software or via the controller
A Remix Set™ is the combination of 64 loops and one-shot samples and their respective beat grids and BPMs - stored and loaded just like a regular track in the browser
Control the entire Remix Deck via Native Scratch timecode control with vinyl or CDs - or scratch using the TRAKTOR KONTROL S4/S2 jog wheels. Each
Remix Deck has its own transport, sync, and tempo master controls

Deep Control

To add more flavor, you can choose which slots are fed through TRAKTOR's FX units, or even play samples in reverse
The Punch mode allows for instant switching between different loops in one instrument group, in perfect phase - switch from one drum loop to the next exactly on the 2 and 4 snares
Additionally, the Remix Deck quantize can be set to different values for full control of the musical phrasing

Improved BPM Detection

Rewritten tempo detection for improved accuracy, developed from analysing thousands of tracks from various genres
New "downbeat" auto-detection improves auto-beat-gridding and phase recognition
Convenient analysis options when importing files to your collection - set the tempo range by BPM
Much improved BPM detection on tracks with variable tempo, (such as "live" drummer genres) - now detects average BPM
Rewritten Tempo-Tap – instant and simple realignment anytime your tracks drifts away from the grid over time
Manually adjusted grids, (and all BPM-locked tracks) keep their position and tempo from previous versions

New Browser Features

All contents and settings of a Remix Deck can be saved and reloaded as "Remix Sets", managed in the Browser as a single entry
Sounds and loops are contained in the Remix Sets' .trak format for super-convenient file handling across computers
The state of browser tree is recalled from previous session when starting TRAKTOR
Importing another collection now preserves favorites

Additional Features

Now features Jogweel and Joglight advanced HID integration for Pioneer CDJ-2000, CDJ-900 and CDJ-400
S4/S2 Sample Deck slot functionality is now mapped to Remix Deck functionality
The S4 channel filter curves have been shaped for smoother transitions around the neutral position

Free Remix Sets

Registered users of TRAKTOR PRO 2 can access a wealth of top quality loops and one-shots for use with the Remix Decks. Renowned artists have provided inspiring material in a number of genres, including Remix Sets prepared by Pan-Pot, Stewart Walker, and Marc Houle, among others.
In all 1.4 GB of content is available – and all for free! As soon as you've registered the 2.5 software, you can download the Remix Sets.

System Requirements

Windows 7 (latest Service Pack, 32/64 Bit), 2 GHz Intel Core 2 Duo or AMD Athlon 64 X2, 2 GB RAM (4 GB recommended)
Mac OS X 10.6 or 10.7 (latest update), Intel Core 2 Duo, 2 GB RAM (4 GB recommended)
General: Monitor with 1024 x 768 screen resolution, USB 2.0, 1 GB free disc space, high-speed internet required

Dimensions

Dimensions: 4.7" (120 mm) x 2" (52 mm) x 11.5" (294 mm)
Weight: 1.6 lb (730 grams)

FREE Cables

2201 S. Union • Chicago, IL 60616
Phone: 312 -846-6192 • Fax: 312-492-8949
Toll Free 1-800
-856-8397

CONTACT US
-
BEAT A PRICE
-
GEAR RENTAL
-
TRACK YOUR PACKAGE
-
RETURNS / WARRANTY INFO
ABOUT US
-
SHIPPING INFO
-
PURCHASE ORDERS
-
CUSTOM INSTALLATION
-
TERMS

If you don't see it, it doesn't mean we don't have it. If you are interested in a certain product, but don't see it on our website, please call us or e-mail us!
*All products subject to available stock.
Copyright © 2014 by www.123DJ.com