123DJ.COM
Chicago DJ Equipment Online Superstore -

DJ EQUIPMENT SYSTEMS AT THE LOWEST PRICES!
Express 112A DJ System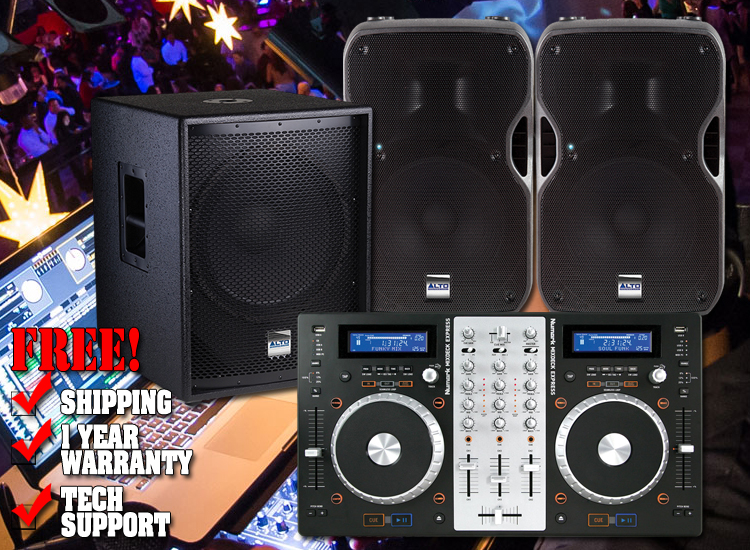 Regular Price $2999.99
Our Price $1759.99
Numark MixDeck Express Digital DJ Controller

Complete system with CD/MP3/USB decks, mixer, computer audio and MIDI interface
MIDI integration of decks for controlling computer software
Virtual DJ Audio/Karaoke/Video software included
Play from CDs, MP3 CDs, USB flash drives, computers, and external inputs
Three-channel mixer with EQ/rotary kills, replaceable crossfader, and external inputs
USB computer interface for software control and audio streaming
Brake, Reverse, and Scratch effects
Smooth, fast, slot-loading drives with large, touch-sensitive platters
Control MIDI software, with no timecode needed, via USB
Automatic BPM analyzer and Tap tempo for manual BPM entry
±6, 12, 25, 100% Pitch Ranges
Seamless looping
Single-track, continuous, and programmable playback
Two large, backlit displays for BPM, CD/MP3 text tags, and folder navigation
Anti-Shock™ buffered skip-protection technology
Fader Start – crossfader play activation

Two Alto TS112A Powered DJ Speakers

ACTIVE 800 WATT 2-WAY 12" LOUDSPEAKER
800 Watts Class D power
12" low-frequency transducer, 1" neodymium driver
Two Mic/Line combo inputs with independent volume controls
XLR output to link speakers
Lightweight, trapezoidal cabinet with handles
Use as a traditional upright loudspeaker or as floor wedge monitor
Stand and pole-mountable or flyable
Clip Limiter with red LED
Ground Lift switch
Contour switch for increased EQ control
Accurate audience coverage, not just on-axis
Designed and tuned in the USA
Transducer Low: 12" Woofer, with 2" voice coil
Transducer High: Neodymium compression driver, 1" exit with 1" voice coil
Power Amplification: 800 Watts peak (670 W LF + 130 W HF), 400 Watts continuous (335 W LF + 65 W HF)
Frequency Range (-10 dB): 54 Hz - 20 kHz
Frequency Response (±3 dB): 65 Hz - 19 kHz
Maximum SPL @ 1m: 125 dB peak, 122 dB continuous
-6 dB Nominal Coverage: (80° / 100° H x 60° V)
Active Crossover: 2.5 kHz
Connectors: 2 x Mic / Line Female XLR - 1/4" combo inputs, 1 x Loop - Out Male XLR
Input Control: Line / Mic -∞ to +50 dB, Maximum input level +23 dBu, Input Impedance 15 kOhms
External Controls: Volume, Power switch with LED indicator, Clip/Limit LED, Ground Lift switch
Protection Features: Over-excursion, Thermal, Driver
AC Power: 100 VAC, or 110 – 120 VAC, or 220 - 240 VAC (50 / 60 Hz)
Enclosure: Trapezoidal, with floor monitor capability. Injection molded, polypropylene enclosure, with perforated steel grille
Mounting: Integrated pole-socket (36 mm dia.) Two handles, 5 M10 threaded sockets: 2 top, 2 bottom, 1 pullback
Dimensions (WxLxH): 15in x 14.3in x 25.5in
Weight: 35 lb

Alto TS SUB15 Subwoofer

ACTIVE 1200 WATT 15" SUBWOOFER

1200 Watts Class D power
Powerful 15" low-frequency, long-excursion driver
Stereo inputs: Mic/Line left channel, XLR right channel
Stereo XLR outputs: Left link, Right mono, internal 120Hz crossover on through
18 mm birch plywood vented cabinet with metal grille and recessed handles
Adjustable level and polarity controls
35 mm pole socket
Powered System: Continuous-600 Watts, Peak-1200 Watts
Frequency Response (-10dB): 42 Hz-12 5Hz under analog processor
Maximum SPL @ 1m: 123 dB continuous / 126 dB Peak
Transducer Low: 15" woofer, 3" copper sandwich voice coil, with long excursion
Active Crossover: Band pass type 12 dB / oct. under analog processor
Input Connectors: In-Left / Mono (Combo) Right (XLR-F) / Out-Left /Mono-Right (XLR - M) / Link-Left / Mono-Right (XLR-M) Balanced (15 kOhm)
Input: Level L-R Input Line at 0dBu
Crossover Frequency: L - R output with high pass filter at 80Hz or flat for L-R satellite
External Controls: Volume control / Phase switch / HPF - 80 Hz bypass / Power-on with green LED / Clip limiter with red LED / Ground lift
Power Supply: 120 - 240 Volts in switching power mode
Enclosure Construction: 18 mm plywood cabinet, glued and reinforced, resistant black paint, metal grille, rubber foot, four optional wheels
Mounting: One standard metal pole-mount, two metal handle
Dimensions (WxLxH): 591cm x 451cm x 513cm
Weight: 68.29 lb
2201 S. Union • Chicago, IL 60616
Phone: 312 -846-6192 • Fax: 312-492-8949
Toll Free 1-800
-856-8397

CONTACT US
-
BEAT A PRICE
-
GEAR RENTAL
-
TRACK YOUR PACKAGE
-
RETURNS / WARRANTY INFO
ABOUT US
-
SHIPPING INFO
-
PURCHASE ORDERS
-
CUSTOM INSTALLATION
-
TERMS

If you don't see it, it doesn't mean we don't have it. If you are interested in a certain product, but don't see it on our website, please call us or e-mail us!
*All products subject to available stock.
Copyright © 2014 by www.123DJ.com