American Audio Holiday 2015 Pack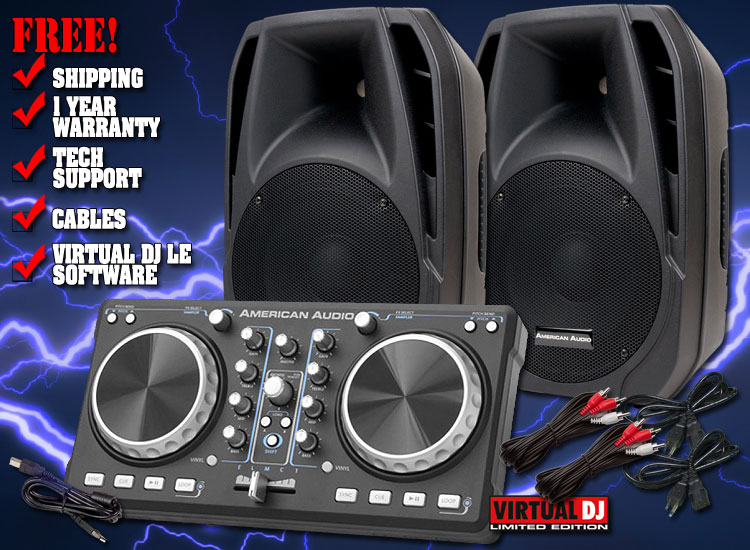 Regular Price $599.99
Our Price $299.99
COMPLETE DJ SYSTEM INCLUDES AMERICAN AUDIO ELMC1 DIGITAL CONTROLLER WITH TWO 750-WATT ACTIVE SPEAKERS
American Audio ELMC1 Digital DJ Controller

The ELMC1 is a portable 2-Channel DJ Midi Controller from American Audio. This DJ Controller is easy-to-use and allows users to start mixing right away because it includes Virtual DJ LE software in the box.
Scratch or search for tracks with the large jog wheel, or use the Browser Knob to find the perfect tune to keep the crowd wanting more. The built-in Crossfader allows you to mix with ease. The Gain, Treble, Mid and Bass knobs along with the Sync and Loop features allow you to tune track to perfection.
This slimline, lightweight controller is USB powered from a computer or laptop, so throw it in a backpack or soft case and take your mix with you on the road.
2-Channel Mixer Controller
Bundled with Virtual DJ LE software
3-Band EQ
Pitch Bend
FX or Sampler Control
USB Powered
Dual layer MIDI controls on most buttons and switches
Dimensions (LxWxH): 14.25" x 7.25 " x 2.75" / 360 x 180 x 64mm
Weight: 3 lbs. / 1.07 kg.
Mapping or Learn feature required in software.

Two American Audio 10" 750-Watt Powered DJ Speakers

10-inch 2-way Powered Speaker
1-inch Compression Driver
Time Aligned Electronic Crossover
Flyable or Stand Mountable
Built-in XLR Microphone input with volume control
XLR Line-in with Level, Treble & Bass control
XLR through output
Active signal limiting system with Clip LED indicator on rear panel
Dimensions (LxWxH): 18.5" x 12.5 x 10" / 469.9 x 317.5 x 254mm
Weight: 18 lbs. / 8 kg.
Selectable Voltage: AC 115/60Hz or 230V/50Hz
Frequency Response: 70Hz - 18KHz
Crossover: Active
Nominal Dispersion: 90° x 50° (HXV)
Balanced: Line 20KO, Mic 3.6KO
Unbalanced: Line 10KO, Mic 1.8KO
Crossover
Low Pass: 2nd order filter 2.7KHz @ 12 dB/octave
Low Cut: 2nd order filter 40Hz @ 12 dB/octave
S/N Ratio:Line 100dB,Mic 80dB
Channel Equalizer:
Bass: 100Hz ±15dB
Treble: 10KHz ±19dB

ALL CONNECTING CABLES INCLUDED!
If you don't see it, it doesn't mean we don't have it. If you are interested in a certain product, but don't see it on our website, please call us or e-mail us!
*All products subject to available stock.
Copyright © 2014 by www.123DJ.com