PPHP123M

12" 800 Watt Powered 2 Way Full Range Loud Speaker System w/Built in USB/MP3 Player
Regular Price $399.99
Our Price $219.99
12" Subwoofer
1.4" Titaniaum Comprepression Driver
USB Terminal/MP3 Control With Lcd Display
XLR And 1/4" Mic Inputs
XLR Stereo RCA Line Input
XLR and 1/4" Line Outputs
Master Volume, Bass Treble Controls
High Efficiency Mid-Low Woofer
35mm Titanium Dome Horn Driver
PTC Driver Protect
Power Output 800 Watts
Impedance: 8 Ohm ±20%
Sensitivity: 101±3dB
Crossover Frequency: 3.5K Hz
35mm Speaker Stand Mount
Frequency Response: 50Hz-20 KHz (-3dB)
Metal Grill To Protect The Woofer,Plastic Cabinet
110/220 Voltage Selectable
Dimensions: 16.6''W x 12.8''D x 23.5''H
The PPHP123M is a powered, wide-coverage, two-way loudspeaker that covers the complete audio spectrum, boasting 800 watts of full-range, distortion-free power. It pushes everything from pounding bass to a chirpy high-end, all in one amplified cabinet. And now you can play your MP3s directly through this speaker, with no additional equipment – simply plug in your USB stick and push play! There's also an LCD readout on the back so you can navigate through your music files with ease. This speaker comes equipped with XLR and ¼" mic inputs as well as a standard RCA input to accommodate both voice and any electronic instrument simultaneously, each with its own volume control. Adjust the sound to your own specifications using the bass and treble controls. It has a 35mm pole mount socket for a multitude of applications. You'll get crystal-clear acoustics in your home as a monitor. It's also ideal for bands and DJs as a main PA or instrument amplification system, so you can rock the audience anywhere, at the club or a party. And you'll always be ready for the next gig – these speakers are compact enough to be truly portable, and they come with a handle for carrying. The 1.5" state-of-the-art titanium drivers and 12" subwoofer are protected by a metal grill, so you know your sound is secure.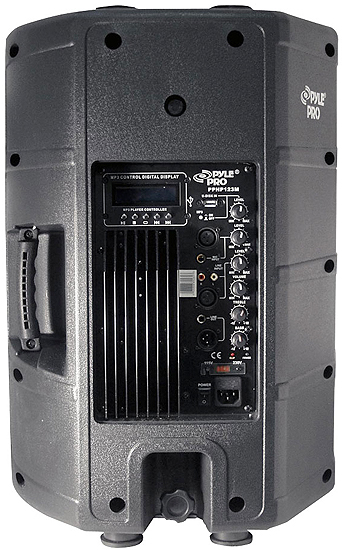 If you don't see it, it doesn't mean we don't have it. If you are interested in a certain product, but don't see it on our website, please call us or e-mail us!
*All products subject to available stock.
Copyright © 2014 by www.123DJ.com