2201 S. Union • Chicago, IL 60616
Phone: 312-846-6192 • Fax: 312-492-8949
SE HABLA ESPANOL

Peavey SP3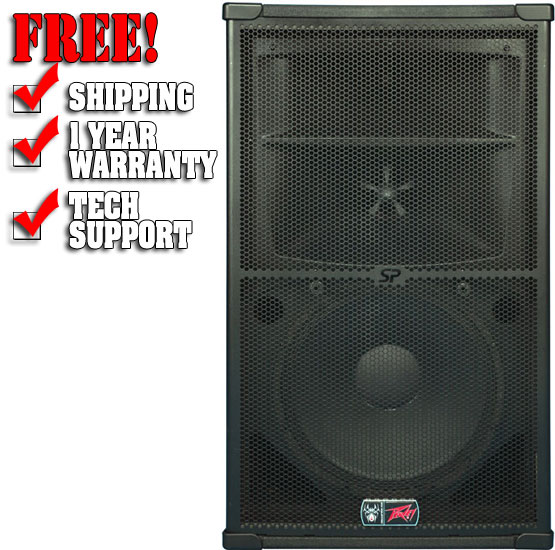 Details

Regular Price $1599.99




Our Price $679.99



WANT TO SAVE EVEN MORE?


This item is available as Warehouse Resealed for only $579.99! Learn More.



Engineered for optimal sound reproduction with proven reliability continuing a 30-year legacy, Peavey SP enclosures feature patented asymmetrical Quadratic Throat Waveguide(TM) technology that helps deliver pristine, precise sound; Black Widow(R) loudspeakers with Kevlar(R)-impregnated cones, 4" ribbon-wire voice coils and exclusive field-replaceable baskets; the patented Radialinear(TM) Planar Phase Correction System; and titanium compression drivers with ferrofluid cooling.
3-way, full-range system
RX(TM) 22 compression driver with ferrofluid cooling
6.5 inch Pro mid-range with phase plug
15 inch BWX Black Widow(R) 4 inch voice coil woofer
2400 watts peak
54 Hz - 16 kHz
Patented Asymmetrical Quadratic Throat CD Waveguide(TM) technology used on mid and tweeter
Patented Radialinear Planar Phase Correction System
Sound Guard(TM) III tweeter and mid-range protection
Trapezoidal enclosure
Hammertex durable covering material
Stand-mount adapter
WE GLADLY ACCEPT
WE GLADLY SHIP


If you don't see it, it doesn't mean we don't have it.
If you are interested in a certain product,
but don't see it on our website, please call us or e-mail us!
*All products subject to available stock.
Copyright © 2013 by www.123DJ.com