P VOLT 15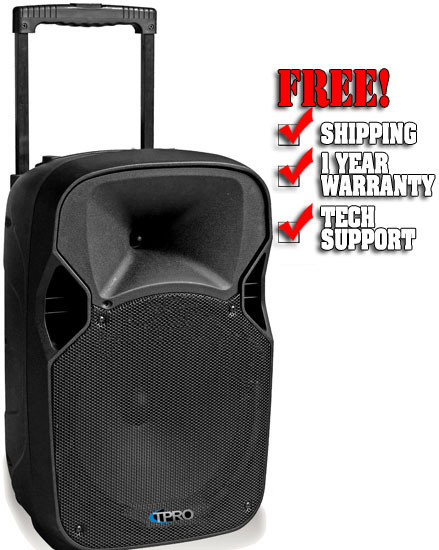 Regular Price $279.99
Our Price $149.99
busy DJ with a lot of bookings needs his or her own kit. When you get gigs from the general public, you can't always rely on the right equipment being on hand when you arrive at the venue. People hold parties and dances in the weirdest of places and they expect you to crank out the tunes, no matter how remote the location, or how under equipped.
This active speaker has a 15-inch woofer, which will get you heard over a crowd. The speaker has a range of features that makes it an entire music system. There is an onboard amplifier that can take music from a range of sources.
More often than not, the customer expects you to shift your own gear into the venue and set up yourself. This speaker solves that problem because it's got wheels on the bottom and a telescoping handle built into the back. It won't roll away once you park it, because it has molded feet underneath it as well. You don't have to cart a box of CDs with you either because the speaker has a USB slot for a memory stick and a slot for a TF memory card. You can just stride in there with the speaker on wheels and all your music in your pocket.
Whether you buy this speaker to work at parties or throw parties, you won't go wrong with this sturdy and reliable sound system.
1500 watts peak power
Woofer: 15'' woofer, 1" voice coil, 40 oz. magnet
Piezo Tweeter
Inputs: USB flash drive, TF Card, and AUX
1/4'' microphone input with separate microphone volume control
USB & TF Card maximum size: 16GB
Plays .mp3, .wma, and .wav files from USB drives and TF Cards
Records .wav files onto USB Flash Drive / TF Card
Bass & treble controls
Rugged perforated steel grill for extra protection
Top carry handle
Includes wheels and telescoping carry-on handle
Pole Mount
Repeat function on USB / TF Card inputs
Impedance: 8 ohms
Sensitivity: 95 ±2dB (1W@1M)
Frequency response: 40Hz - 20KHz
Compatible with AC & DC (12V)
If you don't see it, it doesn't mean we don't have it. If you are interested in a certain product, but don't see it on our website, please call us or e-mail us!
*All products subject to available stock.
Copyright © 2014 by www.123DJ.com