JBL 2242H 18" Woofer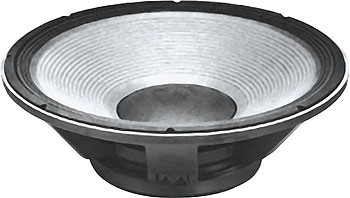 Regular Price $1499.99
Our Price $679.99
The JBL 2242H is ideal for use in high output subwoofer systems with bass extension to 25Hz. The total peak-to-peak excursion of the 2242H is 18 mm, within 10% linearity.

The 2242H is built around a completely new motor structure with a pole piece extending both above and below the top plate to improve gap flux symmetry and increase thermal conductivity from the voice coil to the pole piece.

In addition to the benefits of JBL's Symmetrical Field GeometryTM, the 2242H also incorporates a copper shorting ring that is imbedded in the pole piece at the precise center of the gap and is in close proximity to the voice coil. The copper ring acts like a shorted secondary turn in a transformer, with the voice coil acting as the primary winding. The benefits of this are a reduction in third harmonic distortion and a reduction of the voice coil's inductance, which improves the transducer's transient response.

The 2242H can produce peak instantaneous outputs of 134 dB above 100 Hz measured at one meter, greater than any other JBL low frequency transducer. The new voice coil-magnet circuitry is referred to as Super Vented GapTM technology.

The 2242H carries a power rating of 800 watts, as compared with the 600 watt rating of its predecessors. This is accomplished through the use of a voice coil with one-third more surface area than in the earlier designs, allowing the 2242H to dissipate heat more effectively to the surrounding metal parts, The higher power rating, reduced power compression, and increased efficiency give the 2242H a net continuous output capability that is 3 dB greater than that of the 2241H.
JBL 2242H 18" Low Frequency Transducer Features:
800W continuous pink noise power capacity
8ohm impedance
100mm (4 in) edgewound aluminum ribbon voice coil
25Hz-1.6kHz response
99dB sensitivity, 1 W. 1 m (3.3 ft)
SFG magnet structure with Super Vented Gap (SVG) cooling technology
JBL 2242H 18 " Low Frequency Transducer Specifications:
Nominal Diameter : 18" (460 mm)
Rated Impedance : 8ohms
Power Capacity : 800Watts
Sensitivity : 99dB, lW, 1 m (3.3 ft)
Frequency Range : 25Hz - 1.6kHz
Power Compression - at -10 dB power (80 W) : 0.6 dB
Power Compression - at -3 dB power (400W) : 2 dB
Power Compression - at rated power (800 W) : 3.3 dB
Distortion - 2nd harmonic : <1.0 %
Distortion - 3rd harmonic : <1.0 %
Highest Recommended Crossover : 1 kHz
Recommended Enclosure Volume : 140 - 340 liter (5 - 12 ft3)
Effective Piston Diameter : 15.6 inch (397 mm)
Maximum Excursion Before Damage (peak to peak) : 2 inch (50 mm)
Minimum Impedance : 6.6 ohms
Voice Coil Diameter : 4 inch (100 mm)
Voice Coil Material : Edgewound Aluminum Ribbon
Voice Coil Winding Depth : 1 inch (25 mm)
Magnetic Gap Depth : 0.5 inch (12.7 mm)
Magnetic Assembly Weight : 23 lbs. (10.4 kg)
Bl Factor : 23.7 newton/ampere
Effective Moving Mass : 158 g
Polarity : EIA (Positive voltage to RED terminal gives forward cone motion)
Net Weight : 29 lbs. (13.2 kg)
If you don't see it, it doesn't mean we don't have it. If you are interested in a certain product, but don't see it on our website, please call us or e-mail us!
*All products subject to available stock.
Copyright © 2014 by www.123DJ.com