123DJ.COM
Chicago DJ Equipment Online Superstore -

SPEAKER SYSTEMS FOR DJ, STAGE AND STUDIO USE AT THE LOWEST PRICES!
Peavey 1850 Pack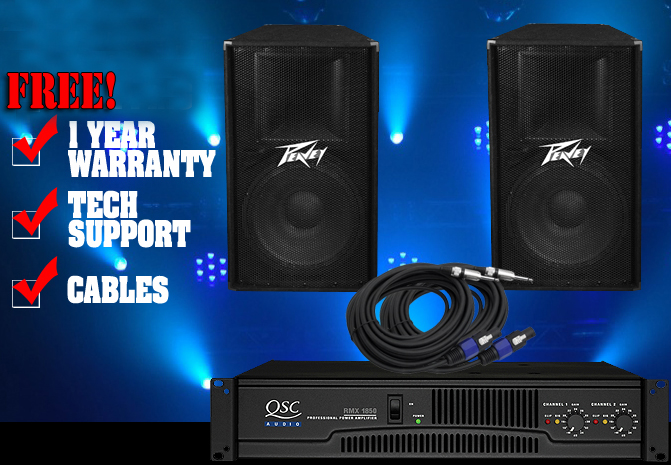 Regular Price $2199.99
Our Price $1039.99
Two Peavey PV115 Speakers

2-way trapezoidal sound reinforcement enclosures
15 in. premium, 2-3/8 in. voice coil woofer
RX14 compression driver with a 1.4 in. titanium diaphragm 1 in. exit
90 degrees x 40 degrees constant directivity horn
Tweeter protection
Heavy-duty crossover
Molded-in pole mounts
Heavy-duty metal grille
Power: 800 watts peak

QSC RMX1850HD Amplifier

The RMX Series amplifiers give you clean, dynamic power with the legendary QSC sound quality and reliability that pros depend on. The RMX Series deliver unmatched performance at a new breakthrough price.
Muscular Power Plant
The power supply is the heart of an amplifier, converting raw AC power from the wall to clean DC for the audio circuitry. The RMX uses a powerful high-current toroidal transformer and ample filter capacitance to ensure generous energy reserves. This makes a critical difference in sound quality, allowing the amp to effortlessly punch out high level transients, even when driving abusive 2-ohm speaker loads.
Superior Performance
RMX amplifiers deliver true studio-quality sound. A full complementary output circuit using the highest-grade linear output devices delivers ultra-low distortion ( <0.05% THD) & a ruler-flat frequency response. SMT (Surface Mount Technology) triples small-signal component density, enabling us to pack up to 2400 watts of power in a chassis only 2 rack spaces & less than 16" deep. And unlike other designs, RMX output devices are direct-mounted to the heat sink for optimum thermal coupling & cooling.
Comprehensive Features
The RMX Series is packed full of professional features that increase performance and flexibility: The RMX 11850HDHD provides improved thermal performance that gives you higher continuous power in 2-ohms stereo or 4-ohms bridged applications (a RMX 11850HDHD exclusive!)
Independent defeatable clip limiters reduce distortion without sacrificing peak performance.
Selectable low-frequency filters boost system response, protect speakers and ensure low-end tightness by more precisely matching the amplifier's range to the loudspeakers.
Barrier strip, XLR and 1/4" balanced inputs plus Speakon and binding post outputs provide easy connections.
Low-noise variable speed fans with rear-to-front air flow keep amplifiers and racks cool.
Proven Reliability
With over 30 years of building amplifiers for the largest touring companies and venues around the world, you can count on QSC's reputation for designing the most reliable amps available.
Compact size--up to 2400 watts in 2 rack spaces
Professional quality performance--incorporates road-proven QSC designs
High-current toroidal transformers for greater two-ohm power and low noise
Independent user-defeatable clip limiters reduce distortion
Selectable low-frequency filters (30 Hz or 50 Hz) protect speakers and increase headroom
Balanced 1/4" (6.3mm) TRS, XLR and barrier strip inputs
Binding post and Neutrik Speakon outputs
Front mounted gain controls for easy access
Signal and Clip LED indicators to monitor performance
Independent DC and thermal overload protection on each channel automatically protects amplifier and speakers

STEREO MODE, EIA: Both Channels Driven
8 ohms EIA 1 kHz, 0.1% THD: 360W
4 ohms EIA 1 kHz, 0.1% THD: 600W
2 ohms EIA 1 kHz, 1% THD: 900W

BRIDGE MONO MODE
8 ohms EIA 1 kHz, 0.1% THD: 1200W
4 ohms EIA 1 kHz, 1% THD: 1800W
Signal to Noise, 20 Hz-20 kHz: 100 dB
Distortion (SMPTE-IM): Less than 0.02%
Input Sensitivity @ 8 ohms: 1.16v (+3.5 dBu)
Voltage Gain: 46x (33 dB)
Output Circuitry: Class H
Power Requirements: 6 A
Weight: 44.5 lb (20.2 kg) net
Distortion (Typical)
20 Hz-20 kHz: 10 dB below rated power: Less than 0.03% THD 4 and 8 ohms
1.0 kHz and below: full rated power: Less than 0.03% THD 4 and 8 ohms
Frequency Response: 20 Hz-20 kHz, +/- 1 dB, -3 dB points: 5 Hz-50 kHz
Damping Factor, 1 kHz and below: Greater than 300 at 8 ohms
Input Impedance: 10 k ohms unbalanced, 20 k ohms balanced
Input Clipping: 10 Vrms (+22 dB)
Cooling: Continuously variable-speed fan, rear-to-front air flow
Connectors, each channel: Input: Active balanced; barrier strip, XLR and 1/4" (6.3mm)
TRS tip and XLR pin 2 positive
Output: touch-proof binding posts and Neutrik Speakon
Controls: Front: AC switch, Ch. 1 and Ch. 2 gain knobs
Rear: 10-position DIP switch
Indicators: Power-On: Green LED/Signal: Yellow LED (1 per channel)/Clip: Red LED (1 per channel)
Amplifier Protection: Stable into reactive or mismatched loads
Load Protection: On/off muting, AC coupling (850, 1450), triac crowbar (1850HD, 2450, on each channel)
Dimensions: 19" (48.3 cm) rack mounting, 3.5" (8.9 cm) tall (2 rack spaces), 15.9" (40 cm) deep (rack mounting to rear support ears)
Power Requirements: 100, 120, 230 VAC, 50-60 Hz

All connecting cables
2201 S. Union • Chicago, IL 60616
Phone: 312 -846-6192 • Fax: 312-492-8949
Toll Free 1-800
-856-8397

CONTACT US
-
BEAT A PRICE
-
GEAR RENTAL
-
TRACK YOUR PACKAGE
-
RETURNS / WARRANTY INFO
ABOUT US
-
SHIPPING INFO
-
PURCHASE ORDERS
-
CUSTOM INSTALLATION
-
TERMS

If you don't see it, it doesn't mean we don't have it. If you are interested in a certain product, but don't see it on our website, please call us or e-mail us!
*All products subject to available stock.
Copyright © 2014 by www.123DJ.com