123DJ.COM
Chicago DJ Equipment Online Superstore -

SPEAKER SYSTEMS FOR DJ, STAGE AND STUDIO USE AT THE LOWEST PRICES!
123DJ Power Pack 3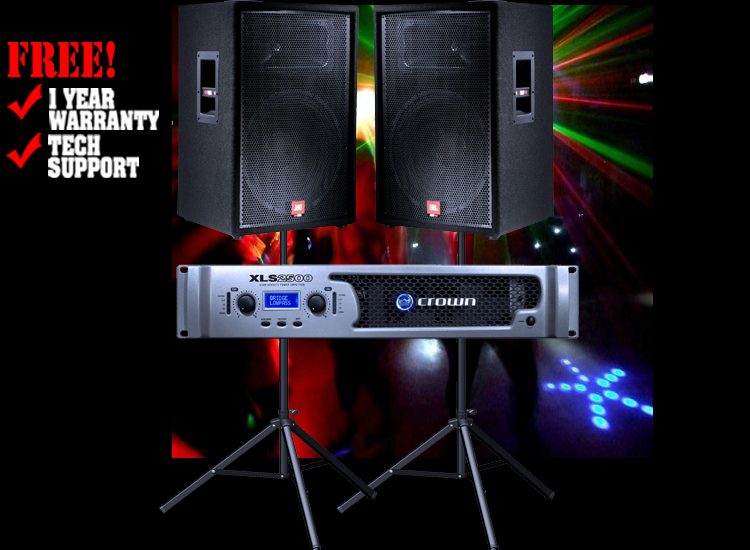 Regular Price $2399.99
Our Price $1299.99
$190 INSTANT REBATE
YOU PAY JUST $1109.99!
One Crown XLS-2500 Amplifier

XLS High Performance, Lightweight Class D power amp weighs less than 11 lbs.
Integrated PureBand Crossover System for better performance and control
Peakx Limiters provide maximum output while protecting your speakers
XLR, 1/4", RCA inputs provide outstanding flexibility
1/4" Inputs can be used as loop-thrus to distribute signal to additional amplifiers Efficient forced-air fans prevent excessive thermal buildup
Electronically balanced XLR inputs; touchproof binding post and Speakon outputs
Precision detented level controls, power switch, power LED, and six LEDs indicate signal, clip and fault for each channel
Three-Year, No-Fault, Fully Transferable Warranty completely protects your investment and guarantees its specifications
Minimum Guaranteed Power per channel, both channels driven: 1550W, Stereo, 2 Ohms (per ch.); 775W, Stereo, 4 Ohms (per ch.); 440W, Stereo, 8 Ohms (per ch.); 1550W, Bridge-Mono, 8 Ohms; 2400W, Bridge-Mono, 4 Ohms;
Sensitivity (for full rated power at 4 ohms): 1.4 Vrms
Frequency Response (at 1 watt, 20 Hz - 20 kHz): +0 dB, -1 dB
Signal-to-Noise Ratio Rated as dBr to full rated 8Ohm power output (A-Weighted): XLS2000 > 103 dB
Damping Factor (8 Ohm): 10 Hz to 400 Hz: > 200
Crosstalk (below rated 8Ohm power): At 1kHz: > 85dB; At 20kHz: >55dB
Input Impedance (nominal): 20 kOhm balanced, 10 kOhm unbalanced
Load Impedance: 2 to 8 Ohm per channel in Stereo; 4 to 8 Ohm in Bridge Mono
AC Line Voltage and Frequency Configurations Available (± 10%):120 VAC 60 Hz; 100 VAC 50/60 Hz; 220 and 240 VAC 50 Hz
Ventilation: Flow-through ventilation from front to back
Cooling: Internal heat sinks with forced-air cooling for rapid, uniform heat dissipation
Integrated Processing: PureBand Crossover System; Crossover Filter: Linkwitz-Riley 24dB per Octave; Crossover Frequency Range: 50 HZ - 3 kHz: Crossover Mode: Crossover (CH1=LPF, CH2=HPF), LowPass (both channels LPF), HighPass (both channels HPF), Bridge (LPF or HPF); Peakx limiters: Channel independent clip limiter designed to provide maximum output while protecting your loudspeakers
Input/Output: Input Connectors: XLR (one per channel), 1/4-Inch (one per channel), and RCA (one per channel). 1/4-Inch connectors can be used as loop-thrus to distribute signal to additional amplifiers. Output Connectors: Two 4-Pole Speakon Output Connectors accept 2-pole or 4-pole Speakon connectors. The top Speakon connector is wired for both channels so it can be used for bridgemono wiring or for stereo wiring of two speakers to a single Speakon connector. One pair of back-panel binding posts per channel; accepts banana plugs or bare wire. (European models do not accept banana plugs.)
Dimensions: 19"W x 3-1/2"H x 10-3/4"D
Weight: XLS2500: 10-3/4 lb.

Two JBL JRX-115 speakers

System Type: 15" 2-way, sound reinforcement speaker.
Sensitivity (1w/1m): 98 dB SPL
Nominal Impedance: 8
Peak Power Capacity:1 1000 watts
Maximum SPL: 128 dB
Nominal Dispersion: 90° x 50°
Crossover Frequency: 1.6 kHz
Dimensions (H x W x D):3 699 mm x 460 mm x 432 mm (27.5 in x 18.1 in x 17 in)
High Frequency Driver: JBL 2412, 1" exit compression driver mounted on Progressive
Transition™ Waveguide
Low Frequency Driver: JBL M115-8A
Input Connectors: Parallel Neutrik® Speakon® NL-4 (x1); ¼" TS phone jack (x1)
Enclosure Construction: 19 mm (¾ in) MDF (Medium Density Fiberboard); with glued and mechanically fastened joint detail; covered in black carpet.
Grille: 18-gauge, powder-coated steel
Mounting & Suspension: 35 mm, cast aluminum pole-mount socket

FREE STANDS!
ALL CABLES INCLUDED!!
2201 S. Union • Chicago, IL 60616
Phone: 312 -846-6192 • Fax: 312-492-8949
Toll Free 1-800
-856-8397

CONTACT US
-
BEAT A PRICE
-
GEAR RENTAL
-
TRACK YOUR PACKAGE
-
RETURNS / WARRANTY INFO
ABOUT US
-
SHIPPING INFO
-
PURCHASE ORDERS
-
CUSTOM INSTALLATION
-
TERMS

If you don't see it, it doesn't mean we don't have it. If you are interested in a certain product, but don't see it on our website, please call us or e-mail us!
*All products subject to available stock.
Copyright © 2014 by www.123DJ.com