2201 S. Union • Chicago, IL 60616
Phone: 312-846-6192 • Fax: 312-492-8949
SE HABLA ESPANOL

Q-Spot 160LED System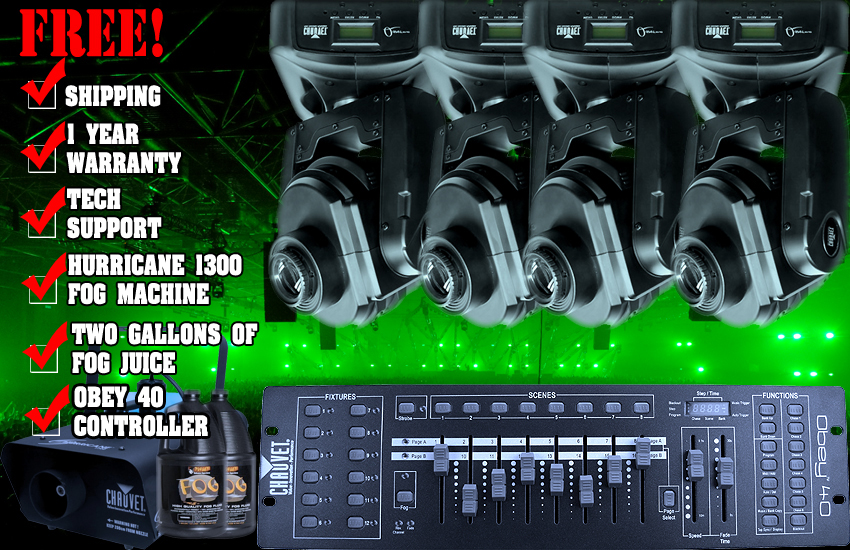 List Price $3999.99

Our Price $2399.99
Four Q-Spot 160 LED Lights

9 or 11-channel DMX-512 LED moving yoke
Pan: 530º / Tilt: 270º
Color wheel: 8 colors + white / Rainbow color spin at variable speeds
Rotating gobo wheel with gobo shake: 7 interchangeable, slot-n-lock gobos + open / Gobo wheel spin at variable speeds
3-facet prism
Variable electronic strobe
Variable electronic dimmer (0 – 100%)
Remote fixture reset
255 user-programmable steps without DMX controller
Move-in-black for pan/tilt
Built-in automated programs
Built-in sound activated programs

High-powered, 20W (1000mA) LED
User-selectable pan/tilt ranges
Automatic pan/tilt correction
Reset to factory settings option
User-selectable basic or advanced operating modes

Gobo size: 25.75mm outside, 18.2mm image, 1.2mm max thickness
Beam angle: 16
Lux: 4,180 @ 1m
Light source: 1 (white) LED 50,000hrs
Power and current: 120V, 60Hz: 50W, 0.4A operating, 0.1A inrush
Power and current: 230V. 50Hz: 50W, 0.2A operating, 0.1A inrush
AC power: Autoswitching 100V – 240V 50/60Hz
Weight: 13.5lbs (6.1kg)
Size: 9.5in x 9.47in x 14.3in / 242mm x 240mm x 364mm

FREE Chauvet Obey 40 Controller -- $119 Value!
FREE Chauvet Hurricane 1300 Fog Machine -- $150 Value!
FREE Two Gallons of Fog Juice -- $49 Value!