Haunted House Pack 2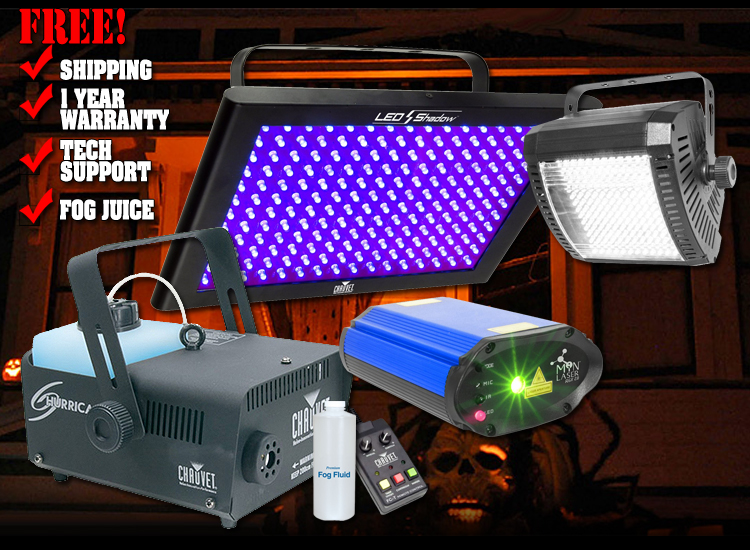 CURRENTLY OUT OF STOCK
Package that is great for Halloween! Whether it's for a Haunted House, Halloween party or just to set up a seasonal display, this easy to use package has all you need!

Chauvet Hurricane 1100 Fog Machine

The Chauvet Hurricane 1100 water-based fogger has a 1.3L tank capacity to produce 8,000cfm of atmospheric fog after only a 5-minute heat up. The fogger's LED-illuminated tank has a fluid level indicator on the back so you can see when it's time to refill. An auto shutdown function provides safety if you are too busy to notice when the Hurricane 1100 is empty. A manual fog button and a wired remote ensure that the Hurricane 1100 fog machine delivers perfectly timed puffs of fog. Chauvet includes a hanging bracket for convenient usage with lighting effects.
Output: 8,000cfm
1.3L tank capacity
5-minute heat up
Manual fog button
Low fluid indicator and auto shut down
LED-illuminated tank
Wired remote included
Water-based fogger
Hanging bracket

Chauvet Techno Strobe 168 Strobe Light

With built-in speed and intensity adjustments, Techno Strobe™ 168 is a white, 2-channel DMX strobe light. This powerful fixture is perfect for a variety of applications and can run all night while utilizing very little power.
Lightweight, LED strobe light designed for special events or the mobile entertainer
Built-in speed and intensity sets the fixture to the desired look without DMX
Very low power consumption and no duty cycle allow the strobe light to work all night
Built-in sound-activated, automated, DMX or master/slave modes allow for use in any environment
Power linking saves time running cables and extension cords
DMX channels: 2
DMX connectors: 3-pin
Light source: 168 (white) LEDs
Strobe rate: 0 - 12 Hz
Beam angle: 24°
Field angle: 44°
Illuminance: 500 lux @ 2 m
Power linking: 34 units @ 120 V / 57 units @ 230 V
Input voltage: Auto-ranging 100-240 VAC 50/60 Hz
Power and current: 28 W, 0.2 A @ 120 V 60 Hz
Power and current: 32 W, 0.1 A @ 230 V 50 Hz
Weight: 2.3 lbs (1 kg)
Size: 8.7 x 9.4 x 5.5 in (220 x 238 x 140 mm)
Approvals: CE

Chauvet LED Shadow LED Black Light

CONTROL FEATURES
3-channel DMX-512 LED UV blacklight
Blackout/static/dimmer/strobe
Built-in automatic programs via DMX
Adjustable flash rate, dimmer and static in stand-alone via dipswitches
Linkable with LED Techno Strobe™ & LED Techno Strobe™ RGB in stand-alone
ADDITIONAL FEATURES
Coverage up to 20ft x 20ft
Additional power output for daisy chaining units
Includes brackets for wall and truss mounting
Built-in automated programs via master/slave or DMX
Built-in sound activated programs via master/slave or DMX
Low power consumption
SPECIFICATIONS
Beam angle: 20°
Bulb: 192 (UV) LEDs 100,000hrs
Current draw: (peak 12W @ 120V)
Power: Auto switching 100V - 240V 50/60Hz
Weight: 4.9lbs (2.22kgs)
Master packed: 4pcs / 28.3lbs (12.84kgs)
Size: 14in x 9.75in x 6.5in
355.6mm x 247.65mm x 165.1mm
2-year limited warranty

Chauvet MinLaser RGX2

MiN™ Laser RGX 2.0 is an ultra-compact, plug-and-play laser. The unit features a sleek, stylish housing and projects different red and green laser effects onto any surface. Two convenient mounting stands (with easy clamp mounting ability) and an infrared remote control are included to make set up and operation a breeze.
Extremely compact laser effects that project thousands of red and green beams
New housing and more control features and functions
Mount to truss with the included clamp mounting adaptor
Independent control of the red and green laser diodes for true customization of the effect
Cover a huge area and look great with or without fog
Set the color and rotation speeds wirelessly with the included wireless remote control
Motor spins in both directions and at variable speed to create many different looks
Each includes 3 different mounting options to fit the style and mood of any event or party
Sound-activated and automated programs dance to the beat of the music or run by themselves
Variance-free and ready to use right out of the box
Light source: 532 nm/50 mW green laser diode, 650 nm/100 mW red laser diode
Coverage angle: 100°
Input voltage: 12 VDC 600 mA (external power supply: 100-240 VAC 50/60 Hz)
Power and current: 6 W, 0.1 A @ 120 V 60 Hz
Power and current: 6 W, 0.1 A @ 230 V 50 Hz
Weight: 0.7 lbs (0.3 kg)
Size: 4.3 x 3.3 x 1.8 in (111 x 85 x 45 mm)
Classified per EN/IEC 60825-1:2007
Complies with FDA performance standards for laser products except for deviations pursuant to Laser Notice No. 50, dated June 24, 2007
Approvals: CE

Chauvet FT-C Wireless Fog Remote

The FC-T is a remote control designed to work with most CHAUVET® fog machines. Three LED indicators display timer on/off, continuous fog on/off and whether the machine is ready or heating. Two rotary knobs set interval and duration times.
Trigger fog output automatically
Works with most CHAUVET® fog machines
Receives power from fog machine; no extra plug needed
3 LED indicators display machine & controller state:
Timer function on/off
Continuous on/off
Machine heating/ready
2 rotary knobs set interval and duration times
Interval: 1 minute to 30 minutes
Duration: 1 second to 15 seconds
Manual override button
Magnetized back plate keeps it in place
If you don't see it, it doesn't mean we don't have it. If you are interested in a certain product, but don't see it on our website, please call us or e-mail us!
*All products subject to available stock.
Copyright © 2014 by www.123DJ.com