Haunted House Pack 1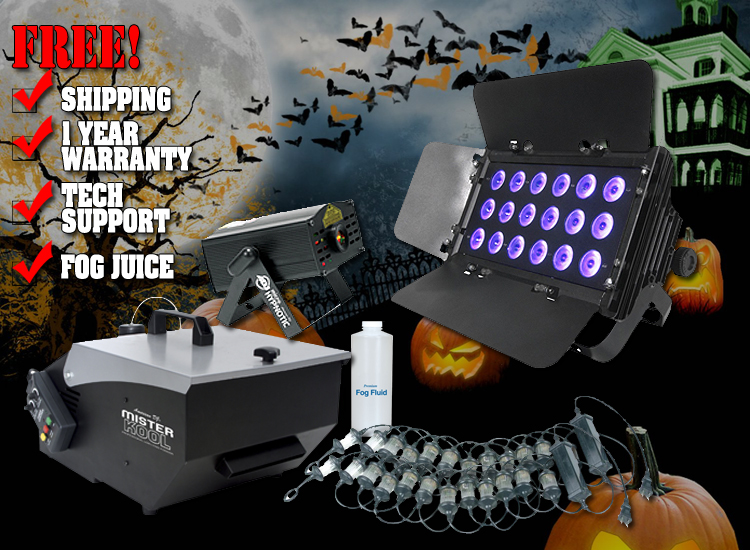 CURRENTLY OUT OF STOCK
Package that is great for Halloween! Whether it's for a Haunted House, Halloween party or just to set up a seasonal display, this easy to use package has all you need!

American DJ Mister Kool Low Laying Fog Machine

Low-lying fog stays low to the ground–similar to a dry ice effect
Uses standard fog juice and ice cubes
No need for expensive fog chillers, bulky air conditioning units or dry ice
Includes timer remote with On/off switch
Perfect for Halloween and theatrical events
Load up to 4 pounds of ice in the chiller box
Water drainage valve system allows for easy cleanup. Water drains directly into the provided plastic bag.
Heater: 400W
Fog fluid container: 1/2 liter (external)
Dimensions (LxWxH): 19.25" x 12.5" x 10.25" / 490 x 315 x 260 mm

Chauvet Slim Bank UV18 Black Light

SlimBANK™ UV-18 is a powerful blacklight with 18 high-power UV LEDs, perfect for every setting, from Halloween parties to amusement parks. Make your next event glow with the effect that is always a hit with the crowd.
High-output ultraviolet LED fixture
Direct light where it's needed using the included and removable barn doors
Achieve smooth LED fading with built-in dimming curves
Ideal for sound-sensitive environments due to the radiant cooling design
Save time running extension cords by power linking multiple units
Easily transports in the CHS-40 VIP Gear Bag
Combine multiple units using the CBB-6 mounting bracket
DMX Channels: 2 or 5
DMX Connectors: 3-pin
Light Source: 18 (UV) 1W (350mA) LEDs 50,000hrs
Strobe Rate: 0 - 20Hz
Wavelength: 400 - 410nm
Coverage Angle: 65°
Power Linking: 22 units @ 120V; 39 units @ 230V
Input Voltage: Auto-ranging 100 - 240VAC 50/60Hz
Power and Current: 42W, 0.4A @ 120V 60Hz
Power and Current: 46W, 0.2A @ 230V 50Hz
Weight: 7.4lbs (3.4kg)
Size: 15.3 x 7.7 x 7.4in (389 x 197 x 187mm)
Approvals: CE

American DJ Micro Hypnotic Laser

Take any party to the next level with the Micro Hypnotic laser. This tantalizing effect projects unique "web type" red and green laser patterns that can be projected on a ceiling, wall or dance floor. This laser is safe to use and complies with FDA standards. The Micro Hypnotic is easy to use – just plug it in and run the laser's built-in lighting programs in Auto or Sound Active mode. Change programs, colors and black out with the included RF wireless remote control. The Micro Hypnotic's compact, light weight case design makes it ideal for mobile entertainers, bands, night clubs and bars or any party goers!
Unique mini laser that projects red and green "web type" patterns
Laser patterns can be projected on a dance floor, ceiling or wall
Compact case design
2 operational modes: Auto Mode (built-in programs), or Sound Active Mode
Built-in programs can be changed with a push of a button on the unit or from the RF wireless remote
Includes dual hanging bracket
Complies with FDA standards
Fan cooled
Green Laser: 30mW (532nm) Green laser

Red Laser: 80mW (650nm) Red laser
Includes UL Listed multi-voltage power supply: 12V DC 100-240V, 50/60Hz
Includes RF Wireless Remote Control [Auto/Sound Control; Black Out; Color Change (R, G, R+G, Random); Rotation Control (Clockwise/Counterclockwise/Random)]
Dimensions (LxWxH): 6"x4.75"x2.5" / 149x110x60mm
Weight: 2 lbs. / .8 kg.

Two American DJ Flash Ropes

User Friendly "plug and play" strobe lighting with 12 flash capsules
Rainproof – suitable for indoor or outdoor use
Built-in "O" ring for easy hanging
Flash Rate: 1 flash per second
Length: 15.5 feet
Weight: 1.75 lbs.
Lamp Life: 2,000 hours (average)
Power Consumption: 45W
If you don't see it, it doesn't mean we don't have it. If you are interested in a certain product, but don't see it on our website, please call us or e-mail us!
*All products subject to available stock.
Copyright © 2014 by www.123DJ.com