Halloween Pack 2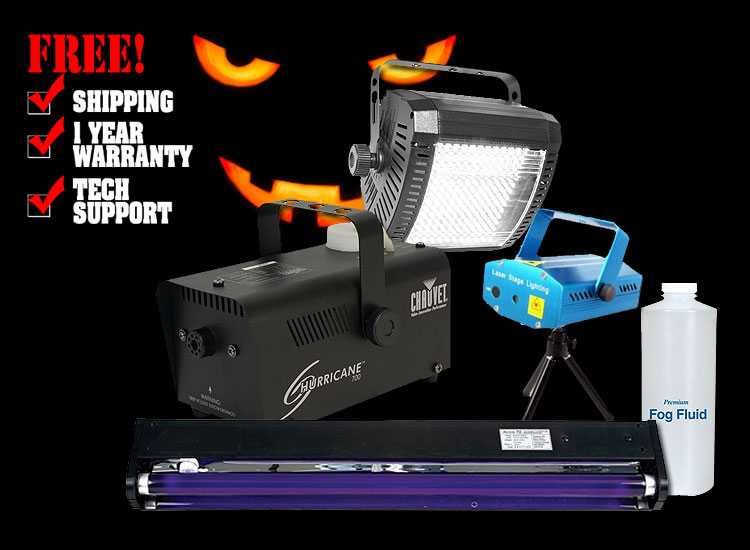 CURRENTLY OUT OF STOCK
Package that is great for Halloween! Whether it's for a Haunted House, Halloween party or just to set up a seasonal display, this easy to use package has all you need!

Chauvet Hurricane 700 Fog Machine

The Chauvet Hurricane 700 Fog Machine gets the fog bank rolling with a 450W heater that puts out 1,500 cubic feet of fog per minute. The Hurrican 700 has a .8L tank capacity, and comes with a free pint of fog juice. This Chauvet fogger also has a manual fog button, and is packaged with a wired remote (FC-1). In only 4 minutes the Hurricane 700 fogger is heated up enough to provide a great atmospheric effect at your event.
450W heater
Output: 1,500 cubic feet per minute
4-minute heat up
.8L tank capacity
Free pint of fog juice
Wired remote (FC-1) included
Manual fog button
Includes hanging bracket

Chauvet Techno Strobe 168 LED Strobe Light

With built-in speed and intensity adjustments, Techno Strobe™ 168 is a white, 2-channel DMX strobe light. This powerful fixture is perfect for a variety of applications and can run all night while utilizing very little power.
Lightweight, LED strobe light designed for special events or the mobile entertainer
Built-in speed and intensity sets the fixture to the desired look without DMX
Very low power consumption and no duty cycle allow the strobe light to work all night
Built-in sound-activated, automated, DMX or master/slave modes allow for use in any environment
Power linking saves time running cables and extension cords
DMX channels: 2
DMX connectors: 3-pin
Light source: 168 (white) LEDs
Strobe rate: 0 - 12 Hz
Beam angle: 24°
Field angle: 44°
Illuminance: 500 lux @ 2 m
Power linking: 34 units @ 120 V / 57 units @ 230 V
Input voltage: Auto-ranging 100-240 VAC 50/60 Hz
Power and current: 28 W, 0.2 A @ 120 V 60 Hz
Power and current: 32 W, 0.1 A @ 230 V 50 Hz
Weight: 2.3 lbs (1 kg)
Size: 8.7 x 9.4 x 5.5 in (220 x 238 x 140 mm)
Approvals: CE

123DJ Mini RG Laser

Do you want to be the life of the party? Now you can be with this laser star projector! Perfect for small clubs or the entertainer on the go. Just turn it on and let it run in sound active mode through it's exciting built-in programs. Green & red Laser beams create a Solar System type effect when projected on any surface. These laser beams create exciting animated patterns on a wall or ceiling with or without the use of fog.
The grade of the laser for the laser light is Class Ⅲ B, and will be dangerous if direct exposure to the eyes occurs.
Animated moving stars
Fully Adjustable Motion Speed
Portable
Sound Activated Programs
weight: 758 g
size: 20 x 14.5 x 8.7 cm
working voltage is 110V-240V/50-60Hz
Power supply: 110V/240V, 50/60Hz
Output: 5.0V, 1.5A
Laser generator: wavelength 532nm, power 50mW, wavelength 650nm, power 100mW.

24" Black Light

Great for clubs, DJs, bands and special effects productions.
Each Black Light comes complete with a tube and fixture and features a hanging bracket, a reflector for optimum output of lamps, a six foot power cable and quick start electronic ballasts.
Dimensions: 5"H x 3"W x 25"D
Weight 2 lbs.
If you don't see it, it doesn't mean we don't have it. If you are interested in a certain product, but don't see it on our website, please call us or e-mail us!
*All products subject to available stock.
Copyright © 2014 by www.123DJ.com