Chauvet
Intimidator Spot LED 350 White Bundle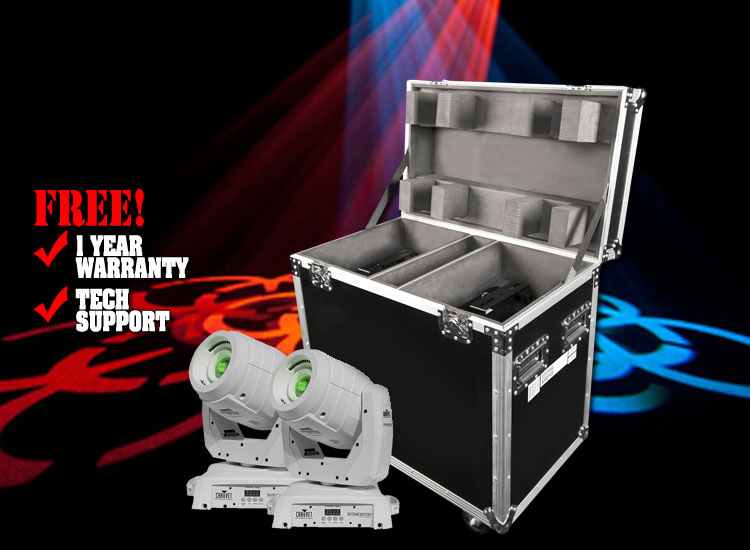 Details

Regular Price $2999.99




Our Price $1949.99
This moving head combo pack includes 2 of CHAUVET DJ's powerful Intimidator Spot LED 350 fixtures in one road case. The case's tall lid allows the included hanging brackets to remain on the fixtures during transportation, saving time on installation and take-down. The case has an additional central storage compartment perfect for storing cables, clamps, brackets or other accessories. Multiple cases can be stacked saving floor space and dual handles on each side make maneuvering easy. Locking casters prevent accidental rolling and the elastically hinged lid ensures the strap never gets caught when closing the lid.
Moving head combo pack includes 2 moving heads and 1 road case
Tall lid allows hanging bracket and clamp to remain installed during transportation
Elastically-hinged lid ensures the strap will never get caught when closing the lid
Additional central compartment stores cables, clamps or brackets
Dual handles on each side makes maneuvering much easier
Save floor space with the built-in stacking cups for stacking multiple cases
Locking casters prevents an accidental rollaway
Feature packed, 75 W LED moving head spot
Motorized focus allows the rotating gobos to be crisp when projected at most distances
3-facet rotating prism splits the beam for great effects and to cover a larger area
Easy-access gobo door allows for quick gobo changes without opening the fixture
Electronic dimmer allows super-smooth LED fading
Manual zoom decreases beam angle by 5° to project farther
User-selectable pan and tilt ranges keep the light where you want it
Built-in effect macros and move-in-black feature minimizes programming time
Power linking saves time running cables and extension cords
Individual reset of pan/tilt, color, gobo, prism and focus allows the show to continue no matter what happens
Awesome sound-activated programs dance to the beat of the music
Easy access to built-in automated programs generate a synchronized show in master/slave mode
DMX channels: 8 or 14
DMX connectors: 3-pin
Pan & tilt: 540° / 270°
Pan & tilt ranges: 540°, 360°, 180° pan / 270°, 180°, 90° tilt
Colors: 8 + white, split colors, continuous scroll at variable speeds
Gobos: 7, rotating, interchangeable, indexing, slot-n-lock, gobo shake, continuous scroll at variable speeds
Gobo size: 24 mm outside, 20 mm image, 1.1 mm max thickness
Light source: 1 white 75 W (17 A) LED 50,000 hrs
Strobe rate: 0 - 20 Hz
Zoom angle: 12°- 17°
Illuminance (12°): 9,490 lux @ 2 m
Power linking: 3 units @ 120 V / 7 units @ 230 V
Input voltage: Auto-ranging 100-240 VAC 50/60 Hz
Power and current: 272 W, 2.2 A @ 120 V 60 Hz
Power and current: 285 W, 1.2 A @ 230 V 50 Hz
Approvals: CE
Weight: 122.4 lb (55.6 kg)
Size: 31 x 18.9 x 33 in (790 x 480 x 840 mm)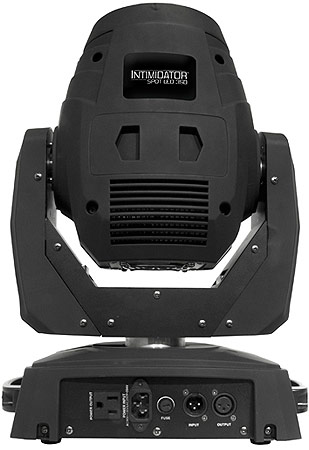 If you don't see it, it doesn't mean we don't have it. If you are interested in a certain product, but don't see it on our website, please call us or e-mail us!
*All products subject to available stock.
Copyright © 2014 by www.123DJ.com