2201 S. Union • Chicago, IL 60616
Phone: 312-846-6192 • Fax: 312-492-8949
SE HABLA ESPANOL

2000nexus Pack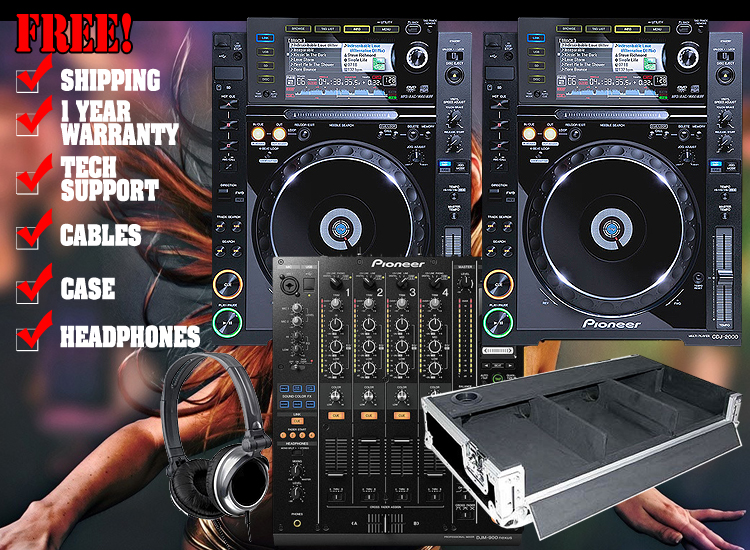 Regular Price $9999.99
Sale Price $5799.99
Two Pioneer CDJ-2000 CD / Multi-Media Players

The Pioneer CDJ-2000 Multi-Media and CD Player takes its place among the industry standard line of professional CDJ series players, with a host of flexible features that are sure to please CD and multi-media DJs alike. The CDJ-2000 supports audio and MP3 CDs in Music CD, CD-R and CD-RW formats.
There are USB and SD card slots for adapting removable media devices and accessing AIFF, WAV, MP3, AAC and DVD-ROM files. Up to 4 CDJ-2000 or CDJ-900 players may be linked to share a single music source with Pioneer's Pro DJ Link, and organizing music files is made easy with the included Rekordbox Music Management software. The coveted DSP features of the CDJ-1000 are all present, and its 6.1" full color LCD panel and Graphic User Interface make title searching and operation in dimly lit clubs very easy.
Multi Format Playback - The CDJ-2000 enables playback of MP3, AAC, WAV and AIFF audio files on CD,DVD-ROM, SD card and USB memory devices.
Pro DJ Link - New Pioneer Pro DJ Link that enables up to four CDJ-2000/900s to be connected and share a single music source.
6.1" Full Color LCD panel and Graphic User Interface - For displaying song titles, jacket art as well as detailed track information and wave form display of each song so DJs can find information needed to select a song at a glance.
Needle Search - Helps DJs instantaneously get to a specific part of a song with a simple touch of the Needle Search pad.
MIDI - Users can assign various buttons of the CDJ-2000 to trigger other devices, such as DJ effecters and software with MIDI mapping capability.
Free Rekordbox Music Management Software Included - Both the CDJ-2000 and CDJ-900 turntables include rekordbox, Pioneer's proprietary music management software that organizes and catalogs a DJ's entire music library. When music files are imported to rekordbox, the software analyzes each file and prepares them for use specifically with the new CDJ turntables.

One Pioneer DJM-900 Mixer

High performance channel faders – The slide mechanism supports the fader knobs with two metal shafts for both longevity and smooth operability Furthermore, the new mechanism's design minimizes the effects of moisture or dust particles on the mixer's performance capabilities.
Integrated input selector – Enables users to simultaneously switch all channel inputs.
Indicators – The DJM-900nexus is equipped with a "USB connection indicator" to display the status of sound card and PC or Mac communications as well as a "USB audio input indicator" to display audio inputs from a PC or Mac.
Industry's First MIDI Signal Output8 – The DJM-900nexus features the industry's first musical instrument digital interface (MIDI) signal output that changes at beat-by-beat intervals. The mixer also includes a "MIDI LFO function" to control external devices such as effecters.
Assignable MIDI Functionality – Nearly all knobs and buttons operation information can be assigned to control other devices. The mixer can also be used as a MIDI controller.
Switching 3-Band EQ/Isolator – Each channel of the mixer is equipped with a switchable 3-band EQ (+6dB to -26dB) and 3-band Isolator (+6dB to -8dB).
P-LOCK Fader Cap – Keeps the fader channel and crossfader knobs (caps) locked preventing them from physically slipping off during use.
Auto Standby – Automatically senses the presence of active operation and input signals and switches to standby mode when inputs are not detected for a long period of time.

FREE Case!
FREE Headphones!
FREE All cables included!