Shure ULXP124/85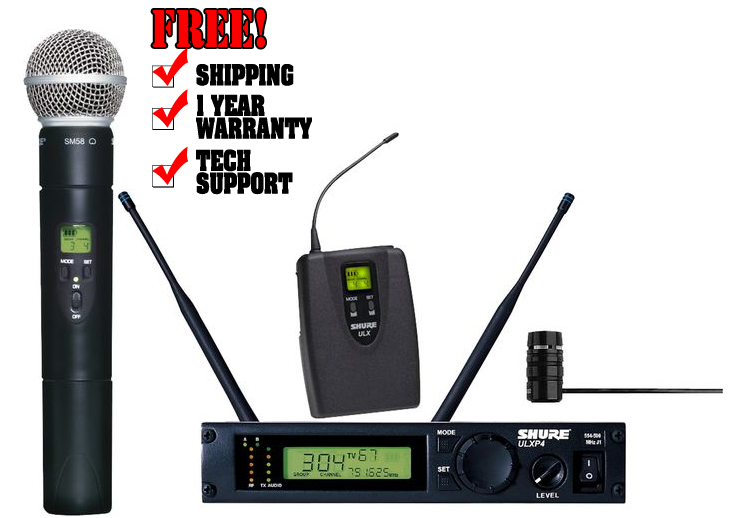 Regular Price $2399.99
Our Price $1159.99
The Shure ULXP124/85 Wireless Dual Combo System with ULXP4 Diversity Receiver, ULX1 Bodypack Transmitter, ULX2 Handheld Transmitter w/SM58 Handheld Mic and WL185 Lavalier Microphone. Shure ULX Standard UHF systems represent a breakthrough in performance and price for both working musicians and professional sound installers. ULX Professional systems offer more advanced features and controls, including lockable settings and group scan function. Over 1400 selectable, pre-programmed frequencies are available, and Automatic Frequency Selection provides a straight shot to a clear channel. NOTE: Bodypack and Handheld Transmitters cannot be used simultaneously.

ULXP4 Wireless Diversity Receiver

The expanded feature set of the ULXP4 wireless receiver, with advanced settings and controls including lockable settings and group scan, offers a direct path to full, clear audio signals. The Shure ULXP4 offers an exceptional value in both performance and price, for both working musicians and sound installers.

ULX1 Wireless Bodypack Transmitter

The low-profile, highly durable body-pack ULX1 has all the characteristics to meet the demands of high performance. For use with headworn, lavalier and instrument microphones, as well as guitars and basses. Attaches to belt, waistband or guitar strap with clip for hands-free mobility.

ULX2 Handheld Transmitter

The ULX2 Handheld Transmitter features 3-segment battery fuel gauge, frequency and power settings, and control lockout. A backlit LCD shows group and channel.

SM58 Vocal Microphone

The Shure SM58 unidirectional (cardioid) dynamic vocal microphone is designed for professional vocal use in live performance, sound reinforcement, and studio recording. It has a tailored vocal response tuned to accentuate the warmth and clarity of lead and back-up vocals. A highly effective, built-in spherical filter minimizes wind and breath "pop" noise. A cardioid pickup pattern isolates the main sound source while minimizing unwanted background noise. Rugged construction, a proven shock-mount system, and a steel mesh grille ensure that even with rough handling, the SM58 will perform consistently, outdoors or indoors. Consistently the first choice of performers everywhere.

WL185 Lavalier Microphone

The WL185 lavalier electret condenser mic was designed for use with a wireless body-pack transmitter. It has an attached 4 ft. cable terminated with a miniature 4-pin mini connector. The included tie clip can be rotated in 90 degree intervals for placement flexibility.
If you don't see it, it doesn't mean we don't have it. If you are interested in a certain product, but don't see it on our website, please call us or e-mail us!
*All products subject to available stock.
Copyright © 2014 by www.123DJ.com