VocoPro UHF-8800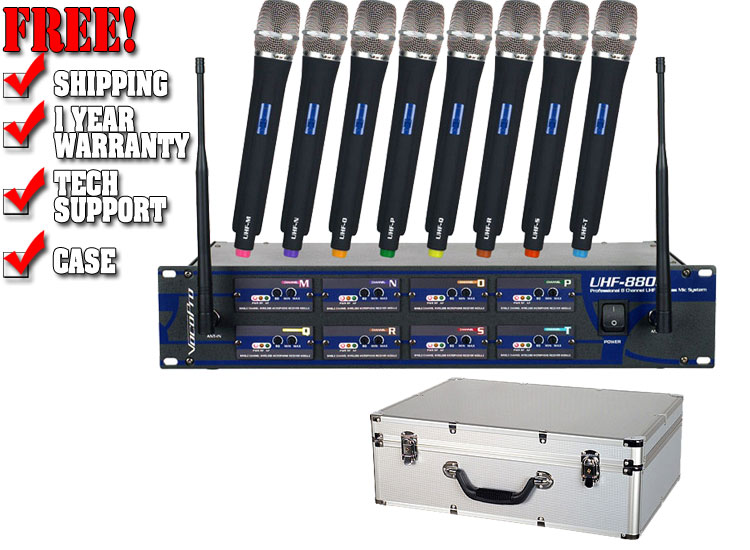 Details

Regular Price $1299.99




Our Price $599.99



The UHF-8800 from VocoPro is a wireless microphone system with 8 individual handheld mics. Assembling multiple wireless microphone systems can be difficult and confusing, but this system was designed to make set-up and operation as easy as possible. Color coded microphones and receiver units make it clear what controls need to be adjusted, and mixed outputs are provided that simplify connecting to a sound system.
The UHF-8800 was designed to be mounted in a standard 19" rack. The four receiver units are easy to remove from the chassis in the event that they need to be serviced. This is extremely important if you rely on this system for business purposes, rehearsals, or performances. You can continue to operate the system with the working units, even while the receivers that need service are removed from the rack.
Each handheld microphone with its built-in wireless transmitter runs on two standard AA batteries. They can operate for 12 hours on fresh batteries, which is enough time to get you through karaoke marathons, lengthy business presentations, etc. The UHF-8800 is the ideal system for anyone who doesn't want to worry about set-up, operation, or downtime when repairs are needed.
8 individual XLR mic outputs and 2 1/4" mixed outputs
8 wireless handheld microphones included
Hard shell storage & travel case included
Individual volume controls for precise vocal balancing
8 independent field-replaceable receiver modules
Interference-resistant UHF band operation
Rugged 2 rack space metal receiver chassis
Low power consumption design for longer battery life
Outputs: 8 x balanced XLR outputs, 2 x unbalanced 1/4" outputs (mixed signals)
Transmission Transmitter Power: 30mV
Controls Squelch Control, Volume Control, Power On/Off
# Of Rack Space 2 Rack Spaces
Frequencies:
Freq M: 656.825 MHz
Freq N: 685.96 MHz
Freq O: 694.11 MHz
Freq P: 629.40 MHz
Freq Q: 676.74 MHz
Freq R: 614.15 MHz
Freq S: 619.12 MHz
Freq T: 622.665 MHz
Maximum Output Level Balanced: 0 - 400mV, Unbalanced: 0 - 200mV
Image Rejection: 85 dB typical
S/N Ratio (Audio): > 105 dB
Audio THD: < 0.5% @ 1 kHz
Frequency Response: 40 Hz - 16 kHz
Power Supply: External DC Power Supply, 1.2A, 12 - 18V DC
Dimensions: 19 x 3.5 x 8.7" (482.6 x 88.9 x 220.98mm)

If you don't see it, it doesn't mean we don't have it. If you are interested in a certain product, but don't see it on our website, please call us or e-mail us!
*All products subject to available stock.
Copyright © 2014 by www.123DJ.com