Gemini UHF4100HL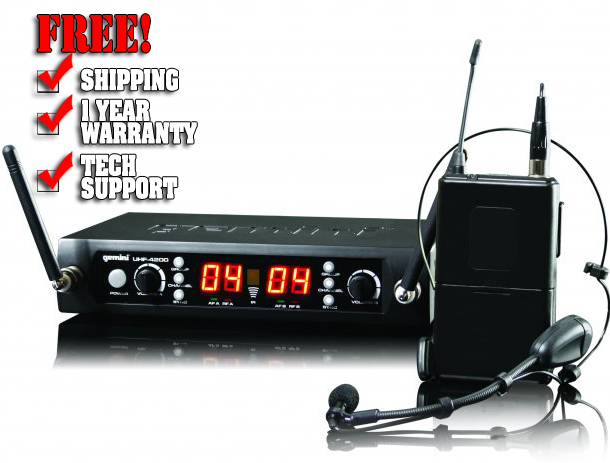 Regular Price $299.99
Our Price $129.99
Gemini loves freedom.
Gemini's UHF-4100HL Wireless Headset/Lavalier System provides clear, accurate vocal reproduction without the burden of cables, ensuring wired limitations never force you to sacrifice passion or energy during a performance. Ideal for DJs, presenters, fitness instructors, singers, MCs and anyone seeking a high-quality wireless headset or lavalier solution, the UHF-4100HL offers superior reliability and ultra-clear reception at a completely affordable price.

Roadworthy. Crystal clear. Frequency-agile.
Built to withstand the rigors of consistent use at events, meetings, auditoriums, fitness studios and houses of worship, the UHF-4100HL features a robust 100-channel UHF receiver with a range of 250 feet. Using Phase Locked Loop (PLL) circuitry to prevent phasing issues that plague other wireless systems, the receiver's front panel provides a Power button and rotary Volume control, along with Group and Channel adjustments for setting the desired frequency. RF and AF LED indicators also let you monitor incoming signal strength, while balanced XLR and unbalanced ¼-inch outputs offer true connecting convenience. The unit even gives you the option to set your frequency manually or allow the receiver to automatically find an optimal frequency.

Two wireless solutions in one package.
For outstanding versatility, the UHF-4100HL includes a comfortable and convertible lightweight headset with a detachable lavalier microphone. So, whether you're leading a fitness class or giving a presentation, this system has you covered. And to ensure exceptional audio quality, the UHF-4100HL's professional-grade microphone employs a condenser element with a cardioid polar pattern and includes foam inserts to reduce wind noise and popping. The discreet belt pack transmitter also provides a convenient Power/Mute button and runs on two AA batteries with up to eight hours of battery life.
Ditch the cables.
Why restrict your performance with wires when the UHF-4100HL gives you total freedom of mobility? Ditch the cables and let your natural energy electrify the crowd with this high-quality wireless solution.

Single UHF receiver with 250' range
US: 100 operating frequencies between 682MHz and 698MHz
EUR: 100 operating frequencies between 854MHz and 865MHz
Allows up to 8 mics to be used simultaneously without interference
Switchable automatic/manual frequency selection
Phase Locked Loop (PLL) circuitry for increased reception
RF and AF LED indicators for monitoring incoming signal strength
Auto mute with built-in noise reduction
Front panel output level control
Balanced XLR and unbalanced 1/4" outputs
Microphone On/Off switch
Convertible, comfortable lightweight headset/lavalier mic with sensitivity and pop control
Discreet, lightweight belt pack transmitter
Frequency range: USA: 682-698MHz, Europe: 854-865Mhz

Receiving system: PLL synthesized

Frequency Stability: +/- 0.005%

Frequency Response: 50Hz-15kHz +/- 3dB

Signal-to-Noise Ration: 90dB

Modulation Mode: FM

IF Frequency: 80.5 MHz

T.H.D.: 1% (@ 1kHz)

Sensitivity: 10dBuV (FM: 40kHz, S/N>85dB)

Power Supply: 12V DC

Audio Output: Balanced XLR, Unbalanced 1/4"

Dimensions 210 x 138 x 45 mm

TRANSMITTER

RF Power Output: <10dBm

Oscillation Mode: PLL Synthesized

Spurious Emission: > 50dB below carrier freq.

Frequency Stability: 30.005% with quartz control

Max Modulation: +/-60kHz

Current Consumption: 100mA

Battery Type: Two (2) AA Alkaline

Battery Life: 8 hours

Microphone Element: Condenser Mic

Polar Pattern: Cardioid

Dimensions: 63x20x110mm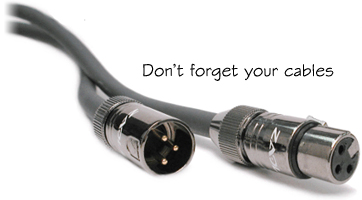 If you don't see it, it doesn't mean we don't have it. If you are interested in a certain product, but don't see it on our website, please call us or e-mail us!
*All products subject to available stock.
Copyright © 2014 by www.123DJ.com