Gemini UHF-216
16 Channel dual Wireless UHF System available in dual Handheld or dual Headset with detachable lavalier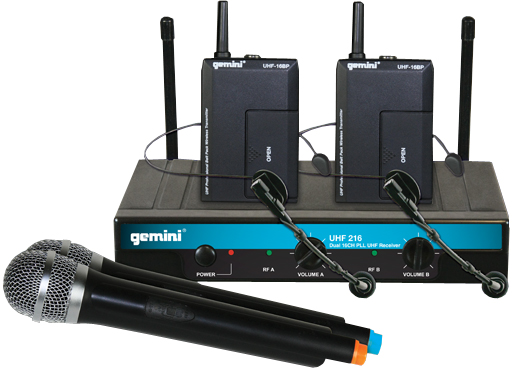 Regular Price $249.99
Starting at $129.99
The Gemini UHF-216 UHF Wireless Microphone System is designed to provide clear, natural sound in any environment over longer distances. The UHF-216 system provides users with a range of up to 250 feet over 16 selectable frequencies to ensure optimal transmission with no interference. The UHF-216M includes the UHF-116 receiver and two UHF-16 HHM unidirectional dynamic pop resistant microphones for feedback rejection and high-SPL handling. The UHF-216HL comes with the UHF-116 receiver and two HSL-08 combo headset/lavalieres that provide crisp, clear hands free sound. The UHF-216 provides unmatched performance and affordability in a wireless system for presentations, houses of worship, vocalists, musicians, DJ's and public speaking venues.
High quality (dual channel) UHF receivers with 250' range
US: 16 operating frequencies per channel between 682 MHz and 697 MHz
EUR: 16 operating frequencies per channel between 854 MHz and 864 MHz
Phase Locked Loop (PLL) circuitry for increased reception
RF and AF LED indicators for monitoring incoming signal strength
Auto mute with squelch control and built-in noise reduction
Front panel output level controls
Standard (1/4" 6.3mm jack) outputs
2 Unidirectional, handheld dynamic microphones (UHF-216M)
2 combo headset/lavalieres (UHF-216HL)
Low battery LED indicators
Microphone On/Off switches
If you don't see it, it doesn't mean we don't have it. If you are interested in a certain product, but don't see it on our website, please call us or e-mail us!
*All products subject to available stock.
Copyright © 2014 by www.123DJ.com