Nady DKW-Duo

Dual Channel Wireless Microphone System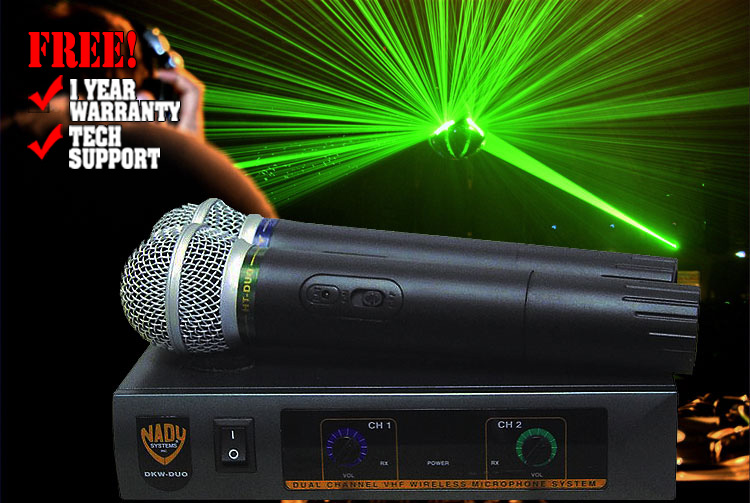 Regular Price $139.99
Our Price $49.99
The Nady DKW-DUO is the perfect entry level professional wireless, and delivers clear, transparent audio for a variety of singing and speech applications. Although offered at a breakthrough new low price for a professional wireless, this system is loaded with features.
Features
All the advantages and freedom of 2 channels of wireless operation without cumbersome cords
Easy to use - simply plug in instead of your wired microphones
Use both channels with single receiver and two handheld microphone transmitters for simultaneous dual operation
Excellent high fidelity audio - perfect for public speaking, karaoke/recreational singers, DJ's, and many other applications
VHF (170-216MHz) operation for reliable, interference-free performance 150+ feet typical operating range - up to 300+ feet line-of-sight

Reciever:
Easy to use -simply plug into your audio mixer or amplifier instead of your wired microphone. Operate either channel (1, 2) singly or both simultaneously.
High-band VHF (170-216 MHz) operation for interference-free performance
Advanced audio processing circuitry for a wide dynamic range (no overloading for loud inputs or background hiss during quiet use
Complete controls and connections for professional operation include front panel power ON/OFF switch, CH 1 and CH 2 output volume controls, Power ON LED,
CH 1 and CH 2 transmitter on LED indicators. Back panel 1/4" audio output jack and DC power input jack for supplied AC/DC adaptor. Dual retractable CH 1 and CH 2 antennas.
Special added circuitry eliminates transmitter on/off "pop" noise

Handheld Microphone Transmitters:
Each transmitter operates on a separate single frequency in the VHF 170-216MHz band and can be used singly or together simultaneously with the DKW-DUO dual receiver
Easy, convenient operation with on/off switch and low battery LED indicator which flashes once for unit "ON", and lights steady for low battery alert
Features the Nady DM-20 unidirectional dynamic cartridge for optimum true sound, maximum feedback rejection and minimal handling noise
Each transmitter operates up to 15 hours on a single 9V alkaline battery
If you don't see it, it doesn't mean we don't have it. If you are interested in a certain product, but don't see it on our website, please call us or e-mail us!
*All products subject to available stock.
Copyright © 2014 by www.123DJ.com