123DJ.COM
Chicago DJ Equipment Online Superstore -

PRO DJ & STUDIO MICROPHONES & ACCESSORIES AT THE LOWEST PRICES!
USB-1CMS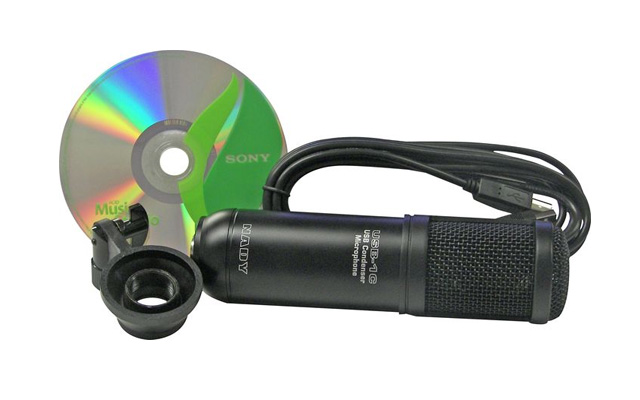 Regular Price $169.99




Our Price $124.99




Regular Price $169.99




Warehouse Resealed Price $119.99




It's the easiest way to get into digital recording or podcasting. This USB-powered condenser recording microphone and software turns your PC into a powerful music production studio.

Nady USB-1C Condenser Microphone

The Nady USB-1C Condenser Microphone side- address, large-diaphragm mic plugs directly into your computer's USB port. It's perfect for recording studio vocals, acoustic instruments, podcasts, ambient instrument audio, or any audio source. Just connect the mic to your computer's USB port with the supplied cable, open ACID, and you're ready to record! Powerful and versatile, the USB-1C microphone meets the stringent requirements of even the most demanding digital recording and live broadcasting applications.

Sony ACID Music Studio 7

Sony ACID Music Studio 7 software gives you the kind of quality music recording, mixing, and effects processing that you're used to with the ACID series. And there are several new features, especially in the MIDI editing and sequencing area, that make ACID Music Studio once again a worthwhile investment for budding home studio musicians. Built-in tutorials guide you on how to utilize the powerful composing, mixing, and mastering tools. So even if it's your first time using ACID, you'll be an old pro before you know it.

With ACID Music Studio, live recording is a snap. Simply plug your microphone or instrument into your PC soundcard and click record to capture vocals, guitars, keyboards, MIDI, and more. After you've laid down your original ideas, work out the kinks with the included professional mixing tools and audio effects. From volume and panning to auto routing and effects processing, reverb and delay to distortion and echo, there are plenty of ways to play with your song to get the right sound. You can also use VST and DirectX audio effects, and VST instruments or any of the 3,000 ACIDized music loops, 1,000 MIDI files, and other tools to spice things up.

When you're satisfied with the final product, ACID Music Studio 7 provides the tools to create your own CDs, upload it for a particular website or for podcasting, convert songs to MP3 format, or add your music to the soundtrack of a video.
When you're ready to record, ACID Music Studio 7 is an affordable way to take your abstract ideas and make them more concrete.
Features
Nady USB-1C Condenser Mic
Perfect for high-quality recordings of vocals, acoustic instruments, and ambient instrumentation, as well as pod-casting and online communication
Connects directly to any computer with a USB 2.0 (or higher) input port for easy plug-and-play operation
Features large pressure-gradient condenser gold-sputtered diaphragm and FET preamplifiers for warm, natural reproduction of the most subtle to the most powerful audio sources
Full-frequency response with rich warmth and crisp, transparent audio
Minimal self-noise, increased dynamic range, and maximum SPL capacity
Rugged compact construction with protective mesh grill and internal shock absorption
Basemount mic holder fits any standard mic stand
10' USB cable included
User guide
Warranty card
Sony ACID Music Studio
Fundamentals
Over 3,000 ACIDized music loops
Multicore processor support
Intuitive pick, paint, and play interface
Unlimited tracks for audio and MIDI
Video scoring track
Automatic pitch and tempo matching
Alternate time signature support
Real-time loop preview
Support for multiple file formats in the same project
Mixing and Editing
Multitrack audio and MIDI recording
Multiple events per track with automatic crossfades
Studio-quality effects including EQ, reverb, delay, and more
Chopper editing tool and loop cloning
Beatmapper remix tool
Track-level volume, panning, and effects editing
Master bus track for project-wide volume and pan fades
Real-time audio effects preview during playback
Event reverse
CD audio extraction
Metronome
MIDI
Over 1,000 MIDI files for song creation
90 DLS instruments and 25 DLS-based projects
MIDI editing and sequencing
Inline MIDI editing with drum grid
MIDI step recording
MIDI track envelopes and keyframes
MIDI import and export
MIDI input filters for tracks
Audio Control
16-bit, 48kHz audio support
DirectX audio plug-in support
Tempo-based DirectX effects
VST instrument support
VST audio effect support
ASIO driver support
Export and Sharing
ATRAC editing and encoding
Gracenote MusicID CD album recognition
Integrated disc-at-once (DAO) CD burning
Unlimited MP3 export
Export to Sony Net MD players
Supported Formats:
Opens: AIFF, AVI, BMP, GIF, JPG, MIDI, MP3, OGG, PCA, SFA, SWF, TGA, TIF, W64, WAV, WMA
2201 S. Union • Chicago, IL 60616
Phone: 312 -846-6192 • Fax: 312-492-8949
Toll Free 1-800
-856-8397

CONTACT US
-
BEAT A PRICE
-
GEAR RENTAL
-
TRACK YOUR PACKAGE
-
RETURNS / WARRANTY INFO
ABOUT US
-
SHIPPING INFO
-
PURCHASE ORDERS
-
CUSTOM INSTALLATION
-
TERMS

If you don't see it, it doesn't mean we don't have it. If you are interested in a certain product, but don't see it on our website, please call us or e-mail us!
*All products subject to available stock.
Copyright © 2014 by www.123DJ.com