XStatic
X240 Bar RGBA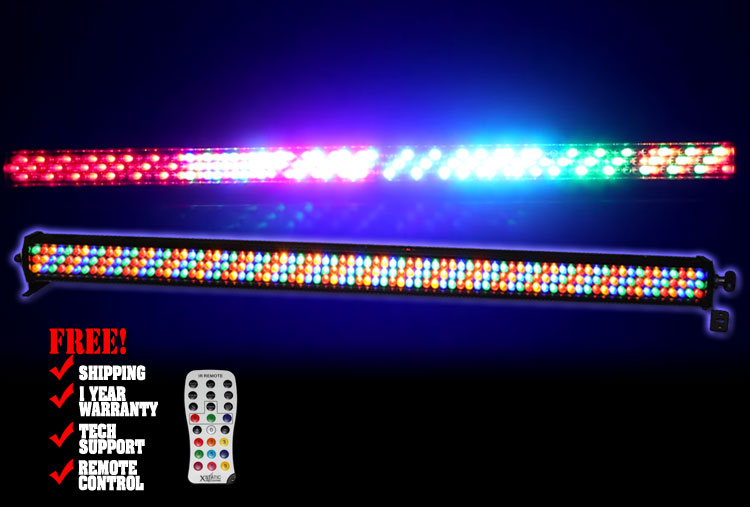 Regular Price $219.99
Our Price $129.99 Each
Four Pack Special $399.99!
This 3.5' long LED Bar Fixture provides a wide, smooth wash of light that can give amazing color displays at an amazingly low cost.
240 x 10mm Ultrabright RGBA LEDs
60 Red, 60 Green, 60 Blue, 60 Amber (10MM) Ultra Bright RGB LED's can produce 16.7+ million colors
40 degree beam angle
Runs cool with no duty cycles and low power consumption
LED's are rated at 100,000 hours
No Moving parts for long unit life
Sound Active mode with a built in Mic
Auto, Sound (onboard mic),
Include Wireless IR Remote Controller
Strobe effects, color fading with fading speed variationsstatic colors, or multi- colors are all selectable on 4 button digital display.
DMX 512 master/ slave configurable, 2,3,4,7,14, or 26 channel modes multi voltage 100/240 V 50/60 hz 30 watt maximum power consumption
INDOOR USE ONLY

Dimensions: 42.00"L X 3.00"D X 3.00"H
Weight: 6.00 lbs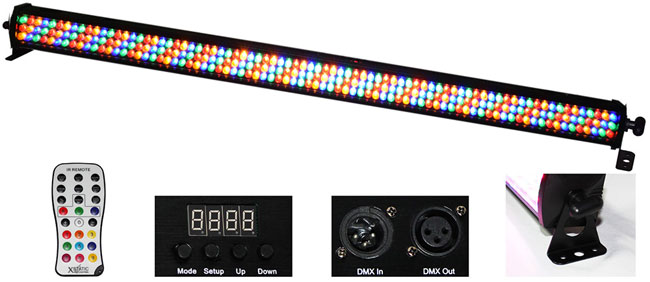 If you don't see it, it doesn't mean we don't have it. If you are interested in a certain product, but don't see it on our website, please call us or e-mail us!
*All products subject to available stock.
Copyright © 2014 by www.123DJ.com